Guaranteed banks that don't use ChexSystems or EWS offer viable bank account solutions for people that have been blacklisted from banks.
There are many reasons you may have been blacklisted by ChexSystems, from excessive overdrafts to a history of insufficient funds but no-ChexSystems banks give people an opportunity to re-establish a banking relationship.
Can I open a bank account if I'm in ChexSystems?
Yes. There are some banks that will let you open a new checking account without pulling your ChexSystems report or any kind of credit check. Review our updated list of No-ChexSystems banks to open a bank account online today.
OUR TOP PICK
Best Bank with No ChexSystems or EWS
Our top checking account pick for No ChexSystems banks can be opened in less than 10 minutes.
Top 10 Guaranteed Banks that don't use ChexSystems
There's a real cost when conducting day-to-day financial transactions without a checking account. Rebuild your banking history with a reputable bank that does not use ChexSystems or EWS to verify new customers.
1. Chime Checking Account
Chime has over 60,000 fee-free MoneyPass® and Visa® Plus Alliance ATMs. Plus, you can open a checking account with bad credit and no opening deposit. To open a checking account with no credit check typically requires a monthly fee, but with Chime there are no monthly fees or overdraft fees. Chime's Savings Account offers a fairly competitive annual percentage yield (APY) of 2.00%. Save automatically with Chime's Round Ups feature whenever you use your Chime Visa® Debit Card. This feature rounds the transaction up to the nearest dollar and transfers the difference to your savings account.
Chime is a financial technology company, not a bank. Banking services provided by The Bancorp Bank or Stride Bank, N.A.; Members FDIC
2. Acorns – Automatic investing spare change
Acorns Checking provides a checking account with no minimum balance requirement or overdraft fees. Customers get access to 55,000+ fee-free ATMs. Acorns lets you round up your purchases on a linked credit or debit card, then sweep the change into a computer-managed investment portfolio. The Acorns feature called Smart Deposit allows you to automatically transfer a percentage of your deposits to other accounts like Invest. Acorns Invest puts your money into exchange-traded funds (ETFs) based on your risk tolerance and financial goals. Customers can choose to contribute as little as $5 at a time to invest. The Acorns marketplace gives customers a small percentage back on purchases made at hundreds of major retailers, including Walmart. The cash back that you earn shopping on Found Money is placed in your Acorns Invest account.
3. Current Banking- Earn 4.00% APY
The Current Account does not use ChexSystems or pull a credit report to open accounts. The savings pod feature with Current Banking earns 4.00% up to a $6,000 balance. With over one million members, Current is one of the fastest-growing mobile banking solutions in the U.S. What stands out about Current, besides the 4.00% APY rate, is Current's overdraft feature called "Overdrive." Customers with direct deposit can overdraft their accounts up to $200 with no overdraft fees. More Current checking features include 40,000 fee-free Allpoint ATMs, and no minimum balance or hidden fees. You can also get paid up to two days early with direct deposit and earn up to 15x points, and get cashback.
Current is a financial technology company, not a bank. Banking services provided by Choice Financial Group, Member FDIC.
4. OneUnited Bank
OneUnited Bank's Online Checking Account is available to people in ALL STATES. We like OneUnited Bank because customers can add cash to the OneUnited Bank Debit Card at over 90,000 locations across the country through a partnership with Green Dot®. OneUnited Bank offers the Black Wall Street Checking account with no monthly fee. However, if you don't qualify, they offer the U2 E-Checking Account specifically designed for bad credit. One outstanding feature of the OneUnited checking account is the cash advance feature called "CashPlease." With CashPlease you can get a short-term loan up to $1,000 without a credit check! Upon approval, loan funds deposited within 4 hours and you get up to 90 days to repay the short term loan. To get started go to the "Get the Card" button, enter your name, email address and cell phone number. Choose the Black Wall Street Checking account option along with the opening deposit ($25.00 minimum), then complete your identification details (name, address, SSN, and employer).
5. Albert
With Albert, there is no minimum deposit requirement to open an account. The Albert Genius feature analyzes your income and spending to find extra dollars to save automatically. You also have the option to set your own automatic savings schedule. All funds are insured up to $250,000 through federally backed FDIC protection. If set up direct deposit you'll get your paycheck up to 2 days early. You get a free Mastercard debit card that you can earn cashback on gas️, groceries, delivery, and more. Albert will spot you up to $250 so you can make ends meet. There are no late fees, interest, or credit check for the cash advance.
Albert is not a bank. Banking services provided by Sutton Bank, Member FDIC.
6. M1 Checking
Upgrade is definitely the best No ChexSystems banking option on the list. Upgrade banking allows people to open a checking account online instantly without a deposit. It takes less than 10 minutes to open, the process is simple and easy. Once you open the Upgrade Rewards Checking account, you'll have the option to open a High Yield Savings account through Upgrade that earns 3.50% APY, that's 17x the national average. The Upgrade Rewards Checking Account 1 offers up to 2% cash back on common everyday expenses at grocery and drug stores, gas stations, monthly subscriptions, restaurants, and cell phone utilities. Plus, account holders get unlimited 1% cash back on all other debit card charges. The cash back feature can put money in your pocket, for example:
The average grocery bill for a family of four is $887 per month that means you could earn $17.74 back. So in one year, that's equivalent to earning $212.88 in groceries alone.
Upgrade is a financial technology company, not a bank. Rewards Checking services provided by Cross River Bank, Member FDIC.
7. SoFi Checking and Savings
The SoFi Checking & Savings account is a combination of two separate accounts (checking and savings). You can't open a standalone checking or savings account with SoFi Bank. There are no monthly maintenance fees, competitive cash back rewards up to 15% at specific retailers, and customers have access to over 55,000 fee-free ATMs across the U.S. The savings account earns 3.00% APY if you set-up direct deposit or 1.20% APY without direct deposit. You will earn a $25 welcome bonus, plus get up to an additional $250 for setting up direct deposit.
8. Axos Rewards Checking
The Axos Bank Rewards Checking account is a good choice for no-fee banking. There are no monthly maintenance fees, competitive cash back rewards, and customers have access to over 91,000 fee-free ATMs across the U.S. with unlimited reimbursements of ATM fees in the US. You need at least $50 to open your Axos Bank Rewards Checking Account, but after it's open, it doesn't matter how much you keep there. You're still eligible to earn interest on your purchases and you don't have to worry about monthly maintenance fees if your balance drops too low.
9. NorthOne Business Checking
NorthOne offers free online business checking with 2.2% cashback rewards with no monthly fee. Small business owners can grow their business by saving money and using valuable rewards offered by NorthOne. You'll need a few things to complete your application:
Your Social Security Number.
A copy of your Photo ID.
Bank account information.
Information about you and your business.
Business Information. If your business is an LLC or corporation you will need an EIN to apply. Personal Information. If your business is not an LLC or corporation, you'll need to provide a social security number on your application for ID verification purposes. One-person business welcome. It's a good move for solo entrepreneurs to open a business checking account separate from a personal checking account.
10. Novo Business Checking
Novo offers digital banking for businesses that integrates with additional business tools. Novo's free business checking account offers no monthly fees, unlimited refunds for ATM charges, along with streamlined financial processes that connect to thousands of business apps.
Novo is a financial technology company, not a bank. Banking services are provided by Middlesex Federal Savings, F.A.; Member FDIC.
---
How far back does ChexSystems go?
Once you land in ChexSystems that negative notation remains for 5 years from the date the bank reported you. Although the Fair Credit Reporting Act allows ChexSystems to keep records for up to seven years, the agency only keeps them for five. No ChexSystems banks give people an opportunity to re-establish a banking relationship.
Why You Need a Bank Account
It's important to have a checking account as banks and credit unions provide safe places to keep money. Plus, once you become established with a checking account, it's likely to grow into more advanced accounts like high-yield savings accounts, money market accounts, credit products, mortgage, business, and car loans.
Unbanked people that qualified for the stimulus check due to the coronavirus (COVID-19) had to wait months for a mailed check. People with bank accounts received the stimulus check via direct deposit much sooner.
Banks that don't use ChexSystems offer a better choice than prepaid debit cards. There are lots of limitations and fees with prepaid debit cards compared with bank accounts. One major limitation is the lack of standard bank services, such as a way to withdraw or deposit cash for free.
Another good reason to have a No-ChexSystems bank account is that account holders tend to save more, keep more of their earnings, and are better prepared for financial emergencies. Without access to savings accounts, CDs, and retirement accounts, it can be difficult to build wealth and maintain an emergency fund. The lack of an emergency fund that earns high-interest is often what leads to the need to fix your credit.
Fund your new checking account or verify small deposits
Most banks that don't use ChexSystem require an instant deposit once your account is approved. If you're opening an account online but don't have a way to fund it instantly with another bank account or credit card, it's likely online accounts can be funded with a prepaid debit card. Or, use PayPal® to add money to your new bank account. It's fairly simple and with PayPal®, your account can be funded in 2-3 days.
Safe check ordering
Consumers who have been reported to ChexSystems, whether the item is paid or unpaid, should proceed with caution when ordering checks.
Ordering checks from well-known companies such as Deluxe, Designer Checks, Checks Unlimited and Current Checks may not be safe. These companies share your personal information with ChexSystems.
How ChexSystems works is that they will report your ChexSystems records to your new bank. Order checks from companies that don't share your personal information with ChexSystems such as Costco Check Printing, Checkworks or Harland Clarke.
Ordering checks from companies that share your information with ChexSystems may end up getting your new account closed. It doesn't matter if your checking account is in good standing.
7 Benefits of banks that don't use ChexSystems
There are real benefits to having a traditional checking and savings account that banking alternatives like prepaid debit cards or check-cashing services just can't offer. Here are just a few benefits of banks that don't use ChexSystems:
Save on check-cashing fees. Save money over time by not having to use check-cashing services. For example, Walmart charges $4 for cashing checks of up to $1,000.
Avoid prepaid debit card fees. Avoid the myriad of fees that often come with prepaid debit cards. For example, Netspend's monthly fee is $9.95 without Pay-Go, the reload fee is up to $3.95, and the ATM withdrawal fee is $2.50. As you can see, there is no way to avoid some kind of fee with prepaid debit cards.
Keep your money safe. Enjoy a safe and convenient place to stash your cash. It may sound strange, but not everyone saves money in a bank, which could prove dangerous. There have been several stories where people have lost money saved at home during a fire, even when the money was kept in a safe. If you only have a savings account for bad credit that would be better than a mattress or an at-home safe.
Your money is insured. Have the confidence in knowing your money in banks is FDIC-insured up to $250,000.
Built-in fraud protection. Purchases made with bank debit cards offer zero liability for fraud.
Become BFFs with your bank. Establish a relationship with your banker. When you engage in relationship banking your banker may approach you with better offerings on loan rates, insurance, investments, and certificates of deposit.
Get a mortgage loan. Mortgage lenders require you to provide recent bank statements when applying for a mortgage loan. Prepaid debit cards are not the same as having traditional bank statements.
Watch out for Bank Sweeps
Banks will sometimes conduct ChexSystems sweeps on existing customers and account holders that have prior ChexSystems records.
Bank sweeps can close accounts without warning, even if your account is in good standing. It's dangerous to have all of your money in one place. With account freezes, you can lose access to your money for up to 30 days. For that reason alone it's important to maintain more than one banking relationship – 30 days is a long time to have your money tied up.
Never have all your money in one bank. With current negatives on your ChexSystems report, keep a backup account. Second chance banking offers many options for backup checking accounts. But keep in mind, second chance banks might pull a ChexSystems report to open new accounts. Banks that use ChexSystems may also conduct bank sweeps.
If an account freeze happens to you, request management or someone in the security department with decision making power to release your money immediately.
There's really no reason to hold a customer's funds for 30 days once an account is frozen. If you have direct deposit you may want to split it between two accounts. That way if your primary account is frozen you still have access to a portion of your paycheck with your backup account.
No ChexSystems vs. Second Chance Banking: What's the Difference?
No-ChexSystems banks simply don't use ChexSystems to verify new accounts – but they may use other consumer reporting agencies. For instance, Early Warning Services offers new account screening.
While not as well known as ChexSystems, EWS can prevent you from opening a new account. EWS is co-owned by several banks: Bank of America, BB&T, Capital One, JPMorgan Chase, PNC Bank, U.S. Bank, and Wells Fargo. These banks formed EWS to primarily combat customer fraud.
No-ChexSystems banks may also use a credit report to screen customers. Second chance bank accounts near you may use ChexSystems to screen new customers but offer fresh start checking accounts. Second chance banks offer checking accounts that give consumers an opportunity to rebuild their banking history. When a bank or credit union offers a second chance checking account, they're willing to overlook a problematic ChexSystems record.
You can expect to pay a monthly checking fee with second chance checking accounts but most give customers an opportunity to upgrade to a regular checking after 12 months of responsible account management.
What is ChexSystems and how does it work
ChexSystems gathers banking records on all consumers that have a bank account currently or in the past. There is no refuting that banks must have a screening process for new customers. But the problem with ChexSystems is that it only reports negative information; unlike credit reports that can contain negative as well as positive information.
A one-time banking mistake could land you in ChexSystems with no positive reporting information to offset it. That one-time mishap can stay on your ChexSystems record for five years and prevent you from opening a checking account. Because ChexSystems is a consumer reporting agency the information they contain must be accurate.
Just like the credit bureaus, they are governed by the Fair Credit Reporting Agency.  Even though ChexSystems is a specialty consumer reporting agency, it is required to respond to consumer disputes in the same manner as credit bureaus. Check out our step-by-step process to dispute ChexSystems.
Even if you're successful in finding banks that don't use ChexSystems, over 80 percent of banks and credit unions screen new customers using some type of consumer reporting agency. Checking account reporting companies are difficult to avoid whether you want to open a bank account online or in-person. It's a good practice to order your ChexSystems report, free of charge, and make it a habit of monitoring what banks are reporting about your checking habits.
ChexSystems generates a Score
ChexSystems generates a risk score for consumers ranging between 100 and 899. The lower your score, the greater risk you pose as a potential banking customer.
There's not a lot of information known about ChexSystems scores because ChexSystems doesn't release its internal metrics for calculating risk scores to the public. But it's pretty safe to assume the higher a ChexSystems score, the better.
Order your ChexSystems score, free of charge, and get it in about 15 days. It's also possible that some consumers may not have a ChexSystems score.
Consumers that have a good banking history likely don't have any negative information reported to ChexSystems. Since ChexSystems only has negative data about banking habits, there may be no negative data on file that could be used to generate a score.
You can submit a ChexSystems Dispute
You have a right to dispute both ChexSystems and the bank that reported the account if you believe an item on your ChexSystems report is inaccurate. The Fair Credit Reporting Act requires ChexSystems and the bank to adhere to investigation requirements for any disputed item. Inaccurate items must be removed.
How to Remove ChexSystems Records
Take steps to get removed from ChexSystems if you discover errors. ChexSystems disputes are just like credit disputes in that you must take the same steps to remove negative records. Here is a quick look at how to dispute ChexSystems. Check out more detailed ChexSystems removal steps if "suspected fraud" has been indicated.
Step 1. Request your ChexSystems report. Get your ChexSystems report instantly online.
Step 2. Review your report. Identify any inaccurate information to dispute.
Step 3. Take action to remove ChexSystems errors. ChexSystems Disputes can be submitted online, by fax, or mail. form on their website. Once you've completed the dispute form, mail or fax it along with any supporting documents to: Chex Systems, Inc. Attn: Consumer Relations PO Box 583399 Minneapolis, MN 55458 ChexSystems has 30 days to investigate your dispute. If they determine that an item is inaccurate, they're required to delete the debt from your report. Or, if the bank fails to respond, ChexSystems must delete the debt.
Step 4. Pay for delete reported debts. Consider paying the bank that reported the debt in exchange for deletion from your ChexSystems report. You may be able to negotiate a lesser amount and settle for pennies on the dollar if the debt is older. If you are unable to get the bank to agree to a complete deletion, make sure ChexSystems updates your record to paid. Plus, remember that negative information only stays on your account for five years, so be sure to check if a negative item is ready to drop off your report. Consumer reporting agencies don't always automatically remove outdated information from your credit reports.
Alternatives to Banks That Don't Use ChexSystems
In the situation where banks without ChexSystems decline you, there are several alternatives to traditional checking accounts. Some alternatives to No-ChexSystems banks may have limited checking features, for instance, no check-writing but it's still worth exploring. Here are two alternatives:
1. Second Chance Checking Accounts
Banks that offer second chance checking accounts realize there may be customers with a less than perfect banking record. They are ready to help their customers work on getting back on track. However, most second chance checking accounts will have a monthly fee, some may require direct deposit and have fewer perks than a standard checking account. We have compiled an extensive list of second chance banks in your state.
2. Prepaid Debit Cards
Prepaid debit cards offer a less attractive alternative to traditional checking accounts. The biggest issue with prepaid debit cards is fees. It's hard to avoid paying some type of ongoing fee, for instance, you'll typically pay a fee to add cash to your card, and some prepaid card issuers charge a transaction fee every time you make a purchase.
Only use prepaid debit cards if you are unable to open a checking account for bad credit or a second chance checking account. And, keep in mind, prepaid cards do not build credit. Prepaid cards can help you manage money with account alerts, mobile check deposits, and the ability to deposit cash at over 90,000 locations across the country.
Card.com currently offers a $50 bank bonus when you sign up for early direct deposit. This prepaid debit card account is good for people that have bad credit and are in ChexSystems because they don't use any type of checking account reporting company.
Best practices for people in ChexSystems
Have more than one banking option — Don't put all your eggs in one basket.
If you have direct deposit, split it between two checking accounts. That way you'll have access to some funds if one of the accounts is frozen.
Stay away from supplemental services like Billpay until your ChexSystems record is clear.
Immediately report any fraudulent activity you may discover on your accounts. Fraud and account abuse seems to be the go-to reasons banks report customers to ChexSystems and Early Warning Services – even when no such activity occurred.
If you close your account, continue to monitor it for several months to ensure there are no unpaid charges, fees, or overdrafts.
Get tips to deal with ChexSystems and improve your ChexSystems score.
Tips to manage your new account
It's difficult to find banks that don't use ChexSystems, so when you do open a new checking account, carefully manage it in order to keep it open. When you manage your account, you can avoid unnecessary fees, being reported to ChexSystems or Early Warning Services. Here are actions to take for good checking account management:
Keep track of your balance and any outstanding payments.
Open and review all bank statements and correspondence.
Avoid spending more than you have in your account.
Monitor your account online or on your phone before you withdraw cash at an ATM.
Check your balance by phone or online before you write a big check or make a big payment.
Sign up for transaction alerts and low-balance warnings via e-mail or text.
Don't assume that the money you deposited is available immediately.
Find out when the money you deposit will be available for your use.
If there is a "hold" on a deposit, make sure you know when it will be lifted.
Avoid making a payment using your checking account unless you know for sure the money is in your account.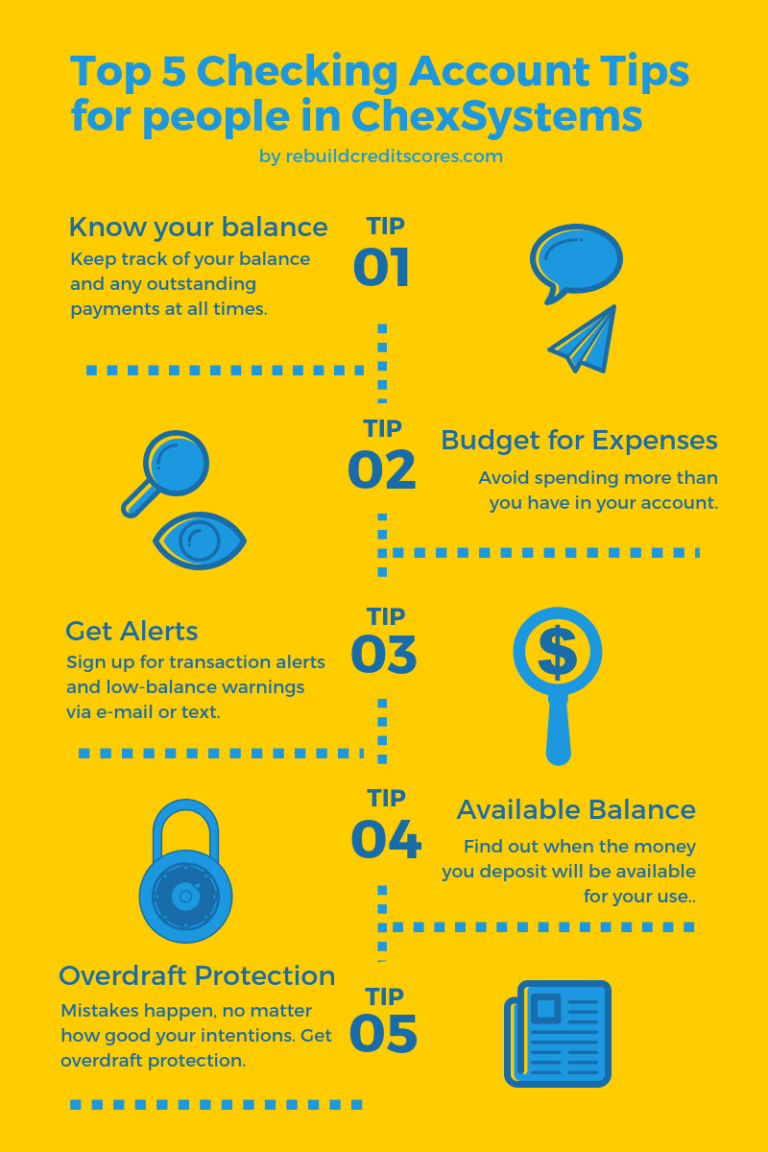 While managing your new account does not directly impact your credit scores, having a checking account in good standing can be a prerequisite to obtaining a second chance loan. Second chance loans can help improve credit scores as long as payments are timely made and reported to the credit bureaus. If you need an installment loan for bad credit, a second chance loan may fit your financial needs.
Final Word
Banks that don't use ChexSystems offer the same features as banks using ChexSystems — you'll have a variety of options to fit your banking needs regardless of your banking history. Since 2010 we have maintained an updated, comprehensive list of Banks that don't use ChexSystems, Bank Accounts for Bad Credit and Second Chance Banking Options.
No credit check banks offer an opportunity for people with past financial issues to re-enter the banking industry and improve their overall credit profile.
There are some financial transactions where checking accounts are required, for instance, there's no way you can apply for a mortgage loan without showing a banking history. Checking accounts for bad credit opens the door to a better financial future.
1. Rewards Checking customers earn 2% cash back on common everyday expenses at convenience stores, drugstores, restaurants, and bars – including deliveries – and gas stations, as well as recurring payments on utilities and monthly subscriptions including phone, cable, TV and other streaming services, and 1% cash back on all other debit card charges. 2% cash back is limited to $500 in rewards per calendar year; after $500, customers earn 1% cash back on all eligible debit card charges for the remainder of the year. Some limitations apply. Please refer to the applicable Upgrade VISA® Debit Card Agreement and Disclosures for more information.