If you've come up short when looking for a bank account for bad credit, it's not surprising. Bad credit has wide-reaching consequences, even on your ability to open a bank account.
Thankfully, there are bank accounts for bad credit that offer a fresh start along with financial products to improve your credit score.
7 Best No-Credit Check Bank Accounts
No credit check bank accounts have the same features and benefits as traditional bank accounts. Check them out:
1. OneUnited Bank

OneUnited Bank's Online Checking Account is available to people in ALL STATES. We like OneUnited Bank because customers can add cash to the OneUnited Bank Debit Card at over 90,000 locations across the country through a partnership with Green Dot.
OneUnited Bank offers the Black Wall Street Checking account with no monthly fee. However, if you don't qualify, they offer the U2 E-Checking Account specifically designed for bad credit.
To get started go to the "Get the Card" button, enter your name, email address and cell phone number. Choose the Black Wall Street Checking account option along with the opening deposit ($25.00 minimum), then complete your identification details (name, address, SSN, and employer).
OneUnited Bank Checking Account Features:
Monthly fees:$0
Minimum deposit: $25
Free ATMs: Obtain cash, surcharge free at over 37,000+ ATMs
Early direct deposit: Get paid up to two days earlier with direct deposit
More OneUnited Bank Features: Customers get access to a no-credit check loan feature called "CashPlease" where they can borrow up to $1000 with no credit check and repay within 90 days.
»See Full OneUnited Bank Review
APPLY NOW
---
2. Chime Checking Account

Chime lets you open a checking account with bad credit and no opening deposit. Plus, if you open the optional high yield savings account, you'll earn 2.00% APY3.
Chime Checking Account Features:
Monthly fees: $0
Minimum deposit: $0
Overdraft protection: Overdraft up to $2001 without fees
Early direct deposit: Receive pay up to two days earlier with Chime direct deposit
More Chime Features: Chime customers can get its Credit Builder Secured Visa Credit Card¹ with no annual fee or interest. Build credit using your everyday account balance. Chime's Secured Visa card does not require a deposit like most secured credit credit cards.
APPLY NOW
Chime is a financial technology company, not a bank. Banking services provided by The Bancorp Bank or Stride Bank, N.A.; Members FDIC
Chime is a financial technology company, not a bank. Banking services provided by The Bancorp Bank or Stride Bank, N.A.; Members FDIC
---
3. Go2bank

Go2bank provides a range of financial services, including a checking account, savings account, and debit card. Go2bank also offers various features like early access to paychecks, cashback rewards on certain purchases, and the ability to deposit checks remotely using your mobile device.
Monthly fees: No monthly fees with eligible direct deposit, otherwise $5 per month¹
Other fees: No hidden fees²
Overdraft protection: Overdraft protection up to $200, with opt-in and eligible directs³
Minimum deposit: $0
Early paycheck: Get your pay up to 2 days early with direct deposit⁶
ATM Access: Free nationwide ATM network⁷
APPLY NOW
---
4. Albert Banking

With Albert, there is no minimum deposit requirement to open an account. The Albert Genius feature analyzes your income and spending to find extra dollars to save automatically. You also have the option to set your own automatic savings schedule. All funds are insured up to $250,000 through federally backed FDIC protection.
Albert Checking Account Features:
Monthly fees: $0
Minimum deposit: $0
Cashback: Earn cashback on gas, groceries, delivery, and more.
Early direct deposit: Receive pay up to two days earlier with direct deposit
More Albert Features: Albert will spot you up to $250 so you can make ends meet. There are no late fees, interest, or credit check for the cash advance.
APPLY NOW
Albert is not a bank. Banking services provided by Sutton Bank, Member FDIC
---
---
6. Acorns Checking

Acorns Checking provides a checking account with no minimum balance requirement or overdraft fees. Customers get access to 55,000+ fee-free ATMs. Acorns lets you round up your purchases on a linked credit or debit card, then sweep the change into a computer-managed investment portfolio.
The Acorns marketplace gives customers a small percentage back on purchases made at hundreds of major retailers, including Walmart. The cash back that you earn shopping on Found Money is placed in your Acorns Invest account.
Acorns Checking Account Features:
Monthly fees: $3 per month for an individual account or $5 for families
Minimum deposit: $10
Cashback: The Acorns marketplace gives customers a small percentage cashback on purchases made at hundreds of major retailers, including Walmart
Early direct deposit: Receive pay up to two days earlier with direct deposit
Acorns debit card: All Acorns banking customers get a heavy metal laser engraved Acorns Visa™ debit card
More Acorns Features: The Acorns feature called Smart Deposit allows you to automatically transfer a percentage of your deposits to other accounts like Invest. Acorns Invest puts your money into exchange-traded funds (ETFs) based on your risk tolerance and financial goals. Customers can choose to contribute as little as $5 at a time to invest.
APPLY NOW
Acorns is not a bank. Acorns Visa™ debit cards are issued by Lincoln Savings Bank or nbkc bank, Members FDIC for Acorns Checking account holders
---
7. Novo Business Checking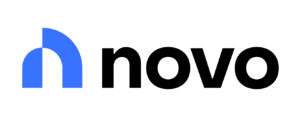 Novo offers digital banking for businesses that integrates with additional business tools. Novo's free business checking account offers no monthly fees and unlimited refunds for ATM charges. Customers get immediate access to their funds with The Novo Virtual Card.
Digital tools: Streamlined financial processes that connect to thousands of business apps
Minimum deposit: $0
Customer service: Human-powered customer service
Perks: Thousands of dollars in exclusive perks
More Novo Features: Free transfers, mailed checks, and incoming wires
APPLY NOW
Novo is a fintech, not a bank. Deposit account services provided by Middlesex Federal Savings, F. A.; Member FDIC. FDIC Insurance through Middlesex Federal Savings and virtual cards provided by Patriot Bank, N.A.; pursuant to Mastercard International.
---
What is a checking account for bad credit?
Banks offer checking accounts for bad credit because they understand people make mistakes with their accounts often out of a lack of knowledge.
You're not alone if you currently don't have a banking relationship. A recent FDIC report stated (approximately 7.1 million households) were unbanked.
Many people don't get a basic financial education, whether at home or in school. Many people open a checking account when they reach a certain age, but no one tells you how to manage a checking account.
You would think financial literacy would be a mandatory subject taught in school just like civics, but it's not. The Council for Economic Education report found that the number of states that require a high school student to take a personal finance course — either a standalone class or integrated into other coursework — in order to graduate is only 21.
It's not uncommon to have both bad credit and ChexSystems records. The two often go hand-in-hand. One reason is that a bank can report an unpaid negative account balance from an overdraft to ChexSystems, then later the bank can sell that debt to a collection agency. The collection agency can then report the debt to the credit bureaus – causing bad credit.
But just like you can rebuild credit, banking privileges can be restored with a checking account for bad credit.
A bad credit bank account can get you back to banking plus save you money. Unbanked Americans are likely forced to pay high fees when using prepaid debit cards or at checking-cashing stores.
Reasons people with bad credit need a bank account?
Having the ability to conduct financial transactions quickly and securely is vital in a largely mobile society. Whether you need to pay a utility bill, quickly transfer money to friends or family members, or make an online purchase, you need the ability to conduct financial transactions fast and securely.
Fewer people use cash. Conducting transactions with cash or money orders is slowly becoming obsolete, especially in the wake of COVID-19. Some retailers and fast-food joints are requesting customers to pay with debit or credit cards only This is hard to do without a bank account.
Check-cashing stores are expensive. Using check cashing services to access the funds in your paycheck is time-consuming and costly. According to the Financial Health Network, unbanked and underbanked Americans spent $189 billion in fees and interest on financial products in 2018.
Lack of a banking relationship. Another major issue with conducting financial transactions without a bank account is the lack of a banking relationship. Not having a banking relationship can make it tough to get a car loan or mortgage. Many lenders won't even consider a loan application if you don't have a bank account.
---
Avoid overdrafts with your new account
Avoid overdrafts with your new account by keeping track of your money. Most bank accounts, if not all, allow online access and apps that offer up-to-date account information and alerts.
Bank accounts for bad credit and second chance banking accounts are typically not free, as you can tell from the above-listed options. But, most banks and credit unions will give you an opportunity to upgrade to a free account or at the very least, an account that offers more benefits after a 12-month proof of good account management.
Your new account is more than likely to be monitored by the bank. If you're prone to overdrafts, you need to be conscious of your balance at all times and open a bank account that offers overdraft protection or an overdraft line of credit.
How you may have landed in ChexSystems
Unpaid overdrafts are often the reason people end up with a ChexSystems or EWS record. But overdrafts can cause bad credit too. An outstanding checking account balance may be sent to a collection agency.
Once that happens, the debt may get listed on your credit reports. Collection accounts generally remain on credit reports for 7 years (whether it's paid or not).
If you owe an outstanding banking debt, paying it typically doesn't get it removed from your report early. That's why people need bank accounts for bad credit.
Workarounds to Open a Checking Account with Bad Credit
Bad credit doesn't mean you can't open a checking account. Here are workarounds to open a checking with bad credit.
1. Look for banks that don't use ChexSystems
If bank accounts for bad credit are not an option, the next best alternative is banks that don't use ChexSystems. These accounts are very similar to bank accounts for bad credit but the main difference is they don't use ChexSystems to verify new accounts.
When banks open a checking account for bad credit customers, they may use ChexSystems to verify new account openings but decide to give customers a fresh start. On the other hand, banks that don't use ChexSystems never see your negative banking records at all, which might be a better option for consumers with multiple ChexSystems records.
When you search for a bank, review its policies online. Most banks that have a second chance checking account program explicitly state whether they conduct credit checks or use ChexSystems reports.
2. Challenge your ChexSystems Report
ChexSystems does not operate as an unregulated company. Because ChexSystems is considered a consumer reporting agency, they are subject to federal laws, in particular, the Fair Credit Reporting Act. You have the right to challenge errors on your ChexSystems report the same as you can with your credit reports.
Federal law entitles you to a free ChexSystems report every 12 months under federal law. If you are denied a bank account or job due to entries on your ChexSystems report you can get a free report within 60 days of the denial.
After reviewing your ChexSystems report online, you can dispute any mistakes or inaccuracies. You have the option to use the online dispute form to submit your dispute online, by mail, or via fax.
Here is what to review on your ChexSystems report:
Negative balances
Insufficient funds fees
Overdraft
Unpaid loans
Supporting documentation should be submitted with ChexSystems disputes if it exists. If you are unsuccessful in the dispute process with ChexSystems, dispute directly with the bank that reported you. Banks that report customers to ChexSystems must adhere to the same requirements under the Fair Credit Reporting Act.
ChexSystems or the bank generally must investigate the dispute within 30 days of receiving it. The dispute will either be verified as accurate or not. In some instances the bank or ChexSystems will not complete the investigation in 30 days, in such case, the account must be deleted. ChexSystems or the bank will have 5 business days after completing an investigation to notify you of the results.
If you have the funds, try negotiating a settlement with the bank or collection agency for the debt in exchange for getting the negative information removed from your ChexSystems report, essentially similar to a credit account pay for delete.
3. Request Reconsideration
Just like you can request reconsideration when denied for a credit card, you can ask a bank to take another look at your account application. With instant approval bank accounts, the automated process can overlook compelling hardships that may have caused a negative banking record.
A denial may be overturned with a manual review of your application. If you can show that your negative banking history is an anomaly caused by emergency circumstances, the bank might reverse its decision.
4. Open a Second Chance Checking Account
If bank accounts for bad credit don't fit your needs, second chance checking accounts are a good option that will let you enjoy the perks of a bank account while restoring your banking history. If you prefer in-person banking, your local community bank or credit union may offer second chance accounts near you. Look for a financial institution that puts emphasis on helping customers and forming a personal banking relationship.
5. Temporarily use a prepaid debit card
I know we said, "dump your prepaid card." But if you have exhausted all options, temporarily using a prepaid debit card will at least offer a limited form of banking. Card issued by The Bancorp Bank, N.A offers prepaid cards with early direct deposit. This account is good for people with bad credit because there is no credit check or ChexSystems to open.
Card issued by The Bancorp Bank, N.A Features
Minimum opening deposit $0.
Get paid up to 2 days early with direct deposit.
8,000+ card designs to choose from.
Get the details on account transactions and more with anytime alerts.
$50 Bonus for setting up a minimum $200 direct deposit within 60 days of opening new account.
Account Features to Consider
Now that you know the ins-and-outs of checking accounts for bad credit, it's time to find one that fits your financial needs. Here are four features to consider before opening a new account.
1. Monthly service fees
The last thing you want is money eaten up in bank fees. But unfortunately, when you have bad credit, a monthly service fee may be mandatory unless you meet certain criteria. For example:
Meet the minimum balance requirement. Most banks allow customers to avoid fees by keeping their balance above a certain amount.
Enroll in direct deposit. It's common for banks to waive the monthly service fee when customers sign up for direct deposit.
Open a savings account. A bank also might waive fees for customers who have multiple accounts under the same roof.
2. No Minimum Balance Requirements
Avoid accounts that require a minimum balance. Look for a bank that does not require you to keep a certain amount of funds in your checking account. That way, you won't have to worry daily about dipping below the minimum and getting hit with fees.
3. Free Perks
Banks want your business and are willing to compete for it with free checking account perks. Cashback rewards are an excellent perk some checking accounts offer. Some banks offer unlimited cash back rewards for purchasing everyday items like gas and groceries. ATM reimbursements is another excellent perk offered by some banks. That means you can count on getting your money back for practically any ATM charge.
4. Mobile Banking
Mobile banking gives customers a convenient way to connect with their bank. Mobile banking also gives banks an opportunity to create a closer banking relationship with their customers. If you're one of the 81 percent of U.S. adults who own a smartphone, you could probably benefit from mobile banking. Having the ability to see your account in real-time, receive account alerts and deposit checks can be a big help in successfully managing a checking account.
Financial Resources for Bad Credit
Never ignore bad credit. Without a banking relationship, you're stuck using money orders or cashier's checks to pay bills or using check-cashing services to access the funds in your paycheck. Ignoring bad credit only makes it worse.
But without good credit, you're stuck using high-rate personal loans or payday if you need to borrow money. Paying an extra deposit if renting an apartment, or flat-out being denied.
Bad credit can make it harder to get car and home loans, and to qualify for credit card accounts. Plus people with lower credit scores generally pay more for auto, renter's, and homeowner's insurance.
1. Secured Credit Cards. Credit cards managed the right way can boost your credit scores in less than 6 months. Make only small purchases and pay them off immediately, before the due date.
That means if you normally use cash for things like groceries or gas, use the credit card for those items then pay the credit card in full. Here are a few credit cards that are fairly easy to get:
The OpenSky® Secured Visa® Credit Card has its positives and negatives. There is no credit check required to apply, but you'll pay a $35 annual fee.
The Indigo® Mastercard® is designed to help overcome credit issues; you may be approved even if you've been declined elsewhere. This card helps you build your credit history and reports to all three major credit bureaus every month.
2. Credit Builder Card. Chime Credit Builder is designed to help consumers build or rebuild credit by offering a credit card linked to Chime's Checking account without requiring a security deposit. The Chime Credit Builder Secured Visa Credit Card makes qualifying simple:
No credit check to apply.
No annual fee or interest.
No minimum security deposit required.
The only requirement is that you have a free Chime Checking Account.
The money you move from your Checking Account into the Credit Builder secured account is the amount you can spend on your card.
The money you moved to the Credit Builder can autmatically pay your monthly balance on time with the Safter Credit Builder feature turned on.
Reports to all 3 credit bureaus to help you build credit over time. Members see an increase of 30 points on average.
3. Personal Loans. Unsecured personal loans for bad credit may cost you more due to higher interest rates; but, having a personal loan on credit reports can improve scores. Personal loans can enhance your credit history and your credit mix.
A blend of installment debt (personal loan) and revolving debt (credit cards) can benefit your credit scores. Personal loans for bad credit can also be used to pay down debt.
4. Credit For Utilities. Experian Boost lets consumers get a positive payment history from accounts that don't normally appear on your credit report. The types of bills reported with Experian Boost include:
Utility
Cell phone
Cable
Internet
Streaming service bills, like Netflix.
Experian Boost makes it possible to add monthly utility and other bills you pay to your report. While Experian Boost only works for your Experian credit report, letting you benefit from additional positive payment history that can improve at least one of your credit scores.
5. No credit check card. Until now, there have not been many credit cards that don't rely on credit scores for approval. The few no credit check credit cards that exist typically have some limitations and high membership fees. They are more like guaranteed approval credit cards that can only be used at a specific retailer.
However, the Chime Visa® Credit Builder Card sets your credit limit based on your checking account balance, not your credit score. It reports monthly to the three major credit bureaus and does not require a credit check to open plus, you pay no interest or annual fee.
Additionally, many of you already know about the shopping card trick that allows you to apply for primarily retail cards with no hard inquiry on credit reports. It's still an easy way to raise credit scores fast by using credit accounts to report on-time payments.
Reduce the amount of debt you owe to improve bad credit
The balance of your debt related to your available credit contributes 30% to a FICO Score's calculation. This is referred to as "utilization." Using less of your available credit can actually raise credit scores. Here are a few tips to keep in mind.
Keep balances low on credit cards and other revolving credit: Outstanding debt will negatively impact a credit score. Experts suggest using 30% or less of your available credit limit. For even better credit scores, using 10% or less of available credit is what people with excellent credit scores practice.
Pay off debt: Paying down credit card debt is one of the most effective ways to improve your credit scores. Check out tips to get out of debt to save thousands.
Never close unused credit cards. Credit scoring models reward you for having a long credit history as well as for using only a small portion of your available credit limit. Keep unused credit cards open so that you benefit from a longer average credit history and a larger amount of available credit.
Don't open several new credit cards you don't need: If your credit report reflects nothing but negative account, then adding positive credit accounts will help rebuild your credit history. But if you don't need new credit to help your score, keep credit inquiries to a minimum.
Check out what other factors make up a credit score.
Final thoughts
There's no reason to pay a check cashing store or pay prepaid debit card fees when bank accounts for bad credit are available throughout the United States.
Mistakes happen. Many people don't know how to manage a checking account until they make a mess of it.
How to manage a checking account is typically not taught in school or by your parents.
Who you're banking with matters to your overall financial health. Managing a bank account responsibly in the long run and can save you money and time, but most of all help you build wealth.
---
2 Chime SpotMe is an optional, no fee service that requires a single deposit of $200 or more in qualifying direct deposits to the Chime Checking Account each month. All qualifying members will be allowed to overdraw their account up to $20 on debit card purchases and cash withdrawals initially, but may be later eligible for a higher limit of up to $200 or more based on member's Chime Account history, direct deposit frequency, and amount, spending activity and other risk-based factors. Your limit will be displayed to you within the Chime mobile app. You will receive notice of any changes to your limit. Your limit may change at any time, at Chime's discretion. Although there are no overdraft fees, there may be out-of-network or third party fees associated with ATM transactions. SpotMe won't cover non-debit card transactions, including ACH transfers, Pay Friends transfers, or Chime Checkbook transactions. See Terms and Conditions.
3 Security Deposit Money added to Credit Builder will be held in a secured account as collateral for your Credit Builder card, which means you can spend up to this amount on your card. This is money you can use to pay off your charges at the end of every month.
4 The Annual Percentage Yield ("APY") for the Chime Savings Account is variable and may change at any time. The disclosed APY is effective as of October 25, 2022. No minimum balance required. Must have $0.01 in savings to earn interest.