Online bank accounts for free offer the convenience of digital banking without the need to visit a physical bank branch and often have higher savings rates than traditional banks.
10 Best Online Bank Accounts For Free
Here are the best free online checking accounts available online in every state though some fees, like out-of-network ATM fees, may be unavoidable.
A closer look at the best free banks
When you open an online bank account for free you don't have to worry about monthly maintenance fees that many banks charge but you will have to meet the minimum opening deposit requirement, if any.
1. CIT Bank ⏤ Best for High Interest Savings

Overall, CIT Bank's Savings Connect Account is a solid choice for those who want to a 4.05% APY high return on their investment with no monthly maintenance fees and convenient online and mobile banking services.
CIT Bank's eChecking account earns 0.25% APY with a $25,000 minimum balance and 0.10% APY on balances under $25,000. If you choose to open both accounts, customers can transfer funds between their linked eChecking account and Savings Connect Account at any time and get access to funds in their savings account with a debit card.
$100 minimum opening deposit
No monthly maintenance or overdraft fees
CIT Bank does not charge ATM fees. Get up to $30 in other bank's ATM fees reimbursed per month
Deposit checks and make unlimited withdrawal and disbursements with the CIT Bank mobile app.
»See Full CIT Bank Review
APPLY NOW
---
2. Axos Bank ⏤ Best for $100 Checking Bonus

Axos Bank offers several free checking accounts online. We recommend the Axos Rewards Checking that offers new customers a $100 welcome bonus. To earn the welcome bonus you must have qualifying direct deposit(s) that total at least $1,500 and use promotional code "RC100″ when applying by 03/31/23.
Customers looking for a free savings account may find Axos Bank's UFB Preferred Savings account a good option. The UFB Preferred Savings earns 4.55% APY and comes with a complimentary ATM card. All deposit accounts through Axos Bank brands are FDIC insured.
$50 minimum opening deposit
Unlimited reimbursements from any domestic ATM
No monthly maintenance fees
No need to keep a minimum balance to avoid fees
No overdraft or non-sufficient fund fees
»See Full Axos Bank review
APPLY NOW
---
3. Quontic Bank ⏤ Best for High Interest Checking

With the Quontic High-Interest Checking account, you can earn 1.10% APY on all balance tiers when you make at least 10 qualifying debit card point of sale transactions of $10 or more per statement cycle.
Earn 3.70% APY with the Quontic Bank's High Yield Savings. Quontic is a digital community bank with headquarters in New York City. Customers don't have to worry about overdraft or monthly service fees.
$100 minimum opening deposit
No monthly maintenance or overdraft fees
Access to over 90,000 surcharge free ATMs across the nation
Quontic Pay Ring gives you access to debit card payment transactions without having to carry your debit card.
»See Full Quontic Bank review
APPLY NOW
---
4. Live Oak Bank ⏤ Best for Savings Account

The Live Oak Bank Savings offers competitive interest rates, no monthly maintenance fees or minimum balance requirements, and an easy connection to your other bank accounts.
$100 minimum opening deposit
Customers earn 3.50% APY on their savings balances
No monthly maintenance fee
Dedicated customer service and onboarding support
APPLY NOW
---
5. OneUnited Bank ⏤ Best for $1,000 No-Credit Check Cash Advance

OneUnited Bank's Online Checking Account is available to people in ALL STATES. Customers can add cash to the OneUnited Bank Debit Card at over 90,000 locations across the country through a partnership with Green Dot®. To get started go to the "Get the Card" button, enter your name, email address and cell phone number. Choose the Black Wall Street Checking account option along with the opening deposit, then complete your identification details (name, address, SSN, and employer).
$0 Monthly fees
$25 Minimum Deposit
Obtain cash, surcharge free at over 37,000+ ATMs
Get paid up to two days earlier with direct deposit
Cash advance feature called "CashPlease" that offers a short-term loan up to $1,000 without a credit check
»See Full OneUnited Bank Review
APPLY NOW
---
6. Chime Checking Account ⏤ Best for $200 Overdraft Protection

Chime is an industry leader in offering innovative banking services with no fees and lots of perks. Customers can automatically save funds with Chime's automated savings tools, make cash deposits at selected locations nationwide, and even get a no-credit check secured credit card to help build credit.
$0 Monthly fees
$0 Minimum opening deposit
$200 Overdraft protection1
Receive pay up to two days earlier with direct deposit
Chime's Savings Account offers a fairly competitive annual percentage yield (APY) of 2.00%
»See Full Chime Review
APPLY NOW
Chime is a financial technology company, not a bank. Banking services provided by The Bancorp Bank or Stride Bank, N.A.; Members FDIC
---
7. Go2bank ⏤ Best for $200 Overdraft Protection

Go2bank provides a range of financial services, including a checking account, savings account, and debit card. Go2bank also offers various features like early access to paychecks, cashback rewards on certain purchases, and the ability to deposit checks remotely using your mobile device.
No monthly fees with eligible direct deposit, otherwise $5 per month¹
No hidden fees²
Overdraft protection up to $200, with opt-in and eligible directs³
$0 Minimum opening deposit $0
Get your pay up to 2 days early with direct deposit⁶
Free nationwide ATM network⁷
APPLY NOW
---
8. Albert Banking ⏤ Best for $250 No-Fee Cash Advance

With Albert, there is no minimum deposit requirement to open an account. The Albert Genius feature analyzes your income and spending to find extra dollars to save automatically. You also have the option to set your own automatic savings schedule. All funds are insured up to $250,000 through federally backed FDIC protection.
$0 Monthly fees
Minimum deposit: $0
Earn cashback on gas, groceries, delivery, and more.
Receive pay up to two days earlier with direct deposit
Albert will spot you up to $250 so you can make ends meet. There are no late fees, interest, or credit check for the cash advance.
APPLY NOW
Albert is not a bank. Banking services provided by Sutton Bank, Member FDIC
---
9. Acorns Checking ⏤ Automatically saves & invests

Acorns Checking provides a checking account with no minimum balance requirement or overdraft fees. Customers get access to 55,000+ fee-free ATMs. Acorns lets you round up your purchases on a linked credit or debit card, then sweep the change into a computer-managed investment portfolio.
Monthly fees: $3 per month for an individual account or $5 for families
$10 Minimum opening deposit
The Acorns marketplace gives customers a small percentage cashback on purchases made at hundreds of major retailers, including Walmart
Receive pay up to two days earlier with direct deposit
Acorns banking customers get a heavy metal laser engraved Acorns Visa™ debit card
The Acorns feature called Smart Deposit allows you to automatically transfer a percentage of your deposits to other accounts like Invest. Acorns Invest puts your money into exchange-traded funds (ETFs) based on your risk tolerance and financial goals. Customers can choose to contribute as little as $5 at a time to invest.
APPLY NOW
Acorns is not a bank. Acorns Visa™ debit cards are issued by Lincoln Savings Bank or nbkc bank, Members FDIC for Acorns Checking account holders
---
10. Novo Business Checking ⏤ Free ACHs, mailed checks, and incoming wires

Novo offers digital banking for businesses that integrates with additional business tools. Novo's free business checking account offers no monthly fees and unlimited refunds for ATM charges. Customers get immediate access to their funds with The Novo Virtual Card.
Streamlined financial processes that connect to thousands of business apps
$0 Minimum opening deposit
Human-powered customer service
Thousands of dollars in exclusive perks
Free transfers, mailed checks, and incoming wires
APPLY NOW
Novo is a fintech, not a bank. Deposit account services provided by Middlesex Federal Savings, F. A.; Member FDIC. FDIC Insurance through Middlesex Federal Savings and virtual cards provided by Patriot Bank, N.A.; pursuant to Mastercard International.
Digital banking offers customer-friendly access to finance and money management tools and is probably why 82 percent of Millennials, ages 18 to 24, use mobile-only banking according to a PWC Survey.
People tend to like free online bank accounts not only for no-fee checking accounts but also for higher savings rates than traditional brick-and-mortar banks.
---
Why Banks Charge a Monthly Service Fee
Despite free checking being wildly popular, the reason most banks charge a monthly fee is simple ⏤ Banks are for-profit businesses with the goal of making money. Monthly services fees at major banks can range from $5 to $25.
But to be fair, profit is not the sole reason for monthly services fees.
It may seem problematic that you may have to pay in order to use your own money, but banks need to cover operating expenses such as personnel costs and utilities.
Online-only banks don't have to worry about costs associated with running local bank branches, but there are still operating costs involved.
Banks may offer customers ways to avoid monthly services fees like:
Maintaining a minimum balance in your account.
Setting up a monthly direct deposit to waive the monthly fee.
Discount on a monthly service fee to switch to online statements instead of getting monthly paper statements.
If you have other qualifying products, services, or accounts from the same bank, such as a home mortgage, personal loan, or even a credit card.
Free checking can save you money
The money that you save on not paying a monthly service fee can add up to a nice chunk of change. Take a look at the monthly service fee at five major banks.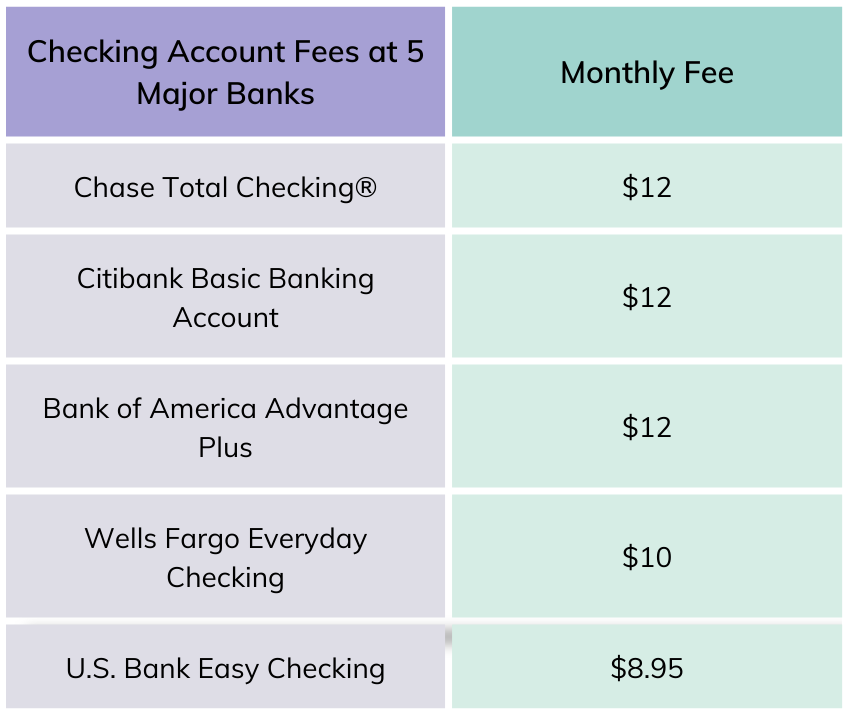 Once you've opened a free checking account, it's important to manage it in the best way possible by avoiding unnecessary costs like overdraft fees. This ensures you're getting the most out of what free checking has to offer.
Overdraft fees can knock out a checking account balance unless you have some type of overdraft protection or a feature like Chime Banking that will cover overdrafts up to $200 free of charge as long as you have direct deposit set up.