Retail credit cards can help rebuild credit. They report monthly to the major credit bureaus just like major credit cards. If managed wisely retail credit cards can put your foot back in the door of having good credit.
But don't be in a hurry to get a retail card simply to save money at the register. Retail accounts typically have higher interest rates compared to major credit cards. You have to be smart about them and make sure you are able to pay on-time and preferably in full each month. Retail cards are attractive to consumers who need to build or rebuild credit because they are some of the easiest credit cards to get.
5 easy to get retail cards that can help rebuild credit
1. Walmart Credit Card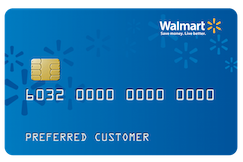 The Walmart card offers cardholders free monthly Transunion FICO score when you opt to receive electronic statements online. This is a great feature for anyone rebuilding their credit. When it comes to discounts the store routinely has deals on electronics like computers, cell phones, smart TVs and tablets. Customers can also get pretty good deals on popular kids' toys, like those LOL Dolls. Cardholders also have the option to withdraw up to $100 cash at stores when making a purchase. Unlike most credit card cash advances, the cash withdrawal only counts as a purchase, so no fees and no interest charges apply if the statement balance is paid in full by the due date. Other rewards include:
Save $25 when you open a Walmart® Store Card and spend $25 on your first purchase the same day.
Save 3% on Walmart.com purchases including Grocery Pickup, 2% on Murphy USA and Walmart gas and 1% at Walmart.
FREE 2-Day Shipping when you spend $35+ at Walmart.com!
2. Kohl's Charge Card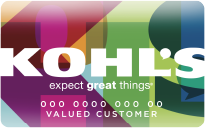 What's great about Kohl's card is that they will pre-qualify you. That means you can apply for a Kohl's charge card with no impact on your FICO credit score. New Kohl's customers receive a 35% discount on the first charge card purchase, upon credit approval (through December 29). Cardholders get 12 special offers every year. Kohl's is a fairly easy retail card to qualify. Spending $600 makes you a Kohl's Most Valued Customer and entitles you to 18 discounts per year. No annual fee. apply.
Kohl's offers great discounts throughout the year whether or not you have a Kohl's card, for example:
Save 20% when you spend at least $100 using code USAVEMORE
Save 15% when you spend less than $100 using code USAVEMORE
3. Fingerhut Credit Account
Fingerhut is an online retailer that carries everything from electronics and furniture to clothing, bedding, and appliances. They have over 700,000 products across dozens of categories. In addition to carrying a variety of brand name products like Samsung, LG, Apple and more. Fingerhut provides an opportunity for consumers to build or rebuild their credit history.
Fingerhut is no doubt the easiest card to get approved for because the card is specifically designed for consumers with poor credit. The best way to use Fingerhut is to pay in full each month to avoid paying interest and use discount codes to save money. Use promo code NC761 to get $25 off your first order of $100 or more. Fingerhut will give you an instant decision.
4. Amazon.com Store Card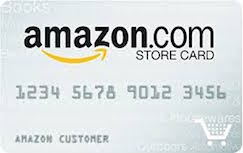 People with fair credit scores of 640 and above will have a better chance with the Amazon store card. No interest if paid in full within 6 months on any purchase totaling $149 or more. If you spend $599 or more no interest is owed if you pay in full within 12 months.
Other benefits include:
A $10 Amazon.com Gift Card will be instantly loaded into your Amazon.com account upon the approval of your credit card application.
Amazon.com Store Cardholders who join Prime are automatically upgraded to the Amazon Prime Store Card.
Amazon Prime Store Cardholders can earn 5% back on Amazon.com purchases.
5. Gettington Credit Card
The Gettington credit card has a low APR making it easier to pay as you go, there is no annual fee or over-limit fee. Shop thousands of name brands with flexible payment options with your Gettington credit card. You can shop online for a variety of items: Kitchen, Bed & Bath, Furniture, Baby, Sports & Outdoors, Jewelry & Watches, Fashion and Electronics. The Gettington Credit Account is also geared toward those looking to rebuild their credit. Customers can get free shipping on orders $49 and over. Use promo code GTN858. Get an instant credit response!
Best way to manage rebuilder cards
The key to establishing good credit or rebuilding credit is to keep your balances low. Retail cards typically start out with lower limits so it's easy to max the cards out – don't do it. Aim to keep your balances to less than 30% of your available credit limits; or, if you want excellent credit scores, aim for 10% of your available credit limit. Credit scores suffer when balances are near the available credit limit. If possible pay in full each month to avoid paying high interest charges.
Make on-time payments
Once you get the retail credit cards it's vital to make your payments on time. Even one late payment will have a tremendous negative effect on your credit scores. Avoid late payments at all costs and monitor your credit scores so you will know where you stand at all times.