Financial mistakes happen. As unintended as they may be, bounced checks, unpaid overdraft fees, and excessive NSF charges are a few banking mishaps that can end up sticking to you like glue.
A negative banking history plays a major role in preventing you from opening a checking or savings account.
Second chance banking gives people an opportunity to get finances back on track along with restoring banking privileges. Most banks and credit unions use a checking account reporting company to screen new accounts.
There are several checking account reporting companies you may have never heard of until you get denied for a checking account.
ChexSystems and Early Warning Services (EWS) are the two largest checking account reporting companies, but banks and credit unions may also use Telecheck and even pull a credit report to open checking accounts.
10 Second Chance Banking Options
With second chance banking, negative checking account reports are overlooked and people are approved for real bank accounts. These are second chance checking accounts accessible to anyone in the U.S., even if the bank does not have local branches in your city.
Benefits of second chance banking 
Financial stability requires access to resources. Second chance banking gives unbanked people access to resources not offered by check cashing stores, prepaid debit cards or money orders. Say you need a safe place to save money. A bank is the most logical place for most people. However, the unbanked don't have that option and it can cost them in many ways.
In the wake of California's most deadliest and destructive fire in Butte County (Camp Fire, Nov. 2018), some unbanked residents found it difficult to get federal assistance because they did not have a bank account. One resident even reported he lost $20,000 in cash savings that burned in the fire.
Second chance banking offers financial stability by removing barriers to banking and promoting wealth building among unbanked people.
Another option for people who have been denied a checking account is to find banks that don't use ChexSystems to open checking accounts. Second chance banking might include pulling a ChexSystems report but the bank doesn't hold past mistakes against you.
What to watch out for with second chance banking
Second chance banking accounts are specifically designed for people who messed up their bank accounts but want to get back into banking. The banking industry varies when it comes to second chance banking accounts.
Here are several things to watch out for when researching second chance banking options:
Second chance banking accounts may come with more limitations than standard checking accounts.
Checking writing privileges may be limited or non-existent.
Fees are likely to come with second chance checking accounts.
Some banks offer upgraded, standard accounts after 12 months of good account management, so avoid overdrafts.
Direct deposit may be required to open some second chance checking accounts. But the good news is that setting up direct deposit can lower or completely eliminate a monthly fee requirement.
Second chance banking can help your credit profile
While bank accounts are not reflected in your FICO scores, many lenders will ask if you have a checking or savings account when applying for home, car, business or personal loans. Having open and positive accounts is important because it reflects favorably on your ability to manage finances.
A positive checking account shows you know how to manage your money properly. A positive savings account shows lenders that you are saving for your future and have an emergency fund. Even if you have bad credit, lenders that offer second chance loans will require you have an active checking or savings account.
Overdraft protection should be part of your second chance banking option
Get overdraft protection when you open a second chance checking account, it can save your account from being reported to ChexSystems excessive NSF (nonsufficient funds) charges.
Banks are required to ask customers whether they want to "opt-in" for overdraft protection for their checking accounts. If you "opt-in" the bank will pay the amount and charge you an overdraft courtesy fee. This can get expensive if you frequently overdraw your account.
But with NSFs you can be charged multiple fees by your bank, along with a fee from the depositor's bank in addition to a returned check fee charged by the person to whom you owe the payment, these fees can easily add up to well over $100 per NSF item.
Benefits of overdraft protection:
If you lack sufficient funds, overdraft protection covers the transaction for a fee.
Prevents embarrassment when you are checking out so your debit card is not declined.
You don't have to worry about situations where you have a payment due on a certain date but may be short on the funds to cover the full amount.
While overdraft protection can be helpful but unless you have a linked account to draw from you should not make it a habit to frequently overdraw your account, as the fees can start to add up.
The best way to avoid fees associated with NSFs and overdrafts is to monitor your account balance and keep track of your spending.
Overhaul your finances
Opening a second chance bank account is the first major step to get financially fit! The next step is to understand your credit score and ensure your credit reports are accurate. A healthy credit score means you're more likely to be approved for mortgage, car, personal, student, or business loans. Healthy credit scores also improve the terms and rates on those loans.
Empower your finances by ordering your credit report and scores. You are entitled to a free credit report from each of the major credit three credit bureaus once every 12 months and during the COVID-19 pandemic, you can get weekly free credit reports. But free credit reports will not come with free credit scores.
Many people subscribe to free sites to get their credit scores but don't realize they are not getting access to the credit scores used by 90 percent of banks and lenders. To first understand your credit score you should get your real FICO scores. Experian gives you access to a credit report and FICO score for $1. You can also get FICO scores for the 3 major credit bureaus at myFICO.com.
How to Remove Credit Report Errors
Once you get your credit report and scores, it's time to look for possible errors. The reason you want to spot and correct or delete errors is the impact an error could have on your credit scores. Remember, credit scores are a major component to financial fitness just like having a bank account.
Credit bureaus are required by law, the Fair Credit Reporting Act, to only report accurate information on your credit reports. However, it is up to you to spot errors on your credit reports. Once you spot an error on your credit report, take steps to dispute it.
Start saving money with your second chance bank account
The key to getting financially fit is saving money. Whether you're saving for your first house or investment property or a major purchase, maintaining a healthy savings goes a long way. Most bad credit is a result of not having an emergency fund to rely on when life happens — job loss, illness, major repairs, you name it.
Good techniques for effective saving include:
Put your savings on automatic with direct deposit from your employer. Allocate a portion of your income to go directly to a savings account. What you don't see, you don't miss.
Keep track of your spending. Online banking offers tools and alerts giving you 24/7 access to your accounts. Download a mobile app that keeps track of your spending. Know where your money goes.
Get the family involved. It is easier to save when everyone is excited and working towards the same goal.
Get the most for your money with a high-interest savings account.
Use your new bank to become a homeowner or investor
You may already own a home, but if not, once you open a second chance bank account make homeownership your number one goal. Your home may be your greatest asset. Now that you're saving money start to prepare your credit files for homeownership. Homeownership is a dynamic experience that requires a tremendous amount of care and attention.
Some things you can do immediately to prepare for owning a home are the following:
Reduce your debt. If your debt-to-income ratio is too high, your bank will likely not consider you for a mortgage loan; or, any type of loan. High debt, even when it's paid on time, is considered high risk. In fact, mortgage lenders say high debt, not credit scores is the number one factor in denying mortgage loans.
Save a downpayment. It's tough to save money when using a check cashing store or piggy bank. A second chance bank gives you access to a safe place to store your money while earning interest. The down payment is one of the most significant components to purchasing a home. It used to be that a 20% downpayment was required to purchase a new home but times have changed.
Homebuyers can buy a home with as little as three to five percent down. If you do put less than 20% down, you will probably have to purchase private mortgage insurance, which will cost you between .5% to 1% of the loan amount until your equity reaches the full 20%. Keep in mind that the more you put down, the less your mortgage payment will be.
Don't take on new credit obligations. Don't aggressively open new credit accounts while preparing to purchase a home. The last thing your bank wants to see is that you are taking on new debt. Unless you have no positive credit accounts reporting in your credit files, refrain from opening new accounts. If you need to open new credit cards make sure you keep the balances to less than 30% of your available credit. In fact, for the best credit scores consider keeping your balances at 10% or less of your available credit.
Consider FHA Mortgage Loans. Your second chance bank may offer FHA loans. FHA loans are easier to qualify for when people have less than perfect credit. Credit scores can be as low as 500 for FHA loans, however, most banks will want you to have at least a 620 credit score. Most banks require that total housing costs not exceed 28% of gross monthly income, and total debt payments per month (including the mortgage) not surpass 36%.But FHA has is less stringent requirements. FHA requires that total housing costs not exceed 31% of gross monthly income, and total debt payments not exceed 43%. But there are exceptions to FHA general guidelines. Total debt payments can be as high as 50% for certain borrowers, particularly those with good credit and other "compensating factors.
Here is a sample chart of required credit scores for FHA Mortgage Loans and Compensating factors for high debt.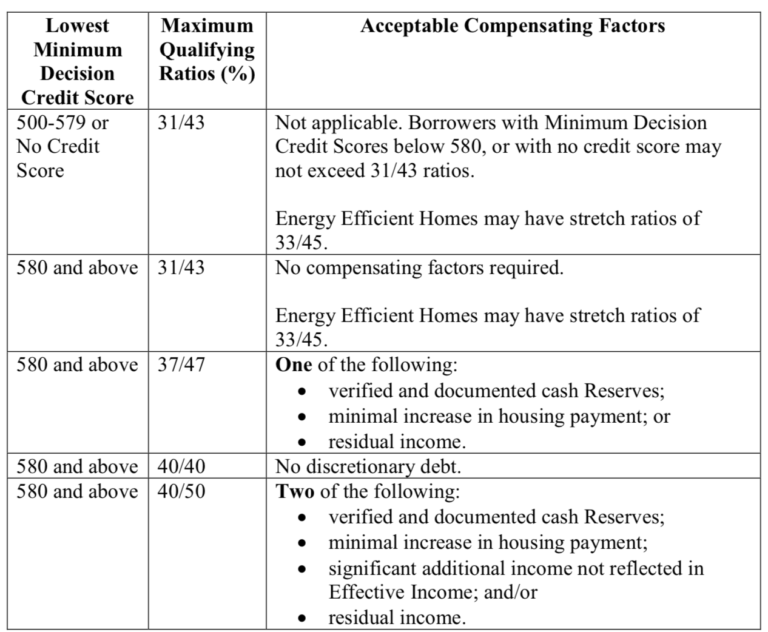 Image: Compensating factors for debt ratios in manual underwriting. Source: HUD Handbook 4000.1
Final thoughts
As you can see there are many benefits to building a banking relationship. Access to credit is one of the unique benefits of establishing an account at a second chance bank. Access to credit and homeownership is not part of banking at a check-cashing store or using a prepaid debit card.