Credit report errors can cost you. One error can cause you to pay higher interest rates or completely prohibit you from taking out a mortgage or car loan, renting an apartment, and in some states, getting hired for a new job.
Consumer Reports found that more than one-third, or 34%, of Americans found at least one error on their credit report. Twenty-nine percent found personal information errors and 11% found account information errors.
Mistakes in credit reports can damage your credit score. The FCRA sets out guidelines on how credit bureaus should conduct investigations but unless consumers are well-versed in the FCRA rules, credit bureaus may not properly handle disputes or your dispute may end up being marked as frivolous.
According to a 2022 report from the Consumer Financial Protection Bureau (CFPB):
Credit and consumer reporting complaints accounted for more than 75% of complaints received, followed by debt collection at (9%).
Understanding your credit reports is crucial
Credit reports essentially reflect financial responsibility. Having mistakes in a credit report can result in the denial of basic necessities such as housing, employment, and utility service – this makes understanding your credit reports crucial.
The major credit bureaus compile massive amounts of data about consumers on a daily basis.
That information should be completely accurate as credit files are regularly sold to banks, lenders, employers, insurance companies, landlords, cell phone providers, utility companies, and even employers.
How Negative Credit Affects Your Finances
Democratic-NY Rep. Carolyn Maloney said, "Being denied credit based on erroneous information impairs your future chances of getting credit and makes it harder to overcome the error…mistakes mushroom into very serious problems."
It has become imperative that you rid your credit files of any errors, inaccurate and outdated information that can be viewed as negative. Learn how to dispute inaccurate information.
Unfortunately, there is no getting around your credit history — even paying cash does not relieve you from the need for good credit. Actions like renting a car or reserving a hotel room require the use of credit even if you plan to pay with cash.
The credit bureaus don't always respond to disputes according to the rules of Fair Credit Reporting Act. This is not unusual and you may have to dispute errors several times before getting a favorable resolution.
It is important to continue the dispute process to the end, no matter what it takes.
Three Major Credit Bureaus
The three major credit bureaus are Experian, Equifax, and Transunion. Each of the credit bureaus collects, store and maintain data about you and that data can differ from credit bureau to credit bureau.
This means you must review each credit report separately to start to understand your credit reports. One credit report does not fit all. There could be and probably is different information on each of your credit reports from the three major credit bureaus.
Types of Information Contained in a Credit Report
The types of information included in your credit reports may include the following:
Payment History
Account Balance
Credit Limit
Inquiries
Collections
Employment History
Address and Telephone Number
Any information supplied by you when you complete an application for credit
Public Information (bankruptcy, court judgments, past due child support, liens, and foreclosures)
How to Spot an Error on Your Credit Report
The best method to spot an error on credit reports is to compare all three from the different bureaus. Keep in mind, they're not going to be exactly the same.
Different creditors may report to specific credit bureaus only. Not all information is reported to all the bureaus and information changes constantly.
Creditors may update at different times of the month so don't be concerned if the balance on the same account is different between the bureaus.
Common errors to spot:
Late Payments. If one bureau notes a late payment on an account while another bureau has no late payments, that's an error you should dispute with the bureau that has the late payment.
Collection accounts. If you paid off a collections account, but there is no reflection of the paid status you need to dispute.
Charge-offs that have been sold or transferred but the balance does not reflect zero. That's a common mistake creditors make.
Outdated information should be disputed as well.
Multiple collection agencies pertaining to the same account. This can kill a credit score. You find this often with medical collections. Once a collection account has been transferred or sold to a new collection agency, that new collection agency should be the only one reporting.
Collection accounts that report as revolving accounts or installment accounts.
New inquiries you did not initiate.
New accounts you did not open.
Old addresses you have not lived at for years.
Incorrect names or multiple versions of your name.
Addresses where you have never resided. This could be a sign that someone stole your identity. Incorrect personal information could be an early sign that other items in your report could be wrong.
Accounts belonging to another person with the same or a similar name as yours (this mixing of two consumers' information in a single file is called a mixed file).
Incorrect accounts resulting from identity theft.
Closed accounts reported as open.
You are reported as the owner of the account when you are actually just an authorized user.
Accounts that are incorrectly reported as late or delinquent.
Incorrect date of last payment, date opened, or date of first delinquency.
Same debt listed more than once (possibly with different names).
Reinsertion of incorrect information after it was corrected.
Accounts that appear multiple times with different creditors listed (especially in the case of delinquent accounts or accounts in collections).
Who Has Access to Your Credit History?
Anyone with a legitimate business purpose can get your credit report such as:
Landlords
Employers and potential employers
Auto, Home & Life Insurance Companies
Cable & Satellite Companies
Utility Companies (Telephone, Electric & Gas)
Cell Phone Providers
Companies that you have a credit account with can regularly monitor your credit
Government agencies considering you for licensing
State and Local Child Support Enforcement Agencies
Any Government Agency
With so many entities potentially looking at your credit history, you've got to keep on top of what they are viewing. One mistake can make the difference in getting approved for important purchases like a mortgage loan. Or, you may get approved but with less favorable terms.
Get free credit reports weekly online reports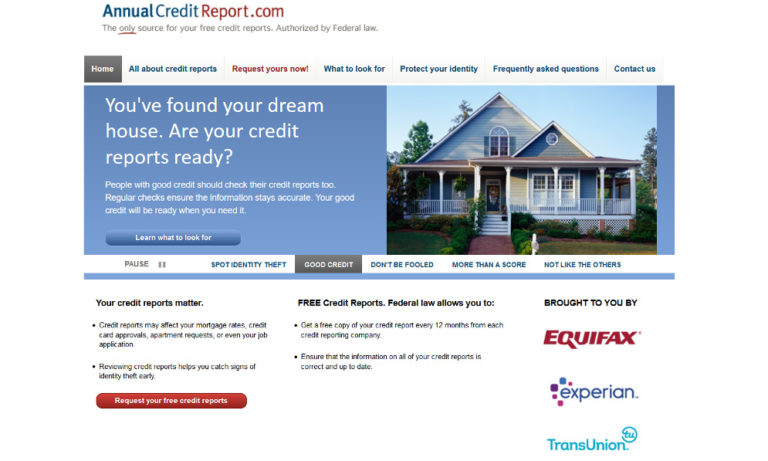 In accordance with the federal FACT Act, consumers are entitled to a free copy of their credit report every 12 months from each of the three major credit bureaus, Experian, Equifax and TransUnion along with any other consumer reporting agency like ChexSystems or Early Warning Services.
The free credit report does not include your credit score. The credit bureaus charge a separate fee for your credit scores.
Due to the Pandemic you can access your Experian, Equifax and Transunion credit reports weekly online for free until Dec. 31, 2023.
You can access your free credit reports online at annualcreditreport. You do not have to order all three credit reports at one time. You can choose to stagger your free reports over the course of a year by ordering one report every four months.
The FACT Act is not the only way to get a free credit report. You are entitled to a free credit report if you have experienced one of the following:
Denied credit in the last 60 days
Unemployed and intend to apply for employment in the next 60 days
You are on public welfare assistance
If you believe your file contains inaccurate information due to fraud or identity theft
Denied employment based upon the information contained in your credit report
If your report has been updated or revised based upon an investigation you requested
Opt-Out prior to submitting credit disputes
Opt-out of marketing and pre-approved offers prior to submitting credit disputes. The credit bureaus engage in the practice of selling lists for use in "pre-approved" credit and insurance offers.
Consumers who receive pre-approved credit offers are often on these marketing lists. However, pre-approved does not necessarily mean a credit report will not be pulled. If you respond, the creditor may access your credit report before you are actually granted credit. Your application can also be denied at that time.
You have a choice to remove your name from any marketing list compiled by a credit reporting agency. To remove your name from all three credit reporting agencies' marketing lists you can "opt-out". Call (888) 5-OPTOUT or (888) 567-8688 to opt-out or go online to optoutprescreen.
Do not allow the credit bureaus to profit from your personal financial information. But more importantly, here are 6 reasons to opt-out of credit bureau marketing lists prior to submitting credit disputes.
How to dispute credit reports
» Step One. File a dispute with the credit bureau containing the error(s). That can be done online but it's always better to mail a credit dispute letter. The above list on how to spot an error on credit reports should give you an idea of what to dispute.
Experian P.O. Box 9701 Allen, TX 75013 (888) 397-3742 www.experian.com
TransUnion LLC P.O. Box 2000 Chester, PA 19022 (800) 916-8800 www.transunion.com
Equifax Information Services, LLC P.O. Box 740256 Atlanta, GA 30374 (866) 349-5191 (for disputes) www.equifax.com
» Step Two. The credit bureau generally has 30 days after receiving your dispute to investigate and verify information with the furnisher of that information. During this process the credit bureau is required to forward all relevant information (your proof or documentation) it has about the dispute to the furnisher. Once the furnisher receives the information, it must review it, conduct an investigation, and respond to the consumer reporting company.
» Step Three. If the furnisher stands by the accuracy of the information it reported, it won't update, correct or delete the error.
» Step Four.The credit bureau must report the results back to you within five days of completing its investigation.
The issue arises for consumers in Step No. 2. — proof and documentation submitted by the consumer is not always forwarded to the furnisher by credit bureau as should be.
Due to the electronic dispute system, known as "e-OSCAR," the dispute process did not provide a means for credit reporting companies to forward to furnishers any documents submitted by consumers. Under the supervision of the CFPB the "e-OSCAR" system has been upgraded so that the three major credit bureaus can now send furnishers any relevant dispute documents mailed in by consumers. Even though it's still not always done. According to the CFPB each furnisher must fulfill its legal obligations by:
Receiving information and investigating disputes: When a consumer files a dispute about a credit report item, companies need to be able to receive information about the dispute and must investigate the consumer's concerns.
Providing investigation results: Furnishers must report the results of the investigation to the consumer reporting company that sent the dispute originally.
Correcting inaccurate information: Furnishers are required to report the results of the investigation to nationwide consumer reporting companies if those companies may have received inaccurate or incomplete credit information. Furnishers also have to modify, delete, or permanently block disputed information that is incomplete, inaccurate, or cannot be verified.
Where to submit complaints against the credit bureaus
The Consumer Financial Protection Bureau is one of the most effective agencies to submit complaints to regarding the credit bureaus. As of Feb. 2017, they handled approximately 185,700 credit reporting complaints among the over 1,110,100 consumer complaints across all products nationally.
The CFPB helps consumers fix errors and get direct responses from the credit bureaus. Most complaints get a response within 15 days. According to their website, 97% of consumers receive a timely response. The bureau reports that the top complaints from consumers continue to be:
Problems disputing errors on their credit reports.
Inaccurate personal information on their reports.
Frequently consumers state that incorrect or unrecognized names and addresses appear on their reports.
Confusion over the variety of scores and scoring "factors" that accompany credit score information.
Consumers frequently express confusion when they receive varying scores from different reporting agencies. For instance, the popular site CreditKarma gives consumers access to their Transunion and Equifax credit report information; however,the VantageScore given is not the credit score used by most lenders. 90% of lenders use FICO credit scores, not VantageScores.
Submit complaints about the credit bureaus dispute process here. They will take appropriate supervisory and enforcement actions to address violations and seek all corrective measures, possibly including restitution to harmed consumers.