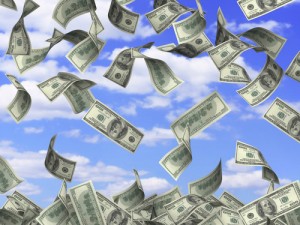 Money is hard to come by these days, right? Perhaps. But what if you had an opportunity to put some extra money in your pockets without working an extra job? Consumers can ease the economic and recession recovery with free money to supplement their incomes.
If you are up to the challenge, a little time and research can put free money in your bank account. Here are 5 tips to get you started:
1. Unclaimed Funds
Your state's treasurer keeps unclaimed money for a number of years and most have a searchable online database. This money can come from forgotten bank accounts, a utility deposit you never got back, insurance and investment companies and many other businesses that are required by law to surrender inactive accounts to the State.
According to the National Association of Unclaimed Property Administrators (NAUPA), $1.754 billion was returned to the rightful owners in Fiscal Year 2006 from 1.929 million accounts and one out of eight people in the United States have unclaimed assets with the average claim being $1,000.
In most cases claims can be made at any time and even by heirs. Check your state's unclaimed funds as they just may be holding some lost, abandoned or unclaimed money in your name or even your parents' name.
2. Government Grants
A government grant is money you do not have to pay back. It is not a loan. The federal government has 26 federal agencies that offer grant programs for housing, business, energy, the arts and much more. The grants can be for individuals, small businesses or organizations that have a benefit to the public.
Be careful when searching for grants because there are many scams that request money upfront for information that can be easily researched and applied at no cost to you. See more on the 26 federal agencies offering grants.
3. Housing Grants
First time homebuyers, homeowner's needing renovations and low-income families who are renting have access to billions of dollars in housing grants. Take advantage of these grants while they last! Check your state and local government for programs that have money for weatherization, replacement of furnaces and even cooling repairs in your home. There are even grants that will pay a high heating or gas bill for you.
The Low Income Home Energy Assistance Program (LIHEAP) has aided many low income households by helping them stay warm during the winter and cool in the summer. The program provides federal funding to help natural gas customers who struggle with home heating and cooling bills during times of extreme weather.
Additional about the many grant programs can be found on www.hud.gov. HUD can point you in the right direction of local government resources and other organizations that offer assistance.
4. College Scholarships
College scholarships and grants can be a touchy subject for parents or even grandparents who are putting a child through college. This is one area where you cannot take your child's word when they say they have looked for scholarships.
While www.Fastweb.com offers many sources for discovering scholarships, your local library, your child's high school, the rotary club and even community organizations have information on scholarships.
Scholarships are free money and there is no limit on the number of scholarships you can apply for. It just takes time but the pay off can be huge…anywhere from $500 to tens of thousands of dollars exist in scholarship money.
5. Credit Card Rewards
Credit card rewards can earn you cash back, discounted concert tickets and even free flights. These rewards sound great, but look out for reward cards with high annual fees or interest rates. Consumers who do not carry a balance benefit the most from credit card reward programs because they are not affected by the higher APR. Look for cash-back offer credit cards. This is free money.
The Discover® More® Card Earn 5% Cashback Bonus on up to $1,500 in purchases at Department Stores and on ALL online shopping through December, as well as in categories that change throughout the year like gas, restaurants, and department stores up to the quarterly maximum. It's free and easy to sign up.* Also get up to 20% Cashback Bonus at popular retailers when you shop online through Discover.com