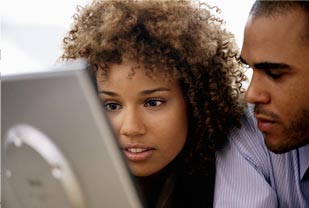 Free access to FICO scores has been limited. While consumers are entitled to a free credit report once every 12 months from each of the major credit bureaus, those credit bureaus charge a fee if you want to see your credit score.
Even then, if you purchase your credit score directly from the credit bureaus, it may not be a true FICO score but instead an "educational score."  The "educational score" is not the same credit score used by most banks and lenders to make credit decisions.
FICO, the most widely used credit scoring formula by U.S. lenders, is now granting some consumers free access to the actual credit scores used by banks, lenders and credit card issuers.
Barclaycard US and First Bankcard cardholders will be able to see their FICO scores at no cost. Its customers will be able to go online to see their FICO scores and sign up for free alerts whenever they change. 0"Having people aware of their current credit score is important to financial health," Paul Wilmore, managing director of consumer markets at Barclaycard US, said in an interview.
Barclaycard is the first top 10 issuer to provide FICO scores to cardholders through a new partnership "FICO Score Open Access."
FICO Score Open Access is being promoted to organizations as a means to "build loyalty, trust and growth through greater customer transparency." Banks and lenders already pay for FICO scores when evaluating applications for credit; now, at no additional cost to them, FICO Open Access allows them to share that same FICO score used to make credit decisions with customers.
While it is primarily being promoted to banks and lenders as a means to increase customer loyalty and profit, it offers a vital insight to consumers. For years, consumer advocates and lawmakers including U.S. Senator Bernie Sanders, a Vermont independent, have pushed for more access to credit information and transparency for consumers.
FICO offers credit scores at a cost of $19.95 for each credit bureau; Experian, Equifax and Transunion. Chi Chi Wu, a staff attorney at the National Consumer Law Center in Boston, said in an interview "Consumers should have the right to get their credit score for free before they apply for credit."
Credit scores are derived exclusively from data — accurate and inaccurate – that exists about an individual consumer. Yet, consumers do not have free access to credit scores while they are used to determine some of the most important financial decisions that can have serious consequences.
FICO Score Open Access is a partnership FICO ultimately hopes to make available to millions of consumers. As of today, it is limited to those banks choosing to participate. Consumers not affiliated with Barclaycard US and First Bankcard are still left with the only choice of purchasing FICO scores at myfico.com or Equifax.com.