Online banking continues to grow with several online-only banks expanding financial products that compete with traditional banks.
As of January 1, 2022, BBVA online banking new customers will be redirected to PNC online banking to open a new bank account.
PNC Bank's acquisition of BBVA USA has made PNC Bank the fifth-largest U.S. commercial bank with over $560 billion in assets. PNC Bank has a presence in 29 of the 30 largest markets in the United States with BBVA USA branches assuming the PNC Bank name.
But the recent merger of BBVA Bank with PNC Bank has proven that not all banks do online banking the same.
The PNC BBVA USA Acquisition
In June 2021 BBVA closed the sale of its U.S. unit, BBVA Bank USA. BBVA Bank had a large online-only banking community offering access to checking, savings, money market, and CD accounts in 50 states.
PNC Bank converted BBVA USA customers to the PNC Online Banking platform with the assurance that customers would continue to be served through their respective BBVA USA and PNC branches, website, and mobile apps.
By October 2021, BBVA USA customers received new PNC account and routing numbers. However, many BBVA Online banking customers have been disappointed by the PNC online banking platform, especially when it comes to customer service.
Why BBVA online banking customers are unhappy with PNC online banking
In October 2021, PNC completed the rebranding of BBVA branches to the PNC Bank name. It also transferred BBVA customers to PNC's online banking platform.
Some former BBVA customers were unable to use their debit cards, other customers had long customer service wait times along with other BBVA PNC acquisition issues. Here are just a few Tweets ranging from Oct. 2021 to Jan. 14, 2022, showing BBVA customer's frustration with PNC online banking: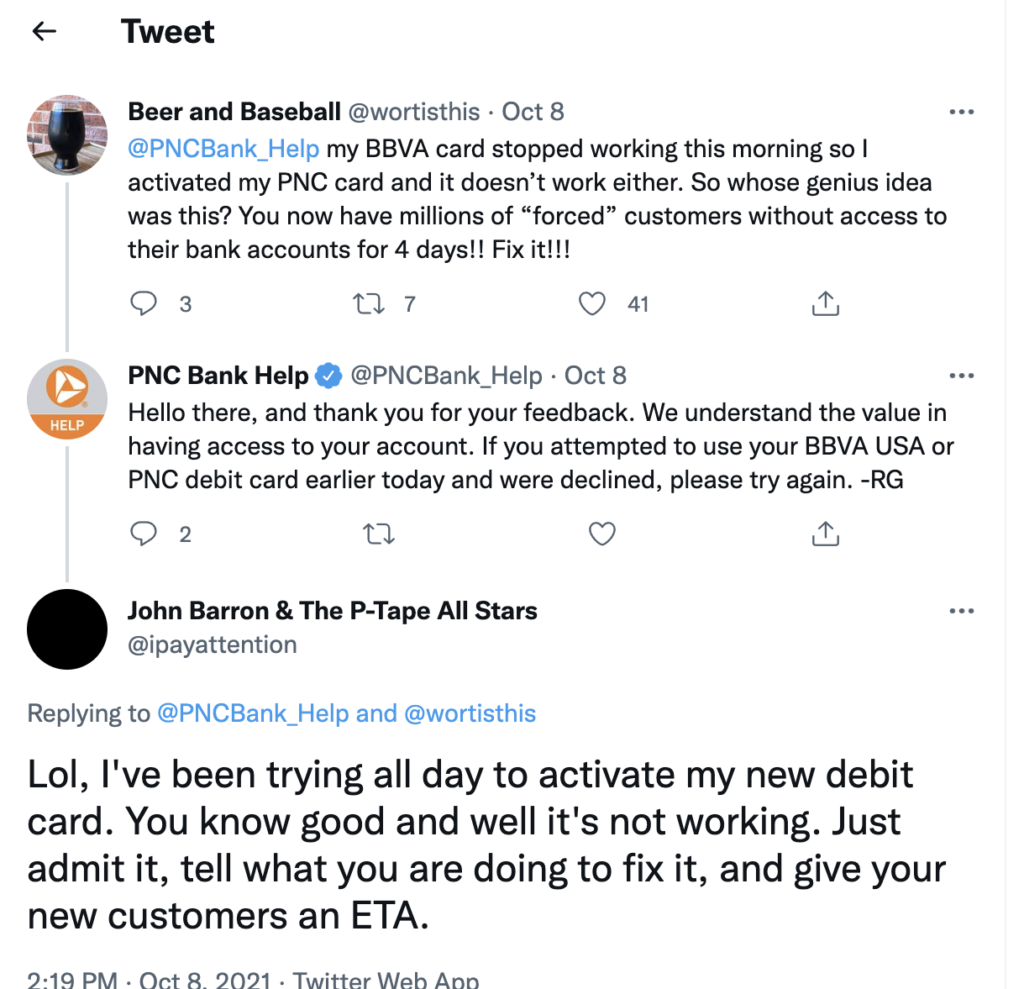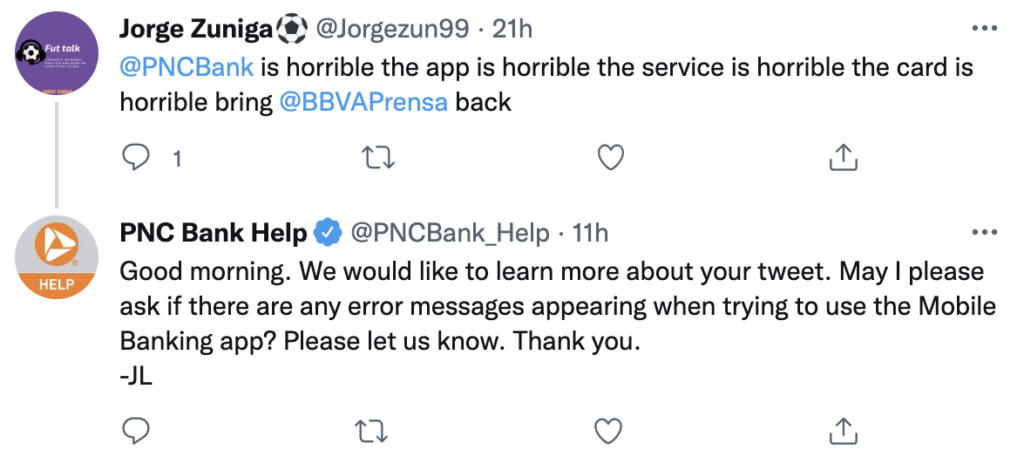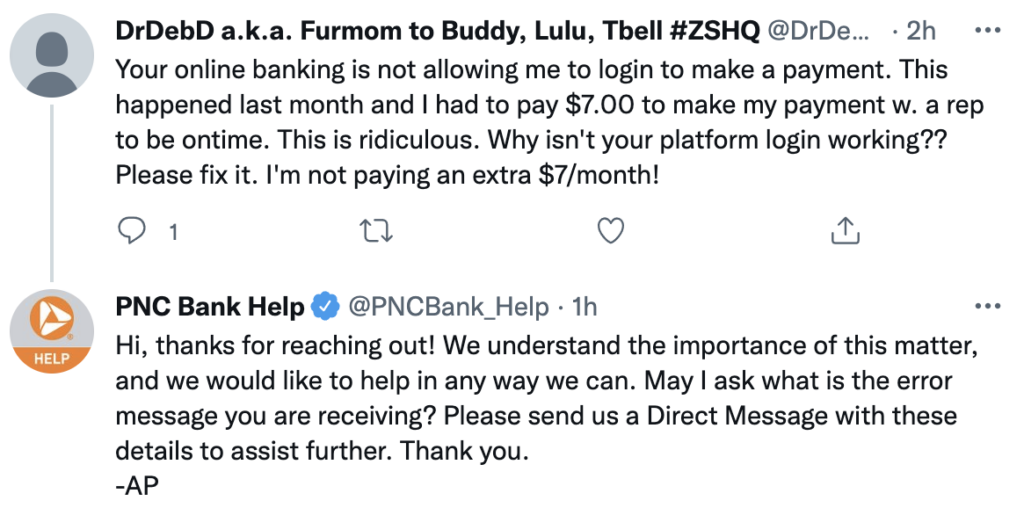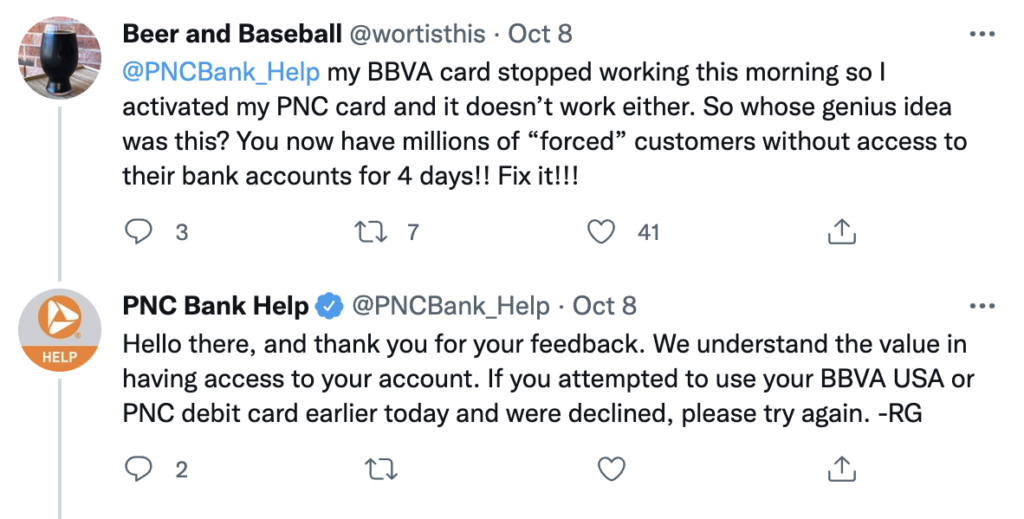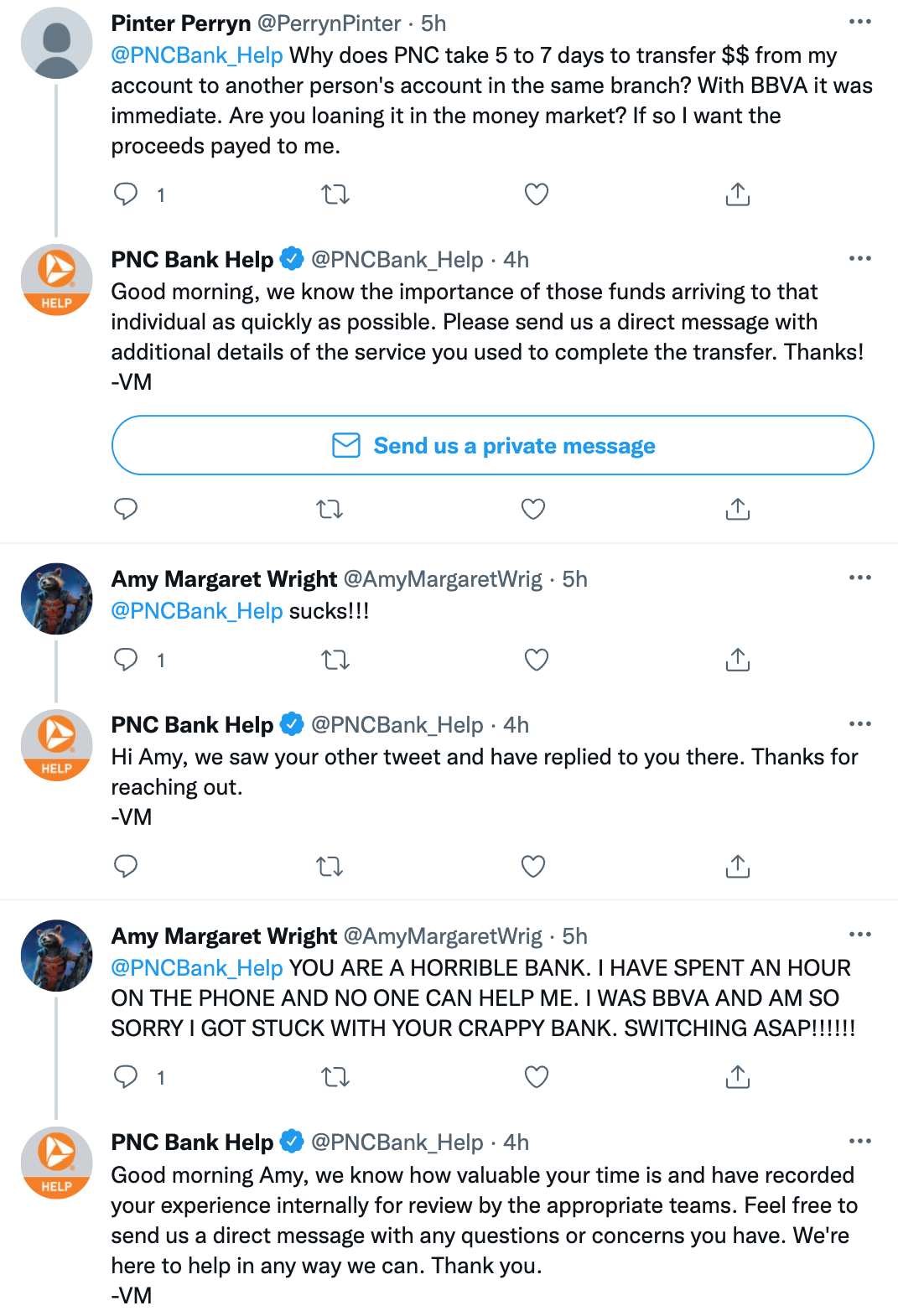 This is just a small sample from Twitter. If you visit PNC's Facebook Page, you'll find multiple customer unresolved issues and inability to contact PNC's customer service.
To be fair ALL banks have unhappy customers but the sheer number of former BBVA Bank customers experiencing issues with PNC Bank is more than problematic.
Customers are experiencing long wait times when calling PNC Bank's customer service team. That may be why so many have taken to social media for answers.
Having an issue with banking is common, but what's uncommon is not being able to get customer service on the phone to resolve the issue.
Customers should be able to contact PNC Bank via telephone or chat directly and not be directed to social media.
BBVA PNC online banking customer service needs improvement
At its core, banking has always been about building relationships with customers. Digital banking that offers multiple financial products, a state-of-the-art banking app, along with exceptional customer service with multiple points of contact are essential to online banking customers.
PNC Bank is missing the opportunity to enhance its relationship with formerr BBVA online-only customers. BBVA Bank offered a checking account that was available in 50 states. BBVA Bank only operated branches in 7 states. That means there are many former BBVA online-only customers.
While PNC Bank offers its best financial product to online-only customers, the PNC High Yield Savings Account that pays a competitive interest rate, poor customer service will not maintain PNC's online-only banking customers.
How PNC online banking can smooth BBVA online banking customers' transition
Bank acquisitions and mergers can often benefit customers by offering more competitive products and services. But it has to be a seamless transition to maintain customer satisfaction.
Digital banking doesn't change the need to build and nurture customer relationships ⏤ it simply extends and enhances it.
PNC should offer multiple ways to contact customer services including a live-chat feature similar to Axos Bank.
PNC Online Banking should offer these features:
Extend weekday and weekend customer service hours to decrease telephone wait times.
Offer live-chat to increase customer satisfaction by providing fast access to resolutions and information.
Consider video chats to provide opportunities to reinforce trust without requiring visiting a branch location.
BBVA online banking customers are still new to PNC online banking services, there's a lot of hand-holding and attention that needs to occur. PNC Bank must also recognize that some of BBVA's online banking customers had recently transitioned from Simple banking to BBVA online banking after Simple shut down. Former Simple banking customers can't catch a break.
Banking should not be complicated ⏤ Ever.
Compassion coupled with attention to customer concerns goes a long way to building loyal online banking customers.
Customers will remain loyal to financial institutions that give them the best experience.