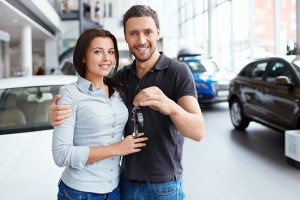 According to an Experian Automotive report auto loan rates have hit an all-time low and as a result car buyers are taking on larger loans. The report found that the average amount financed for new vehicles went from $25,963 in Q3 2012 up to $26,719 in Q3 2013.
Interest rates for new car loans is currently at 4.27%. Lower interest rates mean consumers who base their car-buying decisions on the amount of monthly payments will be able to purchase more expensive vehicles without paying much more.
The 4.27 percent average interest rate combined with slightly longer payment terms helped keep monthly vehicle payments down. According to the study 65 monthly payments was the average in Q3 2013 up from 64 months in Q3 2012.
The current average monthly payment for new vehicles is $458. The average monthly payments for used vehicles remained flat at $350.
Even monthly lease payments were down slightly from $409 in Q3 2012 to $404 in Q3 in 2013.
New vehicle loans to consumers with subprime credit rose slightly to 26.04 percent market share in Q3 2013 up from 24.84 percent in Q2 2012.
Melinda Zabritski, senior director of automotive credit for Experian said, "The automotive lending market seems to have stabilized in Q3 2013. Subprime lending is still growing slightly, but is still well below prerecession levels in the highest risk segments, and its growth rate has slowed considerably. It seems as though lenders are approaching their ceiling for how much risk they are willing to take."
Other trends were seen in credit scores for new car buyers as well as used car buyers. The average credit score for a new vehicle loan dropped to 753 in Q3 2013 from 755 in Q3 2012. The average credit score for a used vehicle remained flat year-over-year at 668.