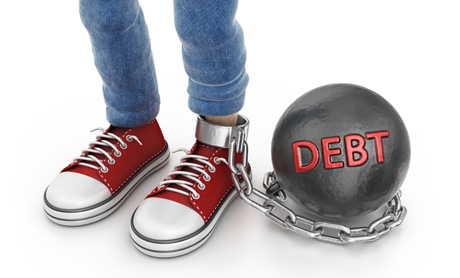 College tuition and fees have increased over 400% between 1985 and 2005, with costs doubling over the last decade. The average college student graduates with tens of thousands of dollars in student loan debt.
In 2012, the average student loan balance for all age groups is $24,301. About one-quarter of borrowers owe more than $28,000; 10% of borrowers owe more than $54,000; 3% owe more than $100,000; and less than 1%, or 167,000 people, owe more than $200,000. (Source: FRBNY)
Student loan borrowing continues to grow even though most consumer borrowing has slowed. Lack of college funds and limited grants are prompting students to borrow more and more for their education. The aggregate amount of all student loan debt now exceeds $1 trillion, surpassing credit card debt.
Student loans should be rebranded as "education mortgage" as it can take up to 30 years for repayment. The standard repayment plan for federal loans is 10 years; but, if you consolidate, you can qualify for extended repayment and stretch out the payments to as much as 30 years.
Private loans and for-profit colleges are a growing, but risky choice for students. Federal student loans are capped and interest rates are fixed typically between 3.4 to 7.9 percent. Private student loans have no set limit on the amount that can be borrowed along with no set limit on the interest rates banks can charge.
Private student loan borrowing has increased among college undergraduates even though they are the riskiest option for students.
The Consumer Financial Protection Bureau (CFPB) recently proposed a rule that would allow it to supervise nonbank education financing servicers in an effort to better protect consumers who are carrying student loan balances. The rule is being proposed due to the rise in borrower delinquency in recent years.
The CFPB currently oversees student loan servicing at larger banks. The new rule will expand the CFPB's oversight powers to include certain nonbank student loan servicers that are viewed as "larger participants."  This will ensure that banks and nonbanks are following the same rules in the student loan servicing market. Specifically, the CFPB would oversee the complete cycle of private student loan debt, from origination through servicing to debt collection and credit reporting. Any nonbank student loan servicer that handles more than 1 million borrower accounts would be subject to CFPB supervisory authority.
The seven largest student loan servicers currently handle the loans of 49 million borrower accounts which represents most of the activity in the student loan servicing market.
"The student loan market has grown rapidly in the last decade, and servicers are now facing the stress of an increasing number of delinquent borrowers," said CFPB director Richard Cordray. "Our rule would bring new oversight to the student loan market and help ensure that tens of millions of borrowers are not treated unfairly by their servicers."
Specifically, the Consumer Financial Protection Bureau's report on private student loan complaints found borrowers face the following obstacles:
Confusion: According to some borrowers, they often have a hard time figuring out how much they owe. These borrowers report they do not receive the information they need about their loans and they are often confused by the terms and conditions of their loan. Other borrowers are frustrated by being charged unexpected fees. Some also complain about conflicting instructions from different employees of the same servicer – or worse, when their loan has been sold or their servicer has changed, not even knowing who to pay.
Dead ends: Some borrowers report dealing with servicing personnel who seemed to be unaware of resources available to borrowers. Some borrowers complain of getting transferred to multiple departments, reaching personnel who are not responsive or empowered to provide clear answers. Borrowers also complain about being unable to reach appropriate service staff to correct a mistake in how a payment was applied to their account.
Runarounds: Some borrowers report paperwork getting lost and errors not always getting fixed. And, according to some borrowers, payments are not always processed on time. They say some servicers take several days to process payments and borrowers end up paying interest on the outstanding principal during that processing time.
The U.S. Department of Education conducts reviews of companies handling loans in accordance with the federal student aid program but the CFPB will add a much needed extra layer to oversight. With the CFPB's supervision loan servicers may better comply with federal consumer financial laws and student loan borrowers may see their concerns addressed more effectively. Take your student loan complaints to the Consumer Financial Protection Bureau.