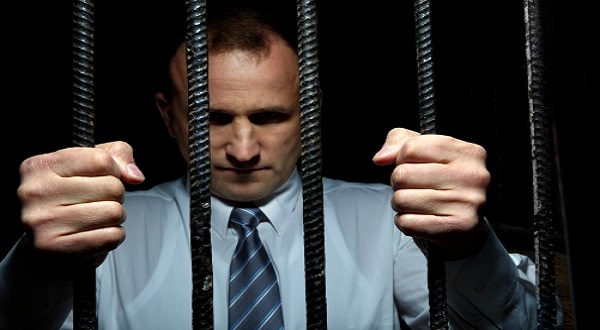 Debt collector gets sentenced to 14 ½ years in federal prison for debt collector scams, stealing money, identity theft and threats that targeted the elderly.
A jury found the Minnesota man, Khemall Jokhoo, 36, guilty on 33 counts of trying to steal more than $700,000 by using identities of more than 60 elderly victims.
Jokhoo was an actual registered debt collector, giving him access to sensitive personal data directly from the credit bureaus, including dates of birth, addresses and more. He ran First Financial Services, a debt collection agency, from an apartment in Burnsville, Minn. from May 2002 through Nov. 3, 2009.
What's worse, Jokhoo used every illegal debt collection practice to extort money from consumers. In one instance, he threatened a disabled veteran, saying he would push him in his wheelchair off a bridge if he didn't pay his debt, the Minneapolis Star-Tribune reports.
Not all debt collectors are bad but this one is the debt collector from hell. Jokhoo fraudulently withdrew funds from his victims' bank accounts and defrauded financial institutions around the country.
"Jokhoo used this information to harass and intimidate victims and to demand payment to him for purported debts," the U.S. attorney's office in Minneapolis said in a statement Wednesday. "When he could not convince victims to pay him, Jokhoo impersonated victims, using their bank accounts and other identifying information to take over and steal directly from their account."
"The term 'identity theft' seems an inadequate description for what the defendant did to the victims in this case," said Assistant U.S. Attorney Lola Velazquez-Aguilu.
"He used their identifying information not only to steal their money but also to terrorize them, taking pleasure in making other human beings feel completely powerless and without worth. This defendant's sentence sends an important message to debt collectors who use their positions of trust to steal."
Actions taken by Jokhoo not only violated the Fair Debt Collection Practices Act but violated several other state and federal agencies including the Minnesota Financial Crimes Task Force, State Commerce Department, U.S. Postal Service and the local police agency.
Jokhoo misrepresented himself as a lawyer, harassed debtors over extremely old, uncollectable accounts, made unauthorized withdrawals from debtors' financial institutions, cashed forged checks and concealed a prior criminal record on at least seven state license applications since 2005.
U.S. District Judge David Doty said after 175 months in federal prison, Jokhoo will be on five years of supervised release. Doty also ordered Jokhoo to pay more than $257,000 in restitution, according to a spokesman for federal prosecutors.
Avoid being a Victim of Rogue Debt Collectors
This type of crime and fraud should have never occurred but many consumers are just plain fearful of debt collectors. While Jokhoo did have access to personal information from credit reports as a debt collector; many of his victims readily gave their personal banking information over to him.
If you're ever contacted by a debt collector – legitimate or not – you'll want to know your rights, like how you're entitled to written verification of the debt.
Under the Fair Debt Collection Practices Act (FDCPA), debt collectors cannot:
Call you an unreasonable number of times
Call you at any unusual time or unusual place
Disclose information about your debts to third parties
Use profane or other abusive language
Contact you after written notification that you do not want to be contacted any further
Claim to be affiliated with any governmental organization
Misrepresent the character, amount or legal status of a debt
Threaten to take any action that cannot be taken legally
Accuse you of having committed a crime
Threaten or communicate false credit information
Use deceptive methods to collect debts
Call you before 8:00 a.m. or after 8:00 p.m.
Call you, but not announce who they are
Talk to your employer about your debt
Continue collection efforts until honoring a request by you to validate the debt
Debt collectors are required to abide by strict rules under Federal laws and your State's laws regarding debt collection. And, even if you owe a debt collector, never give them your personal banking information. There are ways to repay a debt without using your personal banking information, like using a cashier's check or money order.