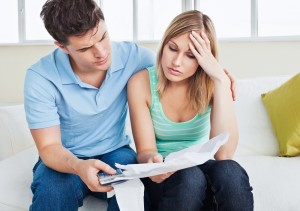 Question: I sent  a debt validity letter to a collection agency they sent back a piece of paper stating who the original creditor was, what the amount was and what the amount is now. I again sent another letter disputing the debt and asking for validity. I also called the office because it said if you don't respond within 30 days we will consider it as you owing the debt.
The guy on the other line said we don't have anything that you are asking for (proof I owe the debt, a signed contract etc). His response was mam we don't have any of that you need to file a police report or a certified letter that you have no knowledge of the debt….. my question is now what is my next step they won't validate but refuse to take it off of my credit report.
Answer: The mini-miranda on most initial letters from a debt collector states "This is an attempt to collect a debt and if we do not hear from you within 30 days of this notice, we will assume the debt to be valid." It does not state to call them to dispute the debt.
Any communication you have with a debt collector should always be in writing. You want to create a paper trail in case you have to sue the debt collector; or, if the debt collector sues you. In addition, consumers typically gain no satisfaction from talking over thephone with a debt collector.
I suggest you read "What Constitutes Proper Debt Validation " as your issue is not uncommon. This article gives some insight into how debt validation works. Technically, they have done what the Fair Debt Collection Practices Act states by providing you with the original creditor name and the amount of the debt.
However, this type of proof is insufficient and would not hold its ground in a legal proceeding. And that is the way you have to look at debt validation, "Is this sufficient legal proof I owe the debt. The answer would be no.
So now you have to push for the information and be prepared to stay in the fight.
1. Make a complaint to the FTC. The FTC governs the Fair Debt Collection Practices Act. You can go online and make a complaint against the collection agency. There are no immediate remedies but it is good to make a complaint because if the FTC gets enough complaints about a particular collection agency, they will take action.
2. Check your state laws. States usually have separate but similar laws to the federal FDCPA. For instance, California has the Rosenthal Act and Texas has the Finance Code which governs debt collectors. You can make a complaint to your state's attorney general for their refusal to validate a debt yet verify the debt with the credit bureaus.
Many consumers never use their state laws or state's attorney general to settle issues. It is a valuable resource to settle issues with debt collectors. It forces debt collectors to respond to the attorney general. Collection agencies typically do not ignore inquiries from an attorney general.
3. Send a Demand Letter. Send a written notice to the debt collector demanding debt validation in the form of documentation from the original creditor such as a signed contract showing your liability. This will at least put the collection agency on notice you are not going away easily. Let them know the computer generated verification does not provide any interest rate information on how the amount owed was calculated.
State their failure to validate the alleged debt should result in ceasing of all collection activities in addition to any negative mark being removed from your credit reports.
4. Be Prepared to Seek Legal Remedies. Clearly the collection agency you are dealing with does not have sufficient information to prove you owe the debt. They so much as admitted that to you. Once you have exhausted all efforts to get them to either validate the debt or remove it from your credit reports you have to be prepared to bring a lawsuit against the debt collector.
In legal actions you will discover junk debt buyers rarely, if ever, are able to prove a legal right to collect the debt because they ALMOST NEVER have the proper assignment of debt from the original creditor. Additionally, while they can purchase supporting documentation of the debt from the original creditor, they do not because they are in it for a quick buck. The best of luck to you.