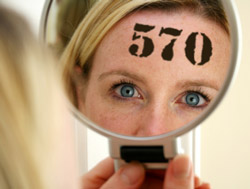 I recently wrote an article regarding debt collectors bringing old debt back to life through credit card offers. Part of the research for the article stemmed from something I read in the Wall Street Journal wherein a young man was excited about a new credit card offer.
In order to get the credit card he had to agree to pay an old debt which was put onto the new credit card.
What struck me most was the quote "It was totally worth it…Having no credit cards made Mr. Carpenito feel "like dirt"…especially when out on dates."
This young man actually used the word "dirt." Not having a credit card should never make anyone feel like dirt and tying one's self esteem to a credit card or even a credit score is unhealthy.
Americans are Obsessed with Numbers
Americans equate who they are and a sense of self-worth to numbers; whether it is the amount in a bank account, the number on a scale or a credit score. It's unfortunate because millions of consumers watched their credit scores take a dive during the past few years due to the economic downturn. But whether you had a loss income, experienced medical debt, foreclosure or bankruptcy, self-esteem is too precious and priceless to tie to a number. You are not your credit score.
Shocking Findings on Credit Card Debt
In a study conducted by Ohio State's Center for Human Resource Research on behalf of the U.S. Bureau of Labor Statistics, three academic researchers found that debt is a symbol of adult empowerment among 18 to 27 year olds.
The study found this age group had more self-esteem and a greater sense of control over their own lives due to credit card and college loan debts. Researcher Rachel Dwyer, the study's lead author and an assistant professor of sociology at Ohio State University found that young adults "seem to view debt mostly in just positive terms, rather than as a potential burden."
"We thought educational debt might be seen as a positive because it is an investment in their future, while credit card debt could be viewed more negatively," Dwyer said. "Surprisingly, though, we found that both kinds of debt … increased their self-esteem and sense of mastery."
Interestingly the young adults coming from lower income families felt the most empowered from being in debt. The young adults coming from middle income families showed positive effects from credit card debt but no effect from student debt. Young adults coming from affluent families received no empowerment boost from being in debt.
This study exemplifies how credit cards are tied to self-esteem. Even though these young people had debt, they felt empowered by having credit cards and the accompanying debt related to those credit cards.
The impact of bad credit
If you've ever had bad credit you probably experienced difficulty in securing a personal, auto or home loan. You may have even found it difficult to rent a car or book a hotel room without a credit card. There is no denying credit scores and credit cards can determine several aspects of your life. A person's negative self-worth may be reinforced when a credit score or lack of a credit card is making decisions about your life.
Tips to Regain Self-Esteem
You are not your credit score or credit card and a bad credit score does not determine if you are a good person. Mainly a bad credit score reflects whether or not you pay your bills on time. If you are not paying your bills on time, it is probably due to some financially hardship. Rarely do consumers simply choose to stop paying bills.
Tip 1: Discover and nurture your passion. You have gifts and talents that may be undiscovered or un-nurtured. What do you like to do? Follow or find your purpose separate and apart from your financial situation. Is it wring, speaking, teaching, coaching, dancing, chess, fishing, telling knock-knock jokes, doing puzzles, painting, volunteering, cooking, reading, weightlifting, singing, creating with your hands, playing sports or an instrument or even collecting. Pursue what you feel strongly about. You just may be able to turn your passion into your profits.
Tip 2: Move your body when negative thoughts come. I am sure you've heard coaches tell their players to "walk-it-off" or "shake-it-off." The same applies here, whether it be shaking, dancing, kicking your legs, jumping or walking. Move your body in order to have an immediate re-direction of negative thought.
Tip 3: Exercise. It's free and releases a chemical called endorphins. According to WebMD, "Endorphins trigger a positive feeling in the body, similar to that of morphine. For example, the feeling that follows a run or workout is often described as "euphoric." That feeling, known as a "runner's high," can be accompanied by a positive and energizing outlook on life."
Tip 4: Make low credit scores is temporary state by actively working on improving your credit score. Taking action will empower you. Start here if you need to repair your credit.
Tip 5: Distance yourself self-esteem from your credit scores and credit cards. Do not take rejection personally. Having bad credit or not having a credit card does not make you a bad person. Credit scores is a numbers game. Once you learn how to play the game, you will always win. Read "How to Change your Credit Score."
Tip 6: New Credit. If you feel the need for a credit card do not put yourself in a compromising position by accepting a bad credit card offer. Secured credit is one way to start rebuilding credit. The Open Skysm Secured Visa® Credit Card is a good choice for consumers looking to rebuild or establish their credit. It has a low annual fee of $50 and you can choose your credit limit from $200 to $3,000. They report monthly to the three major credit bureaus.
Remember — You are not your credit score! Rebuild your life first; then you can rebuild credit scores.