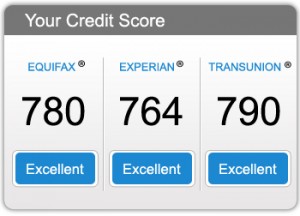 In a joint press release two of the biggest names in credit reporting and scoring, Experian and FICO, announced they are coming together once again.
The new partnership will give FICO more access to the wealth of consumer data held by Experian and give financial institutions across the country access to better information about the ways in which consumers use credit.
But buried in the press release was this little tidbit pertaining to consumers "Experian will make FICO Scores available to consumers through myFICO.com and through third parties."
Why Does This Matter to Consumers?
On February 14th, 2009 consumers lost access to their Experian FICO score. On this day Experian and FICO ended their "myFICO.com" partnership that had been in existence since June of 2003. This left consumers with only access to their FICO scores based on Equifax and Transunion data.
According to FICO in February 2009, "Experian has notified us that it will terminate its relationship with myFICO.com, effective February 14, 2009."
According to Experian during the same time frame, "Experian has opted to discontinue its relationship with myFICO effective February 14, 2009."
Consumers were immediately cut-off from knowing their Experian FICO score unless a lender provided it to them as FICO scores based on Experian data continued to be available to lenders.
The Guessing Game is Over
While consumers had access to Experian's Vantage Score, not many lenders use the Vantage Score. It really is a big development for consumers to once again have access to all three of major credit bureau's FICO scores which are primarily used by most lenders.
Consumers no longer have to play the guessing game when it comes to their Experian FICO score.
This is especially useful for consumers shopping for a mortgage loan or looking to refinance. Mortgage lenders commonly use all three of your FICO scores as a factor in the underwriting process. Now you'll have a better understanding of what lenders base their decisions on by knowing all of your FICO scores ahead of time — that is if you choose to purchase them. Currently myFICO.com charges $19.95 for Equifax and Transunion FICO scores.
The price tag may be worth it for consumers to have their real FICO score and not a FAKO score.
The Waiting Game Begins!
The estimated date of the re-release of the Experian FICO score via myFICO.com has not been announced. But it may not be long since the partnership is not new. I am sure myFICO.com has everything in place to start charging consumers for their Experian FICO scores again.
Credit scores in general can have a massive impact on borrowers' finances. Low credit scores cost consumers money. Giving consumers an opportunity to know where they stand with all three of their FICO scores will help consumers who may need to rebuild credit scores.