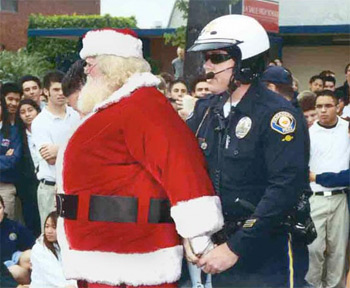 With the season of giving upon us, online holiday shopping as well as in-store holiday shopping offer identity thieves an array of opportunities to commit fraud. Experts warn the threat of identity theft, especially online, is greatest this time of year.
Consumers must be on constant vigilance to avoid being a victim of identity theft during the holidays and here are some top tips:
1. Make sure an online shopping site is legitimate. In the past few there has been a proliferation of fraud sites where criminals set up websites that look exactly like checkout pages for typical online shopping centers. These fraud sites are designed to steal payment information from unsuspecting shoppers.
When shopping online ensure the website browser has either a lock icon, or an "https" prefix instead of "http." And, try to shop only through well-known online retailers which will help to alleviate the chance of being hit by fraud.
2. Keep your wallet safe while in-store shopping. Keep your wallet in a safe place when you go shopping and guard your personal information. Advances in technology are opening new doors for identity thieves with credit and debit card skimmers that cost no more than $200.
There are even pocket-sized skimmers which allow identity thieves to get the information off your card while it's still in your wallet or purse, without even touching you.
More commonly though are the skimmers attached top of existing ATMs, at gas stations and even department stores at the point-of-sale credit card swipe station. Carefully examine the machine and be cautious.
The stolen information can be used to empty a bank account in no time – no debit card needed. A thief can simply purchase a blank gift card and enter the information onto the card's magnetic strip. The card can then be used just like the original debit card.
3. Use a credit card over a debit card. Using a credit card over a debit card which is directly connected to your bank account, will increase your protection. Credit cards come with zero liability. This means you can shop worry-free at millions of retailers. Most credit cards will not hold you liable for unauthorized purchases made with your card or account information.
A zero liability policy guarantees you won't be held responsible for fraudulent charges made with your card or account information
After shopping take the time to check over your monthly financial statements as closely as possible to make sure there are no unrecognized transactions, which likewise could be a sign of fraud.
4. Keep an eye on your receipts. Christmas shopping can take a toll with trying to find a parking space, crowded malls and long shopping lists. But don't let the stress of holiday shopping cause you to disregard your receipts. Have you ever looked at all of the information printed on a receipt? Receipts can carry a lot of personal information. Keep up with your receipts or shred them.