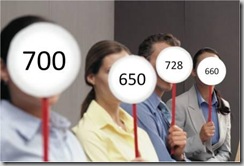 Question: Need to send for all three credit scores. Can I send for all 3 with one letter or 3 letters and what's the price for each?
Answer: The credit score evaluates information in your credit files to estimate the likelihood you will make on-time payments over 2 to 3 years. That 3-digit number is used by banks, lenders and credit card companies to determine approval or denial of credit. Generally, the higher the score, the less risk the person represents.
But that 3-digit number has moved deeper into our everyday life with landlords, utility companies, employers, insurance and cell phone companies and even businesses who accept checks pulling your credit score to make decisions.
The Importance of Checking Your Credit Score
Checking your credit score is imperative, especially if you are in the market for a major purchase such as home or car loan; and, if you are in the job market. Credit scores can change frequently because they are based upon the information your creditors report to the credit bureaus.
Most creditors report your payment history and other account activity on a monthly basis. This information is compounded by the number of creditors you have reporting in your credit files. Credit scores are fluid and can change regularly. You need to know where you stand.
Getting the Credit Score Lenders Use
There are various brands of credit scores. The FICO credit score, named by its developers Fair Isaac Corporation, is the most widely used credit score. In fact, according to FICO's website, 90% of the largest banks use your FICO® credit score for credit decisions.
Other credit scores may not be as accurate as the FICO credit score but that's not to dismiss their usefulness. They still may provide a good estimation of your credit score. But if you want your most accurate credit score, the FICO credit score is your best choice.
Where to Get Your FICO Credit Scores
You can get your FICO credit score from two of the three major credit bureaus, but you will have to pay a fee for it. One of the companies will offer you a credit score, but it is not the FICO credit score they sell to lenders.
Get continuous score monitoring and notification when a change in your FICO® score impacts the interest rate you are likely to receive.
Detailed explanations for key score changes and specific tips for understanding your score
Daily monitoring of your Equifax Credit Report with email notification and wireless alerts of key changes
Two Free Score Power® reports, plus discounts on additional Score Power® reports
Detailed "Bottom Line" of what your most current score means, comparison with national averages, and a graph of how lenders view you
Access to friendly and knowledgeable Customer Care available 7 days a week  Get your score today today!
2. TrueCredit.com 3-Bureau Monitoring (from Transunion):
3-Bureau Credit Reports & Scores that can be updated every 30 days!
Notification within 24 hours of critical changes to all 3 reports
Up to $25,000 ID theft insurance at no additional cost Order your scores today.
3. Experian:
As of February 2009, Experian discontinued consumer access to their FICO credit scores.
Consumers no longer have access to their FICO credit score based on Experian data at all and there is no entity that will sell it to you. Experian continues to sell the FICO credit score to lenders, banks, credit card companies and other companies, just not to the consumer.
If you are denied credit or received less favorable credit terms based on the Experian FICO credit score, you are entitled to a free FICO credit score under the new "Risk-Based Pricing Rule." The rule requires creditors to disclose credit scores when adverse actions are taken.
You will be able to access the Experian PLUS score from their website and other third-party resellers such as GoFreeCredit. The problem with the Experian PLUS score is few lenders use it so the score may not be as useful as the more widely-used FICO credit score.
4. Contact each credit bureau for your credit scores
Contact the credit bureaus directly and separately to request your credit scores. One letter for all three will not work as they are separate companies. You will have to inquire directly with them as to their costs of credit scores. The contact information for the three major credit bureaus is:
[wpcol_1third id="" class="" style=""]Equifax
1-800-685-1111
equifax.com[/wpcol_1third] [wpcol_1third id="" class="" style=""]TransUnion
1-800-916-8800
transunion.com[/wpcol_1third] [wpcol_1third_end id="" class="" style=""]Experian
1-888-397-3742
experian.com[/wpcol_1third_end]