When considering opening a kids debit card for your children, saving and investing money should be some of the top features offered.
Kids' debit cards offer a way that parents can control and monitor their kids' spending, but some debit cards for kids can be a powerful tool for learning—and building a strong financial foundation for the future.
There are multiple kids' debit cards on the market but only a few offer the added feature of teaching savings and investing. Here is what we found:
Continue reading, or jump ahead using these links:
Greenlight Kids' Debit Card – Best for teaching savings & investing
The Greenlight card offers flexible parental controls, teaches kids the value of saving money and kids investing — with real money, real stocks for kids, and real-life lessons. There are no age minimums or maximums for a Greenlight card.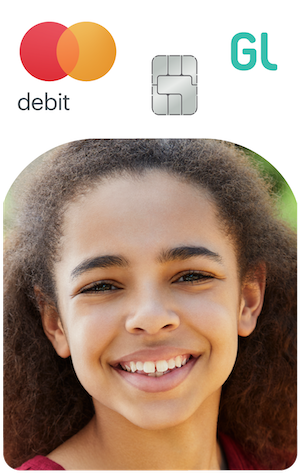 How the Greenlight card teaches saving money. Greenlight's educational tool allows kids to save money, earn interest and watch their money grow. Greenlight savings is parent-managed. Instead of earning the minuscule amount of interest average savings accounts offer (0.17% APY), parents can set and pay higher interest rates so their kids can actually watch their money grow.
Here's how Greenlight Savings works: Parents add money to the Savings category on your kid's Greenlight card. Once money is added, parents can pick a rate they're comfortable with to set the interest rate.
The process is automated and your kids' Greenlight Savings will earn interest once a month, drawn from the parent's wallet account automatically.
Greenlight Savings helps kids learn the power of compound interest, how saving can help them set and meet spending goals, plus learn the value of patience and planning.
How the Greenlight card teaches kids investing. Kids get hands-on investing experience. Greenlight's kids investing platform does not charge fees on trades.
The brokerage account is in the parent's name that can be used by the kid. Parents and kids can research, purchase, and monitor stocks and funds.
Investment portfolios will be recommended to kids; however, they have the option to build out their own portfolio. Every trade must be approved by the parent.
Greenlight offers 2 different debit card plans with the investment platform:
Greenlight + Invest Features
Greenlight + Invest Features
Investing platform for your kid
Debit cards for up to five kids
Category and store-level parental controls
Educational app
Tools for saving, spending, earning and giving
Monthly cost of $7.98
Greenlight Max Features
Investing platform for your kid
Greenlight Black Card
Priority customer service
Identity theft protection
Cell phone protection for up to five kids
Purchase protection for Greenlight purchases that are stolen or damaged
Debit cards for up to five kids
Category and store-level parental controls
Educational app
Tools for saving, spending, earning and giving
Monthly cost of $9.98
---
FamZoo Prepaid Debit Card – Best for teaching money management
FamZoo is a family finance app for kids, teens, and parents. The FamZoo kids' debit card offers financial literacy features like the basics of spending, saving, budgeting, and earning money. FamZoo debit cards can be used by or for family members of any age.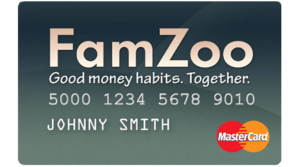 Here's how FamZoo card works: FamZoo is set up as an online private family banking system to give kids hands-on learning experiences directed by the parents. Parents are the "banker," and kids are the "customers."
Parents define the rules of the private family banking system and set-up payroll for their kids, loan money, set up automatic allowances, and even pay interest on savings.
Kids' funds can be managed in either IOU accounts, or prepaid card accounts (subject to eligibility), or a combination of the two.
Your kids sign in separately to access their own accounts, while parents maintain control through a shared online dashboard. This virtual family bank can be customized to meet your kid's specific needs.
FamZoo Debit Card Features
Kids learn about online banking, handling the responsibility of a card, and personal finance through integrated family finance tools
No risk of debt, overdraft, or hidden fees
Money can be moved instantly between family members anytime, anywhere via the web or mobile phone
Free card load and ATM options
Automatically track purchases
Move money instantly between family members
FamZoo accounts cost $5.99 per month if you pay monthly, but you can save if you pay in advance. If you pay for 12 months, the cost will come out to around $3.33 per month. The first four debit cards are free and each card beyond this costs $2.
---
Gohenry Debit Card – Best for savings
The Gohenry debit card for kids offers multiple tools to teach about setting savings goals and budgeting. Gohenry debit card for kids is available in the U.S. and the UK. The age limits are from six to 18 years.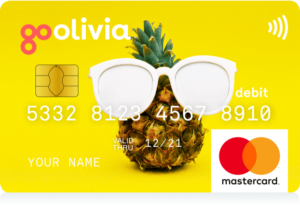 How the Gohenry card teaches saving money. Kids can set up their own savings targets and Gohenry will work out how much your kids need to save each week to reach the goal. This amount will then be automatically transferred from their spending account each week. The money comes from the allowance your child receives.
How the Gohenry card works. Parents open the account and set their kids' allowance and apply rules on how they can spend that money.
Kids can see their balance and the spending limits put in place by the parents. The Gohenry debit card for kids can be used in shops, online and to withdraw cash.
Parents get instant notifications whenever kids use their debit cards. Parents can link adding cash with tasks so that it's only paid into their account when they've completed chores or some other task like homework.
The Gohenry debit costs $3.99 per month per child which is more expensive than similar debit cards for kids.
Gohenry Debit Card Features
Set up an automatic weekly allowance
Set one-off and weekly spending limits
Choose where the card can be used (in-store, online or at the ATM)
Educational app
Receive real-time spend notifications
FDIC insured up to $250,000
Monthly cost per child $3.99
---
Why teaching your kids about saving is important
Saving money and investing money are two very distinct actions. But where and when do kids learn important money lessons? Saving money is a habit that not many adults have mastered.
I remember watching my parents at the bank using a savings passbook. That savings passbook was so important that my parents kept it in what they thought was a "secret" place.
Even when my siblings and I weren't interested, my parents shared personal finance information whether it was about saving, investing, household bills, or the importance of insurance.
But not all kids grow up learning the importance of saving and investing money. According to Bankrate, almost 3 in 10 Americans, or 28%, have no savings set aside to cover emergency expenses.
Why teaching your kids about investing is important
Investing is key to building long-term wealth. As the wealth gap continues to widen, the wealthiest 10% of Americans own 87% of the stocks and mutual funds in the market according to the Federal Reserve Bank of St. Louis.
There are far too many Americans that don't understand the value of investing and a great number of kids are not learning financial literacy at home or in school.
Kids learn best by experience. Exposing children to money management early like to how to save, invest, spend and earn develops good money habits. Setting up a reward system like allowance will help develop their good financial habits and set them up for success in the long run.
Choose one of the kid's debit card options to help teach saving money, equip your kids with the skillet of investing money, plus it's wise to allow kids to see monthly costs for the things they desire like apps, music streaming, cell phone, and even Netflix.