A metal debit card is a type of debit card that is made of metal rather than the traditional plastic material. Metal debit cards are typically more durable and offer a premium feel compared to plastic debit cards. They may also offer additional benefits, such as increased security features, rewards points, or cash back.
Where to get a Metal Debit Card
To get a metal debit card, you will need to have a checking account with a bank or credit union that offers metal debit cards as part of their services. The only issue is not many banks offer metal debit cards so it might be a difficult task.
Acorns Checking is a checkless banking service with one unique perk: you get a personalized heavy metal, laser engraved Acorns Visa™ debit card. This card can be used to make purchases and conduct ATM transactions from over 55,000 nationwide fee-free ATMs within the AllPoint Network.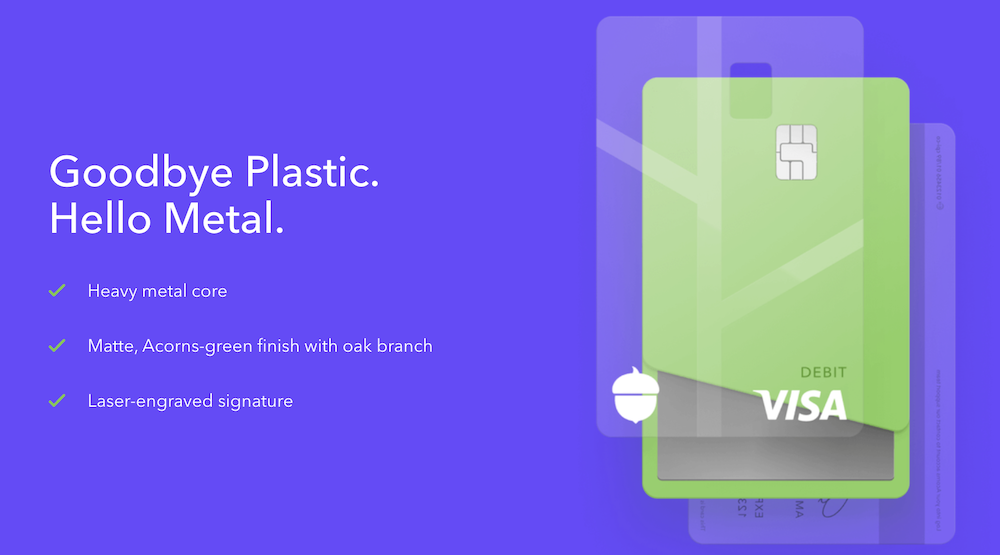 Acorns Checking Benefits and Perks
Invest spare change: With Acorns Checking, you'll be able to invest when you spend! Acorns gives customers the option to invest spare change from credit and debit card purchases.
Online banking: Mobile check deposit, digital checks, things your bank can do, and more.
Early pay check: Get paid up to 2 days earlier with direct deposit, and invest your money faster.
FDIC-insured: Acorns checking accounts are FDIC-insured up to $250,000.
Optional investing: Acorns helps you save & invest for the long-term. Invest a piece of every paycheck automatically for your future, retirement, your kids, or simply when you shop. With a minimum investment of just $5, investors can begin to build a portfolio of ETFs that meets their financial goals.
Acorns Found Money: An online marketplace that offers a small percentage back on purchases made at hundreds of major retailers, including Walmart. The cash back that you earn shopping on Found Money is placed in your Acorns Invest account.

Management Fee: Choose from two-tiers of management fees – $3 a month for investing account, IRA and checking account; or $5 a month for investing, checking, IRA and kids account
If you are interested in getting a metal debit card, you can contact your bank or credit union to find out if they offer this type of card. Keep in mind that each institution's requirements may vary so be sure to check all details before applying.
What are Metal Debit Cards?
A metal debit card is a type of financial card that can be used to access funds in a bank account or linked prepaid account. Metal debit cards are made of durable metals such as stainless steel, aluminum, and titanium and feature unique designs. These cards offer the same functionality as plastic debit cards but with greater security features and special benefits.
Which Banks Offer Metal Debit Cards?
It is becoming increasingly popular for banks to offer their customers special perks to gain new customers. But banks that offer metal debit cards are rare. Here are a few financial institutions that offer metal debit cards:
Revolut is a money app that that helps you manage your money, offers banking services and helps you invest. Customers can choose a metal debit card but it comes with a hefty $16.99 monthly fee.