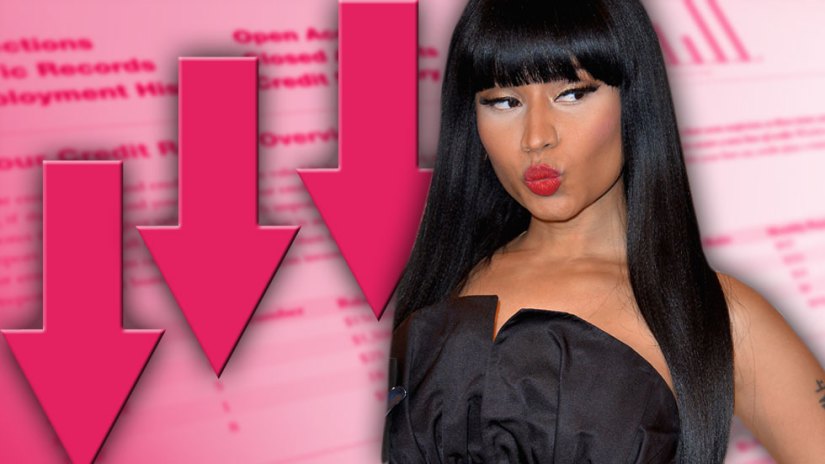 Nicki Minaj exposing herself is not surprising. But this time it's her social security number. Celebrities are often targets for identity theft. But when their Social Security number is shown to the world it's no avoiding credit score issues.
Recently a media outlet published the 2003 booking photo of rapper Nicki Minaj, born "Onika Maraj" exposing her Social Security number. She was arrested for shoplifting arrest in New York City.
As a result of the media outlet's actions, the rapper's credit score dropped more than 100 points due to excessive inquiries, Radar Online reports.
To have your Social Security number made public is a huge problem. The credit reporting agencies detected a lot of irregular activity and notified Minaj's representatives but that does not automatically reverse the damage already done. Her people will be able to correct the errors but it's going to take time.
It's unlikely the drop in credit score will adversely affect the rapper's financial outlook but the story could be far different for the average citizen.
Most people will never have to worry about their Social Security number being exposed to the world. However if a similar action were to occur with an average citizen it could take years to recover. Credit history plays a prominent role when it comes to access to loans and basic services that are tied to credit scores, like insurance rates and utilities.
Unlike Minaj's identity theft which was spotted fairly quickly, fraud detection for the average citizen can take months to detect because most consumers do not regularly check their credit reports. It's only when they go to apply for a loan, credit card, apartment or utility when a problem is discovered. One way to minimize the chances of undetected fraud is to regularly check your accounts and monitor credit scores for signs irregular activity.
If fraud is detected immediately take the following steps:
1. Fraud Alert. Notify one of the three major credit reporting agencies to request they place a fraud alert on your credit reports. Notifying just one of the major consumer reporting agencies will cause a fraud alert to be placed on all three major credit bureaus. Keep in mind a fraud alert may prevent you from being approved for new credit or you may be asked to provide identity information when applying for credit. Experian Fraud Center explains the process in more detail.
2. Credit Disputes. Dispute any credit inquiries and fraudulent credit accounts directly with the credit bureaus as well as the companies' fraud departments. The dispute letter should be simple and state something like this: "The credit inquiry on (date) is a direct result of identity theft and I am not the person who authorized the inquiry/account. Please delete the inquiry as well as the account from my credit report immediately."
3. Federal Trade Commission. It's a good idea to create an Identity Theft Affidavit and file a police report. To create an Identity Theft Affidavit, you'll need to submit a formal complaint detailing the theft to the Federal Trade Commission. Access the FTC Theft Affidavit online here. The FTC also has a hotline at 877-438-4338.
4. Police Report. Once you have a copy of the FTC's Identity Theft Affidavit take it with you to file a police report. Filing a police report may seem burdensome but it may help you down the line to get any fraud accounts and credit inquiries removed.
5. Freeze Credit Reports. This is optional but it will add an extra layer of protection to keep any new accounts from being opened. What a credit freeze does is prohibits creditors from accessing your credit reports or score. Keep in mind a credit freeze will also prevent you from being able to obtain instant credit. You always have the option of removing the credit freeze at any time. In order to place a credit freeze you'll have to contact each credit reporting agency separately and there is a small fee involved. Here are the links to place credit freezes:
http://www.experian.com/consumer/security_freeze.html
https://www.freeze.equifax.com/Freeze/jsp/SFF_PersonalIDInfo.jsp
http://www.transunion.com/personal-credit/credit-disputes/credit-freezes.page
Photo Credit: RadarOnline