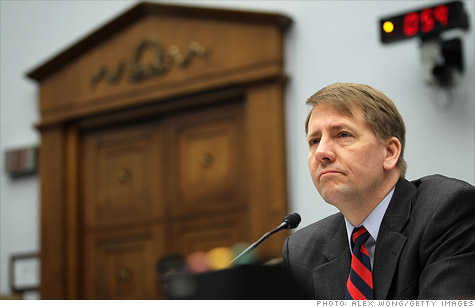 Two years after a contentious battle in the Senate, Richard Cordray was finally confirmed as director of the Consumer Financial Protection Bureau on July 18, 2013.
Since its inception in 2010, the Consumer Financial Protection Bureau (CFPB) has been educating consumers, regulating banks, credit unions and other financial companies as well as researching information to better understand consumers and financial service providers.
The CFPB aims to promote fair and transparent markets; it is America's Consumer Watchdog. Although Cordray has done a great job for consumers over the past two years, he remained a recess appointment by President Obama. Republicans were enraged about the recess appointment and refused to confirm Cordray.
Senate Republicans had vowed to block the confirmation of any director until the CFPB's single-director leadership was replaced with a five-member commission and its budget was subject to congressional approval. Republicans did not get what they wanted but some vow to continue the fight for structural changes at bureau.
What should the average American consumer expect

The confirmation of Richard Cordray sends a message to financial institutions that the authority and constitutionality of the CFPB's actions are permanent. Cordray's confirmation clears the way for the consumer bureau to take more aggressive steps to police the financial services industry.
Sen. Elizabeth Warren (D-Mass.) who was a special adviser and key component to the establishment of the bureau said "We now have certainty. There are no more clouds, period. This locks all the pieces in place."
The CFPB released a statement July 16, 2013 in which Cordray echoed Warren's sentiment, saying, "Today's action brings added certainty to the industries we oversee and reinforces our responsibility to stand on the side of consumers and see that they are treated fairly in the financial marketplace."
What has the CFPB accomplished to date

In the past year, the bureau issued a series of rules to govern mortgage lending and handed down enforcement actions against big banks. Consumers have someone on their side and the CFPB has made impressive progress. Here are several accomplishments:
July 2013 – The CFPB Puts Companies on Notice About Harmful Debt Collection Practices and Begins Taking Debt Collection Complaints
June 2013 – CFPB orders U.S. Bank and its partner auto lenders to refund approximately $6.5 million to service-members.
May 2013 – CFPB takes action against two companies for charging illegal debt-relief fees.
April 2013 – The CFPB amends card act rule to make it easier for stay-at-home spouses and partners to get credit cards
March 2013 – Consumer Financial Protection Bureau to hold auto lenders accountable for illegal discriminatory markup
February 2013 – Bureau to Pursue Alternative Repayment Options for Private Student Loan Borrowers.
January 2013 – Consumer Financial Protection Bureau rules establish strong protections for homeowners facing foreclosure
December 2012 – Consumer Financial Protection Bureau report details how the nation's largest credit bureaus manage consumer data.
November 2012 – Consumer Financial Protection Bureau issues warning to nationwide specialty consumer reporting agencies. Companies must provide consumers easy access to their consumer reports
October 2012 – CFPB orders American Express to pay $85 million refund to consumers harmed by illegal credit card practices.
September 2012 – Federal Deposit Insurance Corporation and Consumer Financial Protection Bureau Order Discover to Pay $200 Million Consumer Refund for Deceptive Marketing.
August 2012 – CFPB proposes rules to bring greater accountability to mortgage market. The Rules Would Help Consumers Understand Mortgage Costs and Comparison Shop
July 2012 – CFPB probe into Capital One credit card marketing results in $140 million consumer refund.
The Bureau has made the financial marketplace more open to consumers helping to keep interest rates low, end deceptive practices, compensate consumers for loss and keep predatory lenders at bay.
Submit a complaint online if you have need help in the following financial industries:
Bank Account or Service
Credit Card
Credit Reporting
Debt Collection
Money Transfer
Mortgage
Student Loan
Vehicle or Consumer Loan