Co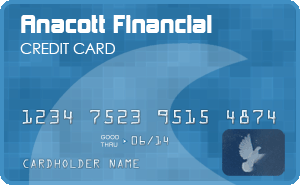 nsumers with bad credit seeking a credit card may have come upon Anacott Financial. Unfortunately there are a number of consumers who have already been taken in by Anacott Financial's credit card marketing scam.
They have a website but I am not going to link to it, if you would like to see it simply Google their name. On their website they market the credit card which looks much like a normal credit card.
Anacott Financial has a visa and mastercard logo on the website but the credit card is neither a visa nor a mastercard.
The credit card does not contain any major credit card logo. Hundreds of consumers have been victimized by this credit card scam. The company website states "For nearly 5 years, Anacott Financial has connected credit based products with customers in need, regardless of their current credit situation."
Several facts lead me to believe consumers are being scammed and you should consider the following before applying:
1. Place of Business. Anacott's business address is Two Penn Center Plaza, Suite 200 Philadelphia, PA 19102 which appears to be a sub-lease virtual office space where a business can receive mail and have phones answered but there is no actual office space. Virtual offices are common for many small businesses and totally legal. However, a legitimate credit card company would not operate out of a virtual office space.
2. Deutschland Financial Services. This company has no web presence and sounds all too familiar like the legitimate Deutsche Bank, a worldwide leader in financial products. A common trick scammers use to confuse consumers is through name recognition.
3. Anyone can get approved. When I say anyone, I really mean anything, any person or any non-person. Whatever name you can conceive, if you input it into their system, it will get approved. This is a quote on a forum by a consumer who was scammed:
"I was supposed to receive my card between 9/30 and 10/5… TO DATE NOTHING. Disputed the $99 charge today and filed a complaint with Better Business Bureau and also the FBI CYBER CRIMES DIVISION. THEY ARE A SCAM. REPEAT THEY ARE A SCAM!!!!!!!!!!!!!!!!!!!!!!!!!!

I actually last night filed a new application with the First name: GOT…. Last name: SCAMMED. My employer was ANACOTT FINANCIAL. I put i made $550,000 per month. Typed in a bunch of numbers for a SS# and also put in all 1's for a credit card number. Put in MY email address and TO MY SURPRISE received an email shortly after giving me a $2200 credit line and all Mr. GOT SCAMMED had to do was email or fax a copy of my drivers license and the credit card. This is 100% CCONFIRMATION of scam. THEY DON'T CARE WHO OR WHAT YOU ARE ALL THEY WANT IS YOUR LICENSE AND CREDIT CARD!!!!!!!!

HERE'S A COPY OF THE EMAIL CONFIRMATION

This is an automated message.

Dear Got Scammed,




Congratulations again on your recent pre-approval with Anacott Financial. For security and to verify your identity, Anacott Financial requires a copy of your Drivers License and a copy of the Debit/Credit Card you and used during the application. You can either email support@anacottfinancial.com or fax 215-853-3652 the necessary documents.

Please note, if you had already faxed or emailed the documents, it can take up to 5 business days for a member of our underwriting staff to review and complete your application.

In order for us to proceed with your application, you must confirm you email address. Follow this link to complete your application.

If you cannot follow that link, copy and paste the below website address into your browser."
4. A $99.00 upfront application fee. The site says the $99 application fee will be refunded "After First Payment" but the disclosure page says "Refund of $99 processing fee will be provided to customers who cancel within five days of application date. So which one is it?
5. What type of credit card are they offering. The disclosure page says "It is our goal to offer you the credit card that best fits your credit profile, which may or may not be the card you originally inquired about. You may be offered an unsecured card which may have different terms and conditions which will be disclosed to you." This is not true.
According to some consumers they received some type of pre-paid card while many others received the unusable, no logo card along with a letter stating they have a large credit line that can only be used towards a "wealth of information on building or rebuilding your credit…"
6. No Visa or Mastercard Logo. The card on their website has no visa or mastercard logo on the front and no 3-digit security number on the back of the card All credit and debit cards contain a security code on the back. There is also no card issuing bank. Their website even states, "Anacott Financial is not an issuing bank," which begs the question…Who is the issuing bank?
What you can do if you have been scammed by this company:
Request a refund from Anacott Financial. The number posted on their website is (215) 268-7663. If that does not work, request a refund from the company which processed the $99.00 payment.
Contact your state's attorney general and report the company.
File a complaint with the Better Business Bureau. They can be very helpful in contacting the company and negotiating a resolution.
Dispute the $99.00 charge with your bank or credit card company. Going this route will probably be the most successful. Your bank or credit card company will conduct a dispute investigation and most likely refund your money upfront, while the investigation is being conducted.
Check your credit to make sure no identity fraud has been committed. Anacott Financial collects social security numbers from applicants. It is best you exercise caution and make sure your credit report has no fraudulent activity.
If you are looking for a credit card for less than perfect credit the Open Skysm Secured Visa® Credit Card is a much better choice for consumers with bad credit. There is no credit check and you determine your own credit limit with an FDIC-Insured deposit from $200-$3,000.