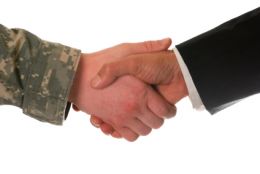 VA loans are available to active and former members of the armed forces who meet certain criteria for length and time of service. These loans are guaranteed by U.S. Department of Veterans Affairs.
The Department of Veterans Affairs does not originate the loans but they do guarantee the loans made by lenders. The guaranty replaces the protection the lender normally receives by requiring a down payment allowing you to obtain favorable financing terms. The basic features of a VA Loan:
No Down-Payment
Most VA loans do not require any down-payment, have lower interest rates and are fairly easy to qualify for.
Maximum Loan Limits
The VA does not have a maximum loan amount; however, since lenders sell loans on the secondary market, they generally limit loans to $417,000 or $625,500 in high-cost areas.
Eligibility Requirements
The VA will determine your eligibility and issue a certificate if you comply with the requirements but primarily active and former members of the armed forces, Reservists and National Guard members who have served at least six years, even widows, provided the spouse's death was service related, may be eligible. See www.homeloans.va.gov for more information.
Benefits of VA Loans:
Loans are assumable, provided the person assuming the loan is qualified.
No Prepayment Penalty.
Buyer closing costs are limited by the VA.
No monthly mortgage insurance premium (PMI).
Assistance from the VA is available if veterans encounter problems making mortgage payments.
Various loan options: fixed rate, adjustable rate, graduated payment and growing equity.
Purpose of a VA Loan:
Purchase a home including townhouse or condominium unit in a VA approved project.
Build a new Home.
Purchase and Improve a home simultaneously.
Home Improvements related to energy efficient features like solar heating and cooling, insulation, water heaters, weather-stripping, storm windows and doors, and other energy efficient products. These features may be added with the purchase of an existing home or by refinancing a home owned and occupied by the veteran.
Refinance an existing home loan up to 90 percent of the VA established value or to refinance an existing VA loan to reduce the interest rate.
To purchase a manufactured home and/or lot.