In 2020, the X1 Credit Card opened its much-anticipated waiting list for a no-hard credit check credit card that considers income more than a credit score.
Now, the X1 Card is officially rolling out to the public having attracted more than 350,000 people. With traditional credit cards, credit scores are one of the most important factors in approval decisions.
The X1 Credit Card uses a soft credit inquiry to make decisions along with the applicant's income to grant higher credit limits. According to the X1 Card's site, here is what makes them different:
X1 Card offers credit limits up to 5X higher1 than traditional cards.
Higher limits mean you can spend the same amount with lower utilization, which can boost your credit score.2
Based on current and future income.
Key features of the X1 Credit Card
X1 Credit Card is a no-hard credit check visa that offers consumers the chance to get a higher credit limit based on their income, not only their credit score.
Credit limits are based on current and future income.
X1 Card offers credit limits up to 5X higher than traditional cards.
It appears as though card underwriting requirements vary from person to person, no matter the yearly income. For example, a user on the FICO Forums reported a denial despite a yearly income of $120,000 while a different user reported approval with a yearly income of $60,000.
How the X1 Credit Card Works
When you apply for the X1 Credit Card, a soft pull on your credit card is used to verify your identity. Here are some data points to consider but the X1 Card may have more complex requirements than stated on their site:
Documentation proving you are employed.
Linking your bank account using the Plaid technology platform.
Paystubs may be required.
If approved, the credit limit will be based on your income along with your creditworthiness.
Approved applicants are reporting that hard credit inquiries are performed after approval.
Approved applicants are generally reporting higher credit limits with the X1 Card than their existing credit card accounts.
As your income increases, you'll be considered for automatic credit line increases.
Here is what one person reported about a hard credit inquiry after approval of a high credit limit:
I got a HP too!  I logged into the X1 app and confirmed no changes to my credit line. I don't mind the HP since I got a huge credit line, I just would have liked to known to expect a HP. I did check all the CR's and Experian was the only hit. (ficoforums)
X1 Credit Card Pros
In addition to the X1 Credit Card being 17g Pure Stainless Steel, there are several other perks cardholders can enjoy:
Cardholders will earn a flat 2 points per dollar on every purchase.
Cardholders that spend more than $15,000 in a year will earn 3 points for every dollar you spend during the year.
Refer a friend to earn 4 points per dollar for 30 days. (For example, bring in 10 friends and you'll get 4X points on every single purchase for 10 months).
Credit limits will automatically increase over time.
To manually increase your credit limit you can link your bank account and provide pay stubs.
Create virtual cards for one-time use.
No annual fee.
No foreign transaction fees.
No late fees.
X1 Credit Card Cons
Cardholders can only redeem points for statement credits against purchases from specific retailers, including Airbnb, Etsy, Nike, and Wayfair.
Reward points are worth a minimum of 1 cent apiece but can be worth up to 2 cents each with some retailers.
X1 Card Highlights 
Intro Offer: N/A
---
APR: 12.75% – 19.75% Variable
---
Recommended Credit: Excellent/Good Credit
---
Reward Rates:
Earn 2x points on every dollar spent
Earn 3x points on every dollar spent that entire year when you spend $15,000+ in a year
4X points for 30 days for each friend you invite who gets the card
---
Annual Fee: None
---
Intro Purchase APR: N/A
---
Balance Transfer Fee: 2% of the amount of each transfer.
---
Balance Transfer APR: 12.75% – 19.75% Variable
---
Penalty APR: None
---
What other credit cards are comparable to the X1 Card?
The X1 Card can definitely be considered an everyday spending card but a more traditional rewards card may be more in line with approval criteria for fair to good credit, and the flexibility to earn rewards on all spending.
The Upgrade Visa® Card with Cash Rewards has the potential to earn more rewards on all of your spending, not just certain categories. Upgrade cardholders will automatically earn cash back on all spending as opposed to only earning cash back in set categories.
$200 Welcome Bonus – Upgrade Visa® Card with Cash Rewards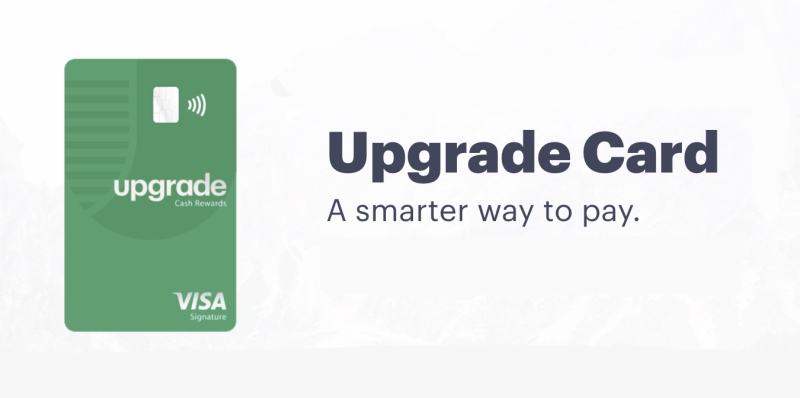 Recommended credit score for the Upgrade rewards card. The Upgrade Visa® Card with Cash Rewards considers credit scores that range from 580-740 (Fair to Good).
---
Rewards rate. Earn 1.5% unlimited cash back on card purchases every time you make a payment.
---
Welcome Bonus. $200 bonus when you open a Rewards Checking account and make 3 debit card transactions.
---
Fees. $0 annual fee, $0 activation fees, $0 maintenance fees.
---
Generous credit lines. Credit lines up to $25,000 are available.
---
Prequalify with no impact on FICO score. See if you qualify in minutes without hurting your credit score.
---
Monthly credit bureau reporting. Reports payments to all three credit bureaus
---
Fixed payments. Combine the flexibility of a card with the low cost and predictability of a loan. The Upgrade credit card is a type of hybrid credit product, mixing a credit card with a personal loan.
---
Here is how Upgrade's fixed payments work:
Use the card to make purchases.
At the end of each billing cycle, the total of your transactions is added together and treated by Upgrade as an installment loan.
Upgrade offers you a choice of a 24-, 36- or 60-month installment plan so you pay the same fixed amount every month until the balance is paid off.
Your payments will earn 1.5% cash back when you pay your bill.
Repaying a fixed amount for a specified term means you'll save a ton of money on interest. For example, if you carry a $10,000 balance on the Upgrade card at 18% APR with a 24-month repayment term, your payments will be $499.24 and the balance will be paid in full in 24 months, paying a total of $1,981.78 in interest over the life of the loan.
Repaying a traditional credit card with the same balance and interest rate but paying only $250 every month, will take 62 months to pay the balance in full, accruing $5,386.23 in interest for a total payment of $15,386.23. However, if you typically pay your credit card in full each month, the Upgrade card may not fit your needs.
APPLY NOW