You can become a homeowner with a 500 credit score home loan by working with an FHA Lender. The Federal Housing Administration (FHA) is the largest insurer of mortgages on single family and multifamily homes.
FHA can get people approved for a 500 credit score home loan because they provide mortgage insurance on home loans made by FHA-approved lenders.
Since its inception in 1934, the Federal Housing Administration (FHA) has insured over 47.5 million properties. Whether you're a first time homebuyer or want to refinance your existing mortgage, the FHA loan program will let finance a home with a 500 credit score and a low down payment of 10% down to buy a home.
Become a homeowner with a 500 credit score home loan
Lenders can approve people with 500 credit scores because the government backs FHA lenders from loss in case a borrower defaults. FHA Lenders can be more lenient with their qualifying criteria plus they can accept a lower down payment.
First-time homebuyers as well as repeat buyers planning to use a home as  their primary residence can get approved for an FHA home loan.
There are additional programs that can help you get a bad credit mortgage loan but we're going to concentrate on FHA loans because they are available for most consumers.
FHA Mortgage Loan Highlights
1. FHA down payment requirements depend on credit scores.
For credit scores between 500 and 579 must put at least 10 percent down.
For credit scores between 580 and above you must put at least 3.5 percent down.
FHA mortgage loans require less down payment than a traditional conventional mortgage loan. Conventional loans require 20 percent down payment which can be a huge barrier for first-time homebuyers. For example: A $300,000 home at 20% down payment would mean you need $60,000 (along with other closing costs).
By comparison, an FHA mortgage would require anywhere from 3.5% to 10% for a down payment, which comes out to $10,500 to $30,000.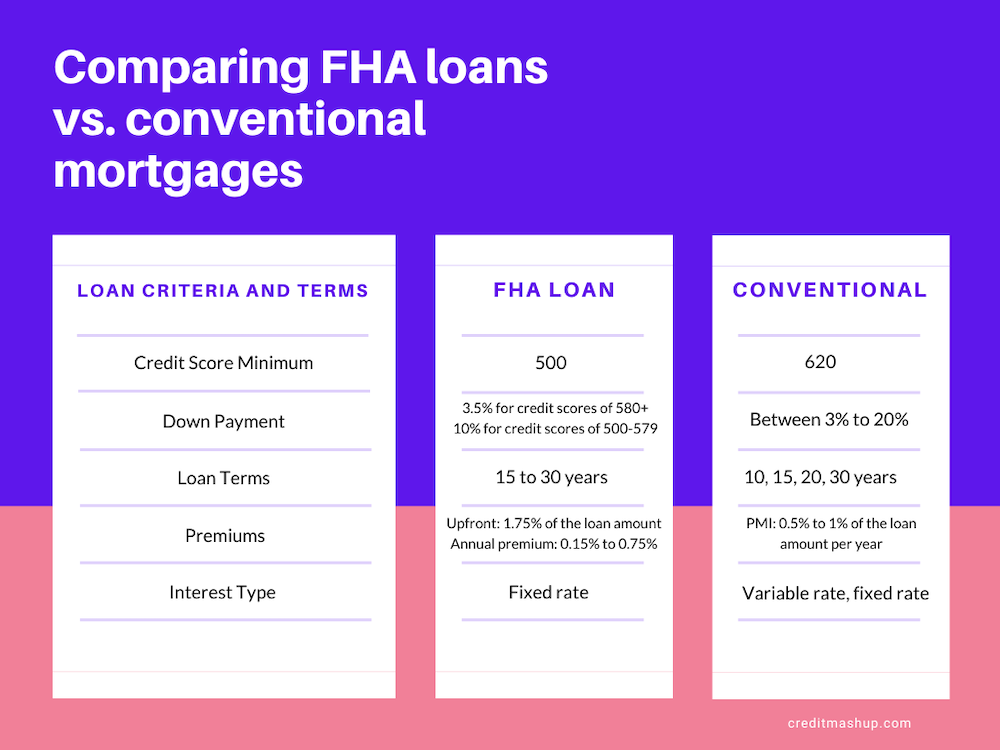 But there are extra expenses when you put less than 20 percent down on a home. The real expense of the FHA home loan lies in the mortgage insurance premiums.
2. FHA loans require mortgage insurance premiums.
FHA's easy qualifying criteria and low down payment requirements come with a cost. You need to pay mortgage insurance premiums to cover the lender for the lower down payment.
While the government will back FHA mortgage loans, it doesn't do it for free. Mortgage insurance premiums cover the costs of this backing through upfront and annual mortgage insurance premiums. All FHA loans require the borrower to pay two mortgage insurance premiums:
Upfront premium: 1.75 percent of the loan amount, paid when the borrower gets the loan. The premium can be rolled into the financed loan amount.
Annual premium: 0.15 percent to 0.75 percent, depending on the loan term (15 years vs. 30 years), the loan amount and the initial loan-to-value ratio, or LTV. This premium amount is divided by 12 and paid monthly.
That means if you borrow $300,000, your upfront mortgage insurance premium would be $5,250 and your annual premium would range from $450 ($37.50 per month) to $2,250 ($187.50 per month).
3. FHA has a maximum loan amount that it will insure
Low down payment requirements and competitive mortgage rates don't mean you can purchase a mansion. FHA has loan limits. The FHA loan limits depend on what part of the country you live in. Some areas are designated high-cost and others designated low-cost. These loan limits are calculated and updated annually. They're influenced by type of home, such as single-family, duplex, tri-plex or four-plex and location.
For 2023 cap the amount you can borrow for a single-family home at $472,030 in low-cost areas.
For 2023 cap the amount you can borrow for a single-family home at $1,089,300 in high-cost areas.


How you can benefit from an FHA Loan
Less Stringent Qualifications. FHA provides mortgage programs with easier requirements. This makes it possible for most borrowers to qualify, even those with questionable credit history and low credit scores.
Competitive Interest Rates. Typically, when a homebuyer has low credit scores, the only option is a subprime mortgage. FHA loans offer low interest rates to help homeowners afford their monthly housing payments.
Bankruptcy. FHA loans are available to people who failed bankruptcy or experienced a foreclosure to apply for a loan. Borrowers must wait out the FHA's minimum time period of two years after the discharge date of a Chapter 7 Bankruptcy. plus any additional amount required by the FHA lender. It's best to show you have engaged in rebuilding your credit after bankruptcy and have current on-time credit accounts.
Foreclosure. Borrowers with a foreclosure must wait three years before applying for an FHA loan. This is lenient compared to conventional lenders who typically require you to wait seven years after a foreclosure. They want to see you are rebuilding your credit after foreclosure and managing debt well.
Determining Credit History. Bad credit is not necessarily a problem when applying for a FHA loan. There are many ways a lender can assess your credit history. The key is to show that you have improved in making payments and that any late payments or even collection accounts were isolated incidences that can be reasonably explained.
Requirements for an FHA Loan
Applicants must be a legal U.S. resident and should present a Social Security number. The lender will confirm the applicant's income and credit history, as well as a list of assets and debts. If you want to qualify for the maximum financing the borrower should have a minimum credit score of 580.
Borrowers seeking a 500 credit score home loan can still qualify for FHA financing but the loan amount will be reduced to a 90 percent loan-to-value ratio. Qualifying for a loan insured by the FHA can be beneficial in many ways.
Because borrowers can qualify with easier credit requirements and get low interest rates, FHA makes it possible to become a homeowner with a 500 credit score home loan. But there are actions you can take to prepare your credit files for a mortgage loan that may make the process go much smoother.