During the COVID-19 pandemic, you can get weekly free credit reports from all three major credit bureaus – Experian, Equifax, and Transunion.
Through December 2023, Annualcreditreport.com offers free credit reports to all Americans on a weekly basis so you can monitor and protect your financial health during the coronavirus pandemic. Previously, you were only entitled to one free credit report from each bureau per year.
The latest offer is pretty good, especially for people attempting to fix credit issues.
Having the ability to pull your credit reports from the three major credit bureaus on a weekly basis will keep you on top of any changes, inaccurate information or errors.
"We are making credit reports more accessible more often so people can better manage their finances and take necessary steps to protect their credit standing," Mark W. Begor, CEO at Equifax; Brian Cassin, CEO at Experian; and Chris Cartwright, CEO at TransUnion, said in a joint statement. Here is how you can get free credit reports from each bureau and what to look for when reviewing your credit.
How to get weekly free credit reports online
To get your free credit reports from each bureau make sure you are at the correct site then follow these steps: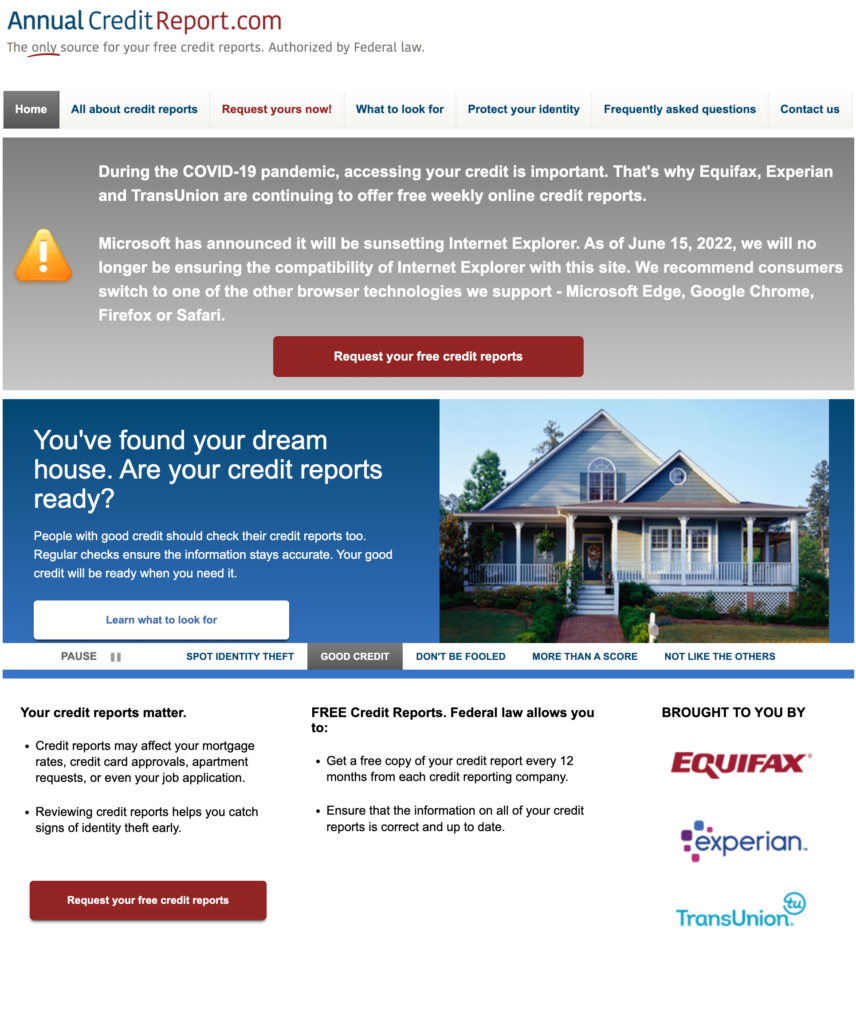 Go to AnnualCreditReport.com.
Click on "Request your free credit reports."
Fill out one form to request up to three copies of your credit report.
Choose which reports you want (Experian, Equifax and/or TransUnion).
Answer identity verification questions, submit your request (you'll need to do this step for each credit report).
Review your report(s).
Your free annual credit report does not include your credit scores. If you want access to credit scores you will have to pay a fee.
How to get weekly free credit reports via US Mail
A free copy of your credit report is also available by mail. Simply download and complete the Annual Credit Report Request Form. Mail it to: Annual Credit Report Request Service, P.O. Box 105281, Atlanta, GA 30348-5281.
Call to get weekly free credit reports via US Mail
Call Annualcreditreport.com at 877.322.8228 to request a paper copy of your report. You will need to provide your name, address, Social Security number and date of birth to verify your identity. Or you can call each credit reporting agency directly:
How to review your credit reports
Monitoring your credit report is the first step to better credit. You can't fix what you don't know about. Keep an eye out for common credit report errors such as:
New accounts that you didn't open
Identity errors (incorrect spelling of name, wrong phone number or address)
Incorrect reporting of account status (late payments when you've paid on time, closed accounts reported as open or being listed as the owner of an account when you're an authorized user)
Data management errors (reinsertion of incorrect information after it was corrected)
Balance errors (incorrect current balance or credit limit)
If you notice any errors, dispute them immediately. Also, check out our step-by-step extensive guide on how to fix your credit.
What to do about closed accounts on credit reports
Positive payment history. You may notice closed accounts on your credit reports. Don't be alarmed, the closed account may be helping your credit scores. Closed accounts with a positive payment history (no late payment history) can remain on your credit reports for up to 10 years. Positive credit accounts contribute to a stronger credit history. So, removing those accounts could hurt your credit scores.
Negative payment history. Late payments made on an account can remain on your credit reports for seven years. Closing the account won't remove the late payments any sooner. Late payments are removed at the seven-year period unless you are able to dispute late payments to have them removed sooner.
Delinquent closed accounts can remain on your credit reports for seven years after the original delinquency date when the first missed payment occurred and the account was never brought current.
Understanding Credit Reports and Scores
– Get the inside scoop on how to spot errors and what items to update, correct or delete.