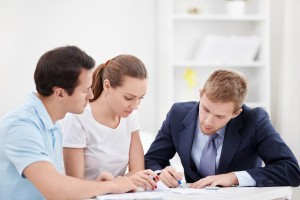 Buying a home is an exciting event but it can also be the biggest headache you'll ever experience. Homebuyers may think once the mortgage loan process ends, the stress and confusion ends. But there is one more step, the mortgage closing – and this is where the stress can go nuclear.
A mortgage closing is the last step in buying a home just before the buyer becomes the legal owner of the home.
A report from the Consumer Financial Protection Bureau outlines the biggest challenges homebuyers face when reaching the final step of a mortgage. Homebuyers say they are confused, frustrated and feel pressured to sign documents they have not fully read.
It's totally understandable why homebuyers feel pressured. At a mortgage closing many legal documents are involved — both those related to the mortgage loan and those related to the transfer of the property from the seller to the buyer.
Consumer Bureau Complaints
In January 2014, the Consumer Financial Protection Bureau (CFPB) invited consumers and mortgage professionals to share their experience about the mortgage closing process. Homebuyers experienced the following:
Homebuyers felt they didn't have enough time to review closing documents; often not seeing the paperwork until they arrive at the closing table. Consumers reported feeling pressure to rush through the paperwork and sign—even when they did not understand the terms.
The paperwork was complex and overwhelming. Documents were not only confusing but also included errors. The terms were unknown to most homebuyers and little help was offered by professionals in the room.
Homebuyers felt frustrated with the little help they received from mortgage and real-estate professionals when they had questions.
The Upcoming Changes
In August 2015, the CFPB's new Know Before You Owe mortgage rule takes effect. Under the new rule homebuyers will receive their new Closing Disclosure at least three business days in advance of closing, to provide more time to review the terms of the deal. There will be two easier-to-understand disclosures, which should give the homebuyers more time to ask questions and compare costs.