Get paid early up to 2 days with banks that offer early direct deposit. Plus earn a sign-up bonus for opening a new account at Chime, Acorns, or SoFi.
When you get paid sooner, you can pay bills sooner and avoid the negative effects of late payments on credit scores.
Banks that offer early direct deposit immediately let you access your funds while the bank processes your payment from your employer or government agency.
Instead of holding on to your paycheck until the process is complete, the bank deposits the paycheck before it processes the payment, essentially acting on "good faith" that the employer's payment will clear.
Getting paid early gives you a jump on your savings goals.
5 Banks That Let You Get Paid Early Plus Offer a Sign-Up Bonus
1. Chime Spending Account – $100 Bonus
The Chime Spending Account allows customers to get paid early up to 2 days. There are no overdraft or monthly fees with Chime. The Chime SpotMe feature allows you to overdraft your account up to $200 with no fees.
How to Earn Chime's $100 Bonus
Receive a qualifying direct deposit of $200 or more within the first 45 days of enrolling to get a $100 Bonus.
Chime Spending Account Features
Minimum opening deposit $0.
Get paid up to 2 days early with direct deposit.
No hidden bank fees.
No monthly maintenance fees.
Grow your savings automatically while earning 0.50% APY.
No overdraft or non-sufficient funds fee.
60K+ fee-free ATMs˜ at locations like Walgreens, 7-Eleven, CVS, and more
---
2. SoFi Money Account – up to $125 Bonus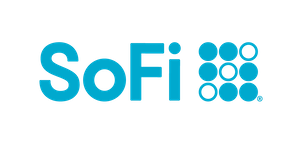 The SoFi Money Account can be opened with a minimum of $10 with a debit card or an existing checking account. Get a $25 welcome bonus for opening a new account plus, if you sign-up for direct deposit you can get an additional $100 bonus.
SoFi Money Account Features
$10 Minimum opening deposit with a debit card or checking account from a different bank.
Get paid up to 2 days early with direct deposit.
Earn 0.25% APY which is 8x the national rate for savings accounts.
No-fee Overdraft Coverage.
55,000+ fee-free ATMs worldwide within the Allpoint Network.
Get up to 15% cash back on everyday expenses when you pay with SoFi Money.
Automated bill pay.
FDIC-insured deposits up to $1.5MM through the SoFi Money sweep program with partner banks.
---
3. Acorns Checking Account – $75 Bonus

The Acorns Checking Account is the first checking account with a debit card that saves, invests, and earns for you. With the Acorns Checking Account, customers enjoy no monthly or overdraft fees, a debit card, and free ATM access nationwide. The Visa debit card is made with an impressive tungsten metal with a matte green finish and your signature custom-engraved.
Acorns Checking Account Features
Set up Acorns Checking Direct Deposit you can get your paycheck up to 2 days early.
Receive 2 direct deposits of at least $250 and a $75 bonus will be deposited into your Acorns account within 45 days.
No overdraft fees.
Unlimited free or fee-reimbursed ATM withdrawals nationwide.
Rounds up purchases made with your debit card and invests the spare change.
Digital direct deposit and mobile check deposit and check sending.
Free bank-to-bank transfers.
Automated bill pay.
FDIC-protected checking account up to $250,000 plus fraud protection.
---
4. Axos Essential Checking

The Axos Essential Checking Account offers perks like no monthly service fees, unlimited ATM reimbursements in addition to early paycheck with direct deposit.
Essential Checking Features
Minimum opening deposit $25.
No monthly fees.
Unlimited ATM fee reimbursements.
Early direct deposit.
Referral bonus when you invite friends.
100% mobile and online banking.
---
5. Current Banking

Current Premuim Account does not use ChexSytems or a credit report to open accounts. One unique feature Current offers is no-holds on debit card gas purchases. Some gas stations may apply a hold of up to $100 when you use a debit card. These holds lock the amount being held, making it unavailable for spending. The Current debit card will immediately refund the hold so that you don't have available funds locked for days.
Current Premium Account Features
No minimum balance.
No overdraft fees when you overdraw by up to $100 with Overdrive™.
Get your paycheck up to 2 days early with direct deposit.
Earn points for unlimited cashback at participating retailers.
Gas station holds immediately credited to your account.
Send money instantly for free.
24/7 member support.
---
6. LendingClub Banking

Lendingclub Bank does not use ChexSytems to open checking accounts. As a part of the application review process, LendingClub Bank will soft-pull a credit report from Equifax to verify your identity and review your banking history. The soft-pull does not affect your credit score.
Rewards Checking Account Features
Rewards Checking is a free checking account with no monthly maintenance fee.
Minimum amount to open account is $100.00 that can be funded with a debit card or a checking or savings account from another bank.
Get rewarded for everyday purchases and earn 1.00% cash back with Rewards Checking every time you use your debit card.
Get unlimited ATM fee rebates.
Set up direct deposit into your account and you're eligible to receive your money up to 2 days early.
Earn more than the national average. Earn 0.10% APY on balances of $2,500–$99,999.99. Earn 0.15% APY on balances of $100,000 & up.
Our US-based Customer Service is available by your channel of choice: chat, phone or email.
Deposits are FDIC-insured up to the highest possible amount allowed: $250,000.
How banks can offer your paycheck early
Early direct deposit works much like a regular direct deposit. Your employer submits payroll to the Federal Reserve's automated clearinghouse (ACH) system.
The ACH is a nationwide network through which banks and credit unions send each other electronic credit and debit transfers like direct deposits. Your direct deposit may arrive 2 to 3, or more days before your scheduled payday.
Most banks hold onto your deposit until your employer's allotted payday. Banks with early direct deposit will release your paycheck as soon as it receives notification from the ACH a deposit has arrived.
This is the reason why you may get paid up to two days earlier than your coworkers at the same company.
For example, let's suppose that your coworker has a checking account at Bank of America and you have a checking account at Lending Club Bank which offers early direct deposit. Your payday falls on a Friday. Your employer sends payroll instructions to their bank Monday morning. After your employer's bank and the ACH finish passing deposit instructions along, your bank and your co-worker's bank both receive the payment files on Wednesday.
Next, both banks start processing the payment instructions. But, your co-worker must wait for his paycheck to arrive at his Bank of America account, while your bank, Lending Club, deposits the money into your account so you can access your funds right away on Wednesday instead of getting paid on a Friday – up to two days faster than your coworker.
How to set up early direct deposit?
Setting up early direct deposit involves the same steps as a regular direct deposit. Here are the steps to take:
Get a direct deposit form from your employer or your bank.
Fill in your banking information that includes personal and bank details like the bank address, bank routing number, account number, and bank address.
Choose to deposit 100% or a partial amount of your paycheck into your checking account.
Attach a voided check or deposit slip, if required.
Give the form to your employer, and wait for the direct deposit to go into effect. It may take several weeks.
The main difference in early direct deposit vs. direct deposit is that early direct deposit simply allows you to access your paycheck funds faster. But in both cases, it is essential to make sure that your routing and account numbers are accurate to avoid returned funds and fees.
Benefits of direct deposit
The benefits of direct deposit generally outweigh the benefits of receiving a paper check. For example:
With electronic deposits, you can have your pay immediately available on payday without being present or having to go somewhere to deposit or cash your paycheck.
Direct deposit can also mean you get your money faster from other payors as well, like the IRS, rather than waiting for a check in the mail. Most Americans recently witnessed getting paid sooner with coronavirus stimulus checks. Everyone with direct deposit received the stimulus money much quicker than those receiving mailed paper checks.
You can make savings easier by splitting your direct deposit into two or more accounts. If you can put a portion, such as 20%, of your paycheck into a high-yield savings account, to save automatically each month. 
Reasons Employees Like Banks That Offer Early Deposits
Most people love getting paid – whether you get paid weekly, bi-monthly, or monthly. In fact, employees are happier on payday than on Christmas according to a 2018 survey commissioned by QuickBooks Payroll where employees said that payday makes them happier than Christmas morning.
Some reasons people are happier on paydays include:
Get ahead of your debt
The ability to avoid timing issues and overdrafts with paying bills on payday by receiving your paycheck earlier
Payday means you can pay bills and have peace of mind
Dine out with friends or family
Make a purchase you've been waiting for
Enjoy a night out
Attend a sporting event
Stay on top of your bills by getting paid early
Getting paid early lets you pay bills on time and do more with your money. You can even boost your emergency savings and get a head start on earning compound interest. Get a handle on your money with funds made available to you right away instead of the bank holding onto your money. Prevent overdraft fees for running out of money!
Final thoughts
These five online banks are not the only banks that offer early direct deposit. There are many banks that feature early paycheck options. Some banks may have a small fee involved for the service. Check your local banks and credit unions if you prefer banks that have branch locations.
Direct deposit is already convenient, but early direct deposit ensures you get paid much faster.