If you recall hearing the term "Chime Bank", you're not alone. For several years Chime® referred to itself as a bank.
However, in 2021 Chime® was restricted from referring to its business as a bank after reaching an agreement with the California Department of Financial Protection and Innovation.
The California agency ordered Chime to cease and desist using the word "bank" because no organization has the right to portray itself as a bank unless it possesses the necessary license to conduct banking operations.
So while Chime has an impressive 14.5 million US consumers according to a recent study from Cornerstone Advisors and StrategyCorps, Chime® is not a bank.
5 Reasons Why Chime® Is Not A Bank
Chime offers banking services but here are 5 reasons Chime is not a bank:
1. Chime is not chartered by the federal government. Banks are chartered by the federal government, which gives them certain powers and responsibilities. Chime is not chartered by the federal government, so it does not have the same powers and responsibilities as a bank.
2. Chime does not have FDIC insurance. FDIC insurance protects depositors' money up to $250,000 in case a bank fails. Chime does not have FDIC insurance, so depositors' money is not directly protected through Chime. However, Chime's banking partners, The Bancorp Bank, N.A. or Stride Bank, N.A. provide FDIC insurance to Chime depositors.
3. Chime does not have a physical branch network. Most banks typically have a physical branch network where customers can deposit money, withdraw money, and speak to a teller. Chime does not have a physical branch network, so customers must do all of their banking online or through the Chime app.
4. Chime is not regulated by the same agencies as banks. Banks are regulated by the federal government, including the Federal Deposit Insurance Corporation (FDIC), the Federal Reserve, and the Office of the Comptroller of the Currency (OCC) along with a state banking agency in the state a bank does business. Chime is not regulated by the same agencies as banks, so it is not subject to the same level of oversight. 
This could be why Chime has multiple complaints surrounding customers' inability to get funds reimbursed when fraud is involved or when customer accounts are closed by Chime.
5. Chime is a financial technology company. Chime is a financial technology company, also known as a fintech company. Fintech companies use technology to provide financial services, such as banking, lending, and investing. Banks are traditional financial institutions that typically offer some type of free checking along with a wide range of financial services and products, under one roof, that most fintechs don't offer. 
What is Chime®?
Launched in 2013 as an alternative to traditional banks, Chime® is a financial technology company giving customers access to free checking, a debit card, overdraft protection, a credit builder card and savings account through Bancorp Bank, N.A. and Stride Bank, N.A.
Chime® Checking Account Features
1) No Monthly Fees or Minimums. The checking account is referred to as a "Spending Account". Customers enjoy many of the same benefits offered by checking accounts with no overdraft fees, no minimum balance requirements, no foreign transaction fees, and no monthly service fees.
2) Chime SpotMe®. Chime SpotMe® provides overdraft protection up to $200 by allowing Chime customers to make debit card purchases that overdraw on their accounts with no overdraft fees1. Chime's website says, "limits start at $20 and can be increased up to $200 or more, based on factors such as account activity and history."
3) Early direct deposit. Customers with direct-deposited paychecks, government benefits, tax refund checks as well as government stimulus can get paid up to two days early with direct deposit2.
4) Overdraft fees. There are no overdraft fees. Chime doesn't allow customers to overdraft their accounts unless you have the Chime SpotMe® feature enabled on your account.
5) Free ATMs. Chime customers can access more than 60,000 fee-free ATMs through the Moneypass ATM network and Visa Plus Alliance ATMs3.
6) Easy to get checking account. Chime does not use ChexSystems to screen new accounts. Chime offers leniency for people with previous checking account problems or bad credit.
7) Check writing. Chime does not offer traditional checkbooks. However, if you need to mail a check, you can have one sent directly from the Chime mobile app by simply entering the payee. Chime will then mail the check for you.
8) FDIC-insured. All customer accounts held with Chime are FDIC insured for up to $250,000 per depositor, through its partner banks, Stride Bank, N.A. (FDIC No. 4091) or The Bancorp Bank (FDIC No. 35444).
Chime® Savings Account
Chime's savings account earns a higher than average rate at 2.00% APY4. But, it's not like high-yield savings accounts that earn more than double what Chime offers.
Credit Builder Credit Card 
Chime offers one of the easiest credit cards to get. Chime's Credit Builder Secured Visa® Credit Card is one of the rare no credit check credit cards on the market but customers must have a Chime® Checking Account with a minimum $200 monthly direct deposit. There is no minimum security deposit required5.
Chime Pros and Cons
Pros:
Chime is known for its mobile app, which is rated 4.8 out of 5 stars at the App Store and 4.5 out of 5 at Google Play.
Access to more than 60,000 MoneyPass and Visa Plus Alliance fee-free ATMs.
Chime doesn't review your ChexSystems history, so this might be an option for second chance banking. 
Early paycheck with direct deposits.
Cons:
Only those with Chime Checking accounts can open a Chime savings account.
Direct deposit required to get overdraft protection and the credit builder account.
There is no ability to open a joint account.
No physical bank branches – you can only contact Chime by phone, email or the chat feature.
Major Chime® Complaints
One of the major reasons to consider alternatives to Chime is the enormous amount of complaints, for example:
Chime's checking account dispute process
It appears Chime falls short when addressing fraudulent checking account transactions and customer disputes are often denied.
Regulation E under the federal government covers authorized and unauthorized electronic fund transfers at when using ATMs, making point-of-sale transactions, or automated clearing house (ACH) transactions.
Under Regulation E a customer's liability is limited to $50 when theft or loss from an unauthorized EFT. However, customers must notify their bank, credit union or other depository institution in a timely manner, usually within 60 days depending on the financial institution; otherwise, they may be liable for $500 or an unlimited amount.
Upon reporting fraud to your bank, the institution typically initiates a 10-business day investigation period and offer the customer a provisional credit. Should they ascertain that your account was subject to fraudulent activity or any other financial discrepancy, the bank is then obliged to rectify the situation within one business day. 
However, many Chime customers have reported being denied a refund after the investigation and if they were granted a provisional credit, that amount is later debited from their accounts.
Here is a recent Twitter post regarding Chime's checking account dispute process.
Hi Well, I had unauthorized transactions on my account on my Chime account and I tried to get them disputed and y'all team won't give me my money back. Yeah I cancelled my cards and got sent send new cards and all my transactions are being denied so I talked to a lawyer.

— Yah'Lay (@yahlaymusic) July 20, 2023
Here is a Reddit post regarding the reversal of provisional credit.

More Reddit posts in Aug. 2023 complain about Chime's unwillingness to address missing funds in customer accounts as well as Chime randomly closing customer accounts.
Chime's History of Closing Accounts Without Warning 
A 2021 Propublica study found that Chime closed or froze customer accounts when potential fraudulent activity was thought to have occurred. These actions were carried out without any prior warning, leaving customers in the dark and without access to funds. 
It was found that a significant number of account closures were triggered by the company's suspicion of fraudulent federal stimulus checks and unemployment insurance deposits. What's worse is Chime had actively promoted opening accounts with these specific types of funds through an extensive marketing campaign.
Confused customers made complaints and sought answers as to why their accounts were abruptly shut down but Chime failed to offer satisfactory explanations. Only after facing significant backlash, Chime admitted to making "mistakes" in handling the situation and acknowledged the mishandling of customer accounts.
Here is a recent Facebook post regarding customer account closure without refund of balance.

Numerous Better Business Bureau Complaints 
Chime has an extraordinary amount of complaints, over 7800 complaints in the last 3 years with the Better Business Bureau (BBB). That's a large amount for a financial technology company with 14.5 millions customers.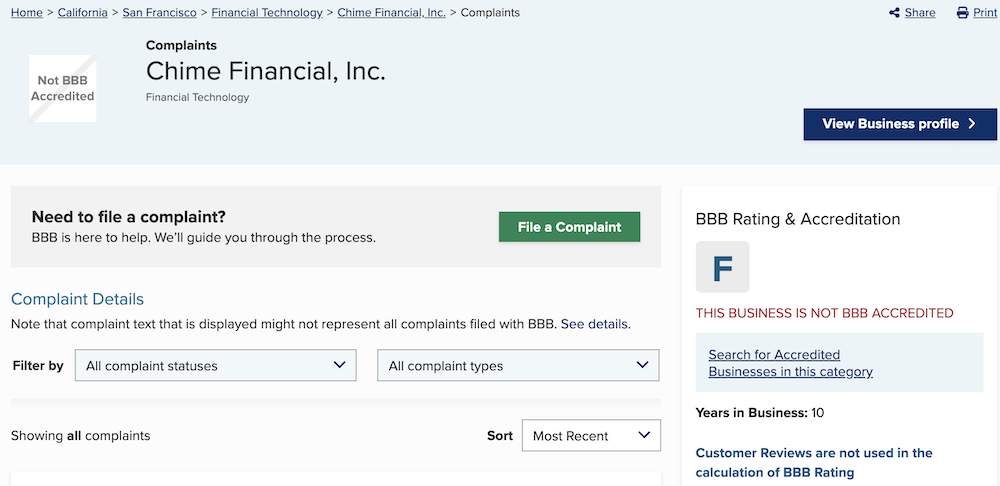 When compared with Wells Fargo, a bank with 69 million customers and a well-documented record of unethical practices, Chime has managed to garner more BBB Complaints. Wells Fargo customers have filed 5,380 total BBB complaints in the last 3 years
Actual Banks Like Chime
There are real banks like Chime that operate online in 50 states but may also have a limited number of branches in a few states. 
A major benefit of a traditional bank is the opportunity to build a long-term banking relationship with an institution that offers a full-range of products as well as better protections should fraudulent transactions occur.
1. SoFi Bank Checking & Savings

The joint Checking and Savings Account at SoFi comes with no overdraft fee and no monthly fees, it's one of the few online banks no ChexSystems that offers a welcome bonus. New members can earn a $25 bonus by making an opening deposit of $100. 
Earn an additional bonus up to $250 by setting up a qualifying direct deposit. SoFi Bank's welcome bonus makes it one of the best ChexSystems alternative banks to open a checking and savings account.
Monthly fees: $0
Minimum opening deposit: $100
Interest earned with direct deposit: 4.50% APY on savings balances and 1.20% APY on checking balances
Interest earned without direct deposit: 1.20% APY on all account balances in checking and savings
Free ATMs: 55,000+ fee-free ATMs.
Early paycheck: Get paid up to 2 days early with direct deposit.
Free Overdraft: No-fee Overdraft Coverage with qualifying monthly direct deposit
FDIC insured: Yes
APPLY NOW
2. OneUnited Bank

OneUnited Bank's Online Checking Account is available to people in ALL STATES. As one of a few online banks that accept bad credit, OneUnited customers can add cash to the OneUnited Bank Debit Card at over 90,000 locations across the country through a partnership with Green Dot. 
To get started go to the "Get the Card" button, enter your name, email address and cell phone number. Choose the Black Wall Street Checking account option along with the opening deposit, then complete your identification details (name, address, SSN, and employer).
Monthly fees: $0
Minimum deposit: $25
Free ATMs: Obtain cash, surcharge free at over 100,000+ ATMs
Cash-Back Rewards: Up to 20% cash-back in different categories like food, hair products, hotels, cosmetics, home goods.
Early direct deposit: Get paid up to two days earlier with direct deposit
More OneUnited Bank Features: Cash advance feature called "CashPlease" that offers a short-term loan up to $1,000 without a credit check
FDIC insured: Yes
»See Full OneUnited Bank Review
APPLY NOW
3. Consumers Credit Union

Consumers Credit Union is a credit union based in Illinois with membership open to anyone regardless of where they live or work. Financial products and services include checking, savings, CDs, personal, auto and mortgage loans, small business banking, investments and financial education. The monthly free checking account is called Rewards Checking with the following features:
Unlimited reimbursement for any and all ATM fees**
Over 30,000 ATMs & over 5,000 shared branches
Online & mobile banking plus bill pay
Get paid as much as two days early with early direct deposit**
No monthly maintenance fees, for anything
APPLY NOW
4. Quontic Bank

Quontic Bank is a digital bank operating in 50 states. Originally founded as a community bank based in New York City, Quontic carries its community-focused values while prioritizing a digital-first approach.
As an FDIC member bank, customers have access to a wide network of over 90,000 surcharge-free ATMs across the country.
High-interest checking account features:
Access to more than 90,000 free ATMs nationwide.
$100 Minimum Opening Deposit.
High-interest checking has a rate up to 1.10% APY.
No monthly maintenance fees.
FDIC-Insured Up to $250,000.
APPLY NOW
5. Axos Rewards Checking
The Axos Rewards Checking account is a good choice for no-fee banking. There are no monthly maintenance fees, competitive cash back rewards, and customers have access to over 91,000 fee-free ATMs across the U.S.
Monthly fees: $0
Minimum deposit: $50
ATM Fees: Customers get unlimited reimbursements of ATM fees in the US
Overdraft: Zero overdraft or NSF fees
FDIC insured: Yes
APPLY NOW
Final thoughts
Chime® makes it simple to open a checking account, especially for people with a negative checking account history that have ChexSystems and EWS records or for people with a poor credit history.
But with abrupt account closures and improperly addressing fraudulent transactions, Chime could be inadvertently exacerbating the issue of the unbanked in this country. In 2021, the FDIC reported an estimated 5.9 million people were "unbanked" in 2021, with no checking or savings account at a bank or credit union.
The very people that need a second chance at banking could be the very people excluded by Chime's practices, leaving more people without access to essential financial services.
---
Chime Disclaimers
1 Chime SpotMe is an optional, no fee service that requires a single deposit of $200 or more in qualifying direct deposits to the Chime® Checking Account each month and Visa debit card activation. All qualifying members will be allowed to overdraw their account up to $20 on debit card purchases and cash withdrawals initially, but may be later eligible for a higher limit of up to $200 or more based on member's Chime Account history, direct deposit frequency and amount, spending activity and other risk-based factors. Your limit will be displayed to you within the Chime mobile app. You will receive notice of any changes to your limit. Your limit may change at any time, at Chime's discretion. Although there are no overdraft fees, there may be out-of-network or third party fees associated with ATM transactions. SpotMe won't cover non-debit card transactions, including ACH transfers, Pay Anyone transfers, or Chime Checkbook transactions. See terms and conditions.
2 Early access to direct deposit funds depends on the timing of the submission of the payment file from the payer. We generally make these funds available on the day the payment file is received, which may be up to 2 days earlier than the scheduled payment date.
3 Out-of-network ATM withdrawal fees apply except at MoneyPass ATMs in a 7-Eleven location or any Allpoint or Visa Plus Alliance ATM. Other fees such as third-party and cash deposit fees may apply.
4 To be eligible to apply for Credit Builder, you need to have received a qualifying direct deposit of $200 or more to your Checking Account within the last 365 days of your application. The qualifying direct deposit must have been made by your employer, payroll provider, or benefits payer by Automated Clearing House (ACH) deposit. Bank ACH transfers, Pay Anyone transfers, verification or trial deposits from financial institutions, peer to peer transfers from services such as PayPal, Cash App, or Venmo, mobile check deposits, and cash loads or deposits are not qualifying direct deposits.
6 The average national savings account interest rate of 0.21% is determined by FDIC as of November 17, 2022 based on a simple average of rates paid (uses annual percentage yield) by all insured depository institutions and branches for which data are available. Visit National Rates and Rate Caps to learn more.