Save more money with simple tips that will put money in the bank plus find high interest savings accounts, money market account and CDs that will grow your money faster.
9 Saving Money Hacks That Put Money In Your Pocket
There can be two distinct purposes to saving money: (1) Achieve long-term financial goals like a house down payment, pay-off credit cards, build a nest egg or take a dream vacation; or (2) Saving money to reach short-term immediate goals like having more money in your pockets.
This step-by-step saving money guide can help you do both.
There are many cashback apps available to both iPhone and Android users, each with its own features and benefits. Here are five of the best cashback apps that you may find useful:
Rakuten: Rakuten (formerly known as Ebates) offers cashback on purchases from thousands of retailers, including Amazon, Macy's, and Target. The app also features in-store cashback offers and a browser extension that automatically applies cashback offers when you shop online.
Ibotta: Ibotta offers cashback on grocery store purchases, as well as on purchases from other retailers like Best Buy and Home Depot. The app also features bonus offers and cashback for referring friends.
Dosh: Dosh offers automatic cashback on purchases made with linked credit or debit cards at participating retailers, including Walmart, Sephora, and Sam's Club. The app also features a referral program that offers cashback for referring friends.
Honey: Honey is a browser extension that automatically applies coupons and cashback offers to your online purchases from thousands of retailers, including Amazon, Macy's, and Walmart. The app also features a rewards program that offers cashback for making purchases through the app.
Fetch Rewards: Fetch Rewards offers cashback on grocery store purchases by scanning receipts from participating retailers. The app also features bonus offers and referral bonuses.
Note that the availability and offers of these cashback apps may vary by location, so it's always a good idea to check which retailers and offers are available in your area before downloading and using any of these apps.
Most of us have to save for the things we really want out of life. Whether it's a college fund, house down payment, pay-off credit cards, build a nest egg or take a dream vacation, a savings plan can help you reach financial goals faster.
But getting started with a savings plan can be difficult to figure out. Here are 5 easy ways to start saving money plus several high-interest savings, money market and CD accounts that can grow your money faster:
Record your expenses
In order to start a savings plan you've got to know where your money is going. Make recording your expenses easy. Get a notepad or even an app on your smartphone to record your daily spending. Record every dime you spend for about a month.
That means every coffee, lunch, snack, your mortgage, utilities, magazines or newspaper, lottery tickets, hair product…everything. Know where you're spending money. Once you have the data organize the numbers in categories of groceries, dining out, mortgage, entertainment, etc.
Spend Less on small-dollar items
Now that you have a record of your expenses look for ways to spend less. Something that seems minor like a $3 coffee or frappuccino everyday can add up over 30 days – That's $90. Cutting something small adds up. When you spend less on small-dollar items you increase savings.
Look for non-essentials that you can spend less on – entertainment, eating lunch or dinner out. You will be surprised with how much extra money can be accumulated. Make a little extra dinner to take for lunch the next day, it's that easy.
Set savings goals
Setting savings goals makes it much easier to get started. Pick a reason or several reasons you want to save money. And, remember a savings plan can also include something fun where you splurge on yourself. Decide how long it will take to reach each goal. Some goals could be:
Emergency fund to cover at least 6-12 months in case of job loss or other emergencies.
Down Payment for a Mortgage or a New Car
Remodel
Vacation
Education
Retirement
Computer Equipment
Entertainment System
Designer Handbag
Expensive Watch
Get a Savings Tip Jar
Tip yourself at home. Stop spending $5.00 bills and instead stash them away in a jar at home. It's like tipping yourself. Sit back and watch those $5.00 bills grow.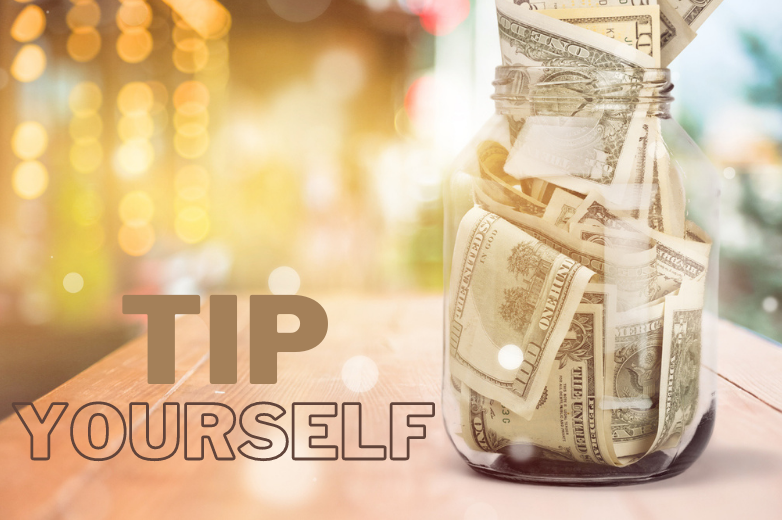 Save by Automatic Transfers
Once you cut non-essential items from your budget try to save at least 10-15 percent of your net income. It may be less or perhaps more than 10-15 percent, just start where you can but make it automatic. Saving money becomes much easier with automatic transfers. By moving money out of your checking account, you'll be less likely to spend funds that you wanted earmarked for savings.
There are many options for setting up transfers. You choose how often you want to transfer money and which accounts you want the money transferred between. You may even want to open a savings account at a separate bank. Having savings out of sight of your regular bank may help make it easier to maintain.
Extra Tip – Find High-Interest Savings Account and Move Your Savings Online
Here is an example of FDIC-insured online deposits accounts for short and long-term savings goals with higher than average rates that help grow your money faster.
High-interest savings accounts pay a significantly higher rate of interest on deposits while offering the same Federal Deposit Insurance Corporation (FDIC) coverage of $250,000. They'll help you meet your savings goals faster.
The advantages of online accounts
Online banks can offer a range of higher interest rates and products because they don't rely on brick-and-mortar branches that come with multiple overhead costs. Many online banks charge no monthly service fees, so more money stays in your account. And, of course, your deposits in online banks are FDIC-insured.
With these easy ways to save money, you can reach your goals faster. When considering an online high-interest savings product, make sure to review the following:
Required Opening Deposit: How much money do you have to deposit to open the account?
Minimum Balance Required: Do you have to maintain a certain deposit to earn the advertised rate of interest?
Rate of Interest Paid (APY): How much interest will you earn on your deposits. Is it an "introductory" rate that changes at a certain point or is it the permanent rate? Does the rate apply to existing as well as new customers.
Compounding Method: How is the interest compounded and calculated on your savings? There are several compounding methods including daily, monthly, quarterly, semiannually and annually.