Record-high inflation rates have resulted in a significant increase in the cost of living, including higher grocery bills and gas prices. As a result, many people found it challenging to save money.
But saving money doesn't have to be difficult, you just have to think out the box and be a little creative.
There can be two distinct purposes to saving money:
(1) Achieve long-term financial goals like a house down payment, pay-off credit cards, build a nest egg, retirement planning, take a dream vacation; or,
(2) Saving money to reach short-term immediate goals like living debt-free, having more money in your pockets and building a sufficient emergency fund.
9 Saving Money Hacks That Put Money In Your Pocket
1. Start with the right type of savings account
If you're looking to save money, a savings account is a great place to start. Not only do they provide a secure place to store your funds with FDIC-insurance, but they can also help you reach your financial goals faster. With various types of bank accounts to choose from, it's important to do your research and find the one that best fits your needs and preferences. 
Most common types of savings accounts:
High-yield savings account – this is likely the best option that will grow your money the fastest with the highest interest rates (up  to 5.00% APY) while offering the most liquidity meaning your money is available to you at any time.
Traditional savings account – these accounts typically offer low interest rates that closer to the national savings rate of 0.45% APY according to the FDIC but have no minimum balance requirements.
Money market account – type of hybrid between a checking and traditional savings accounts but often offer higher interest rates in exchange for maintaining a higher minimum balance and often comes with checking-writing privileges.
Certificate of deposit (CD) accounts – pays some of the highest interest (over 5.00% APY) rates but requires a higher minimum balance to open and a fixed-term where your money is essentially locked while it earns interest and early withdrawal is likely to come with a penalty.
2. Set savings goals
Setting savings goals makes it much easier to get started. Pick a reason or several reasons you want to save money. And, remember a savings plan can also include something FUN where you splurge on yourself. Decide how long it will take to reach each goal. Some goals could be:
Emergency fund to cover at least 6-12 months in case of job loss or other emergencies.
Down Payment for a Mortgage or Vehicle
Remodel
Vacation
Education
Retirement
Computer Equipment
Entertainment System
Designer Handbag
Expensive Watch
It is important to know the "why" in goal setting because understanding the underlying reasons and motivations behind a goal can help you stay committed and focused on achieving it. Knowing the "why" can also help you determine if the goal is truly important and meaningful to you, which can increase your motivation and drive to succeed.
3. Get free money to add to your savings account
Free money can come in many forms, sometimes you have to be creative and other times apps make it simple.
Common cash-back apps
Rakuten. Rakuten offers cash-back on purchases from thousands of retailers, including Amazon, Macy's, and Target. The app also features in-store cash-back offers and a browser extension that automatically applies cash-back offers when you shop online.
Ibotta. Ibotta offers cash-back on grocery store purchases, as well as on purchases from other retailers like Best Buy and Home Depot. The app also features bonus offers and cash-back for referring friends.
Target Circle and RedCard. Everyone who shops at Target knows how easy it is to spend more than planned. If you shop at Target be sure to make a list before you go and check the Target Circle offers in the Target app for coupons and major savings on groceries, clothing and home goods. The Target RedCard gets you 5% off every purchase in the store or online, plus free shipping.
Honey. Honey is a browser extension that automatically applies coupons and cash-back offers to your online purchases from thousands of retailers, including Walmart and Amazon. When you're shopping on Amazon, Honey will tell you if another seller offers the item at a cheaper price. The app also features a rewards program that offers cash-back for making purchases through the app.
Fetch Rewards. Fetch Rewards offers cash-back on grocery store purchases by scanning receipts from participating retailers. The app also features bonus offers and referral bonuses.
Cash-back checking accounts
A cash-back checking account is a type of checking account that rewards you with cash when you use your debit card to make purchases. The amount of cash you receive is based on a percentage of your total spending and is credited back to your account each month, provided you meet the account's qualifying criteria. This type of account can be a great way to earn extra money that can be put into your savings account. Some of the top cash-back checking accounts offer up to 20% in certain categories each month.
Cash-back credit cards
A cash-back credit card can help you earn some extra cash rewards on every purchase you make, typically ranging from 1% to 2% (or even more in some cases). So whether you're buying groceries, filling up your gas tank, or shopping online, you can earn money back just for using your card.
4. Cancel subscriptions, streaming services and memberships you don't use
There's a good chance you're paying for services you don't use regularly…it's likely most of us do. Cancel them and turn off auto-renewal to avoid future charges.
Paying for all the popular streaming services like Disney Plus, Netflix, HBO Max, Hulu, Peacock, Apple TV Plus, Sling TV and more can actually add up more than cable. Do you really use all the streaming services you pay for?
If you find that you miss a particular service, you can always subscribe again, but only if it fits into your new budget. Additionally, consider cutting back on trendy subscription boxes and other unnecessary expenses to free up more money for savings.
Truebill is a free service that not only helps you track your expenses, but promises to find and cancel unused subscriptions that are tied to your financial accounts.
5. Get a Savings Tip Jar
Tip yourself at home. Stop spending $5.00 bills and instead stash them away in a jar at home. It's like tipping yourself. Sit back and watch those $5.00 bills grow.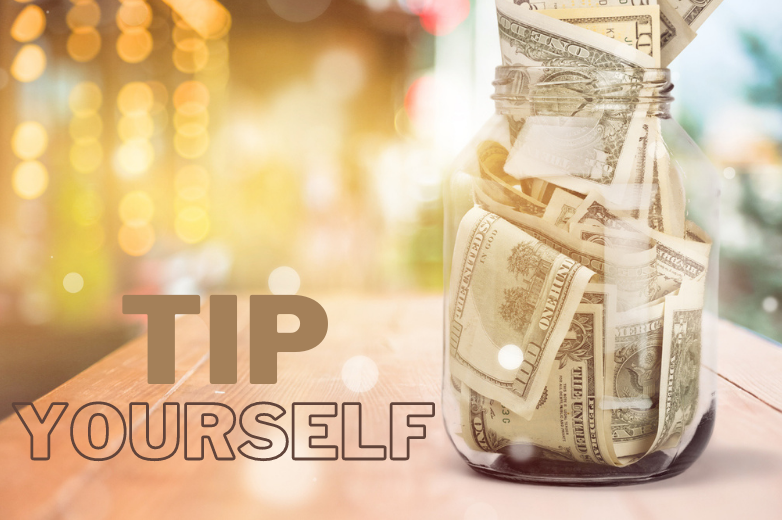 6. Save your spare change
Saving money can be made easier by setting up automatic transfers from your checking account to your savings account on a regular basis. This way, you won't have to remember to manually transfer money each month and your savings will grow over time.
This technique is particularly helpful when you have specific savings goals in mind, such as creating an emergency fund, saving for a vacation, or building a down payment for a home.
Banks like SoFi make it easy to automate savings with their debit card. With Roundups, every time you use your SoFi debit card, the purchase amount will be rounded up to the nearest dollar and add the difference to the savings Vault you prefer.
SoFi is a full-service online bank account, so your money is always safe with FDIC-insurance.
7. Record your expenses
The best savings plan include knowing where your money goes. Make recording your expenses easy. Get a notepad or an app on your smartphone to record your daily spending. Record every dime you spend for about a month.
That means every coffee, lunch, snack, your mortgage, utilities, magazines or newspaper, lottery tickets, hair product…everything.
Many people are using the popular cash stuffing envelope method to stick to a strict budget using cash only. But there are other ways besides managing large amounts of cash each time you get paid.
These apps let you know where you're spending money:
Mint. Users can build a budget off recorded transactions, and Mint offers plenty of extras such as free credit scores, bill payment reminders and low balance alerts.
Simplifi. Users can track expenses across multiple categories, plan spending and save for future goals.
Goodbudget. Helps users stay on budget by dividing your income into specific spending categories — like rent, groceries, dining expenses, household purchases, health costs, and gas expenses. This kind of system ensures that you don't spend more than you make.
There are multiple budget apps to research and find the best one for your needs.
8. Spend Less on small-dollar items
Now that you have a record of your expenses look for ways to spend less. Something that seems minor like a $3 coffee or frappuccino everyday can add up over 30 days – That's $90. Cutting something small adds up. When you spend less on small-dollar items you increase savings.
Look for non-essentials that you can spend less on – entertainment, eating lunch or dinner out. You will be surprised with how much extra money can be accumulated. Make a little extra dinner to take for lunch the next day, it's that easy.
9. Pay off high-interest debt
Saving money can be a challenge, especially when you have debt payments to make. However, by using methods like the snowball or avalanche approach to pay off high-interest debt more quickly, you can save on total interest paid and free yourself from that burden sooner. Once you've paid off your debt, redirect that money into savings to build up your financial security.