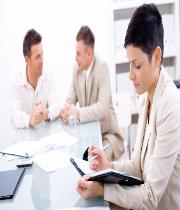 Increasingly small business owners and start-up businesses are bypassing tradition and obtaining small business loans and financing without a business plan.
It used to be an unwritten rule that if you wanted a business loan or start-up financing for a new business you had to have a business plan.
Not so today. Information technology is changing the way we do business. Banking based on relationship is becoming unnecessary and irrelevant.
Many non-bank institutions have entered the game, giving you more choices. If you require a loan of less than $100,000, you may choose to allow the computerized credit scoring method determine your loan approval.
Benefits of Automated Credit Scoring
No Business Plan. Automated credit scoring removes the need for a business plan; however, you will probably still need to submit your financials.
Reduced Bias in Decision Making. Automated credit scoring reduces the subjectivity of the loan process. For instance, a lender may have in his loan portfolio certain business types that have failed. The credit scoring method would remove any bias present in the decision-making process.
Fast Approvals. With less paperwork involved you are going to get a much quicker decision. Some applications can be completed in one-page. Normally, a traditional business loan may take several weeks, if not months, to approve. Some lenders will give you a decision in a matter of days.
Improve your Personal Credit. Review your personal credit report before you complete the application. Some lenders may use your personal credit history. Errors in your credit report can cost you. Correct any and errors before applying and you will be ahead of the game. You may have to start the dispute process in order to get errors off your credit report.
If your credit report shows legitimate negative items such as bankruptcy or late payments, include a letter of explanation. The letter should explain the circumstances surrounding the negative entries and how you have made improvements so it will not occur in the future. You may also want to try a bad credit business loan if traditional banks turn you down.
Review Your Application. Provide complete and accurate information when using the automated credit scoring method. Without a business plan, the lender will have no back-up information in case they want to review the decision of the automated scoring method. Go over the application thoroughly before it is submitted.
Know Your Industry Codes. The lender may code your business by SIC codes. SIC, "Standard Industrial Classification" codes is a United States government system for classifying industries by a four-digit code. An inaccurate coding can alter the outcome of the approval. Insure a correct coding by accurately describing your business.
Apply for approximately 10% more than you require. Assess the loan amount you need and then add an additional 10%. There are always unexpected business expenses and having more than you need will allow you to cover those expenses without taking a loss.
Get a quick decision on a small business loan from Prosper. The rates are lower and the loans are perfect for a new business, small business and even an established business. Apply online today for a loan up to $25,000.