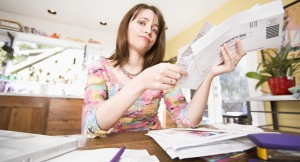 Question: Can a collection agency force you to use a prepaid debit card to make payments on a debt?
Answer: No! A collection agency may want you to think they have the power to dictate how you pay a collection debt, but they do not.
First, you owe the debt to the original creditor or company that charged-off the debt, transferred the debt or sold the debt to the collection agency.
You have no written contract with a collection agency; therefore, they cannot dictate how you should pay the collection debt. They most certainly cannot legally or otherwise force you to purchase a prepaid debit card to pay them.
Second, if you have chosen to pay the collection agency because you just want to get rid of the debt and not be concerned about continued collection efforts keep in mind what collection agencies are not allowed to do:
Call your employment if you have put in writing that calls to your employer are inconvenient;
Call your home before 8 am or after 9 pm or at all if you have requested no telephone calls and communication through mail only;
Call family or friends in an attempt to collect your debt;
Speak to you in an abusive or unprofessional manner;
Harass or threaten you in any way;
Make false or misleading statements; or
Add unauthorized charges or exorbitant fees to the debt.
If the collection agency indicated you must pay them via prepaid debit card, they have made a false or misleading statement which is a violation of the Fair Debt Collection Practices Act.
Collection agencies cannot insist you pay them through any particular method including but not limited to:
Sending payment via overnight mail such as Fedex or Express mail;
Western Union or Moneygram payments;
ACH or other electronic payments through your bank account;
Paypal;
Wire transfer;
Cash only payments;
Personal checks; or
Automatic monthly payments through a credit, prepaid or debit card.
The best way to pay a collection agency is through money order or cashier's check. Both of these forms of payment will allow you to have a good record of payment and prevent any unauthorized charges to a credit, debit or prepaid card and even bank account. On the money order or cashier's check you can write exactly what the payment is for along with the account numbers. Money orders can be purchased for less than $2.00 at the post office.
Last, if you have not already done so, request a deletion of the collection account from your credit report, especially if you are paying the full amount the collection agency requested. Some collection agencies will tell you they cannot delete negative marks and may go as far as stating it is illegal to remove the negative marks on a credit report. That is a lie!
If they put the negative mark on your credit report, they can instruct the credit bureaus to delete it, plain and simple. The only negative they cannot remove is the one placed by the original creditor. In other words, if the credit card company put a late payments and a charge-off on your credit reporst, the collection agency cannot remove it because they did not put it there.
Any pay for delete agreement should always be in writing and signed by a person in authority or it didn't happen. The word of a collection agency is worthless. Read more about pay for deletion. The best of luck to you.