For years the insurance industry has been using credit scores as an excuse to charge consumers with poor credit scores higher premiums. It does not matter whether the consumer has a good driving record.
The information contained in your credit reports can have a major influence over many parts of your life, including your auto insurance. As allowed by law, many insurance companies use a credit-based "insurance score" when evaluating insurance applications.
Allstate vs. State Farm rates for driver's with clean records but poor credit scores
In 2013 a study by the Consumer Federation of America found that major auto insurers Allstate and State Farm charge 39% and 127% more, respectively, for drivers who have poor credit scores compared with those who have excellent scores.
The study focused on a 30-year-old female driver with a clean driving record who was applying for minimum coverage. The average annual premium in nine major U.S. cities ranged from $563 if she had excellent credit, to $755 if she has average credit, and $1,277 if she has poor credit with State Farm, according to the study. With Allstate, those figures are $948, $1,078, and $1,318, respectively.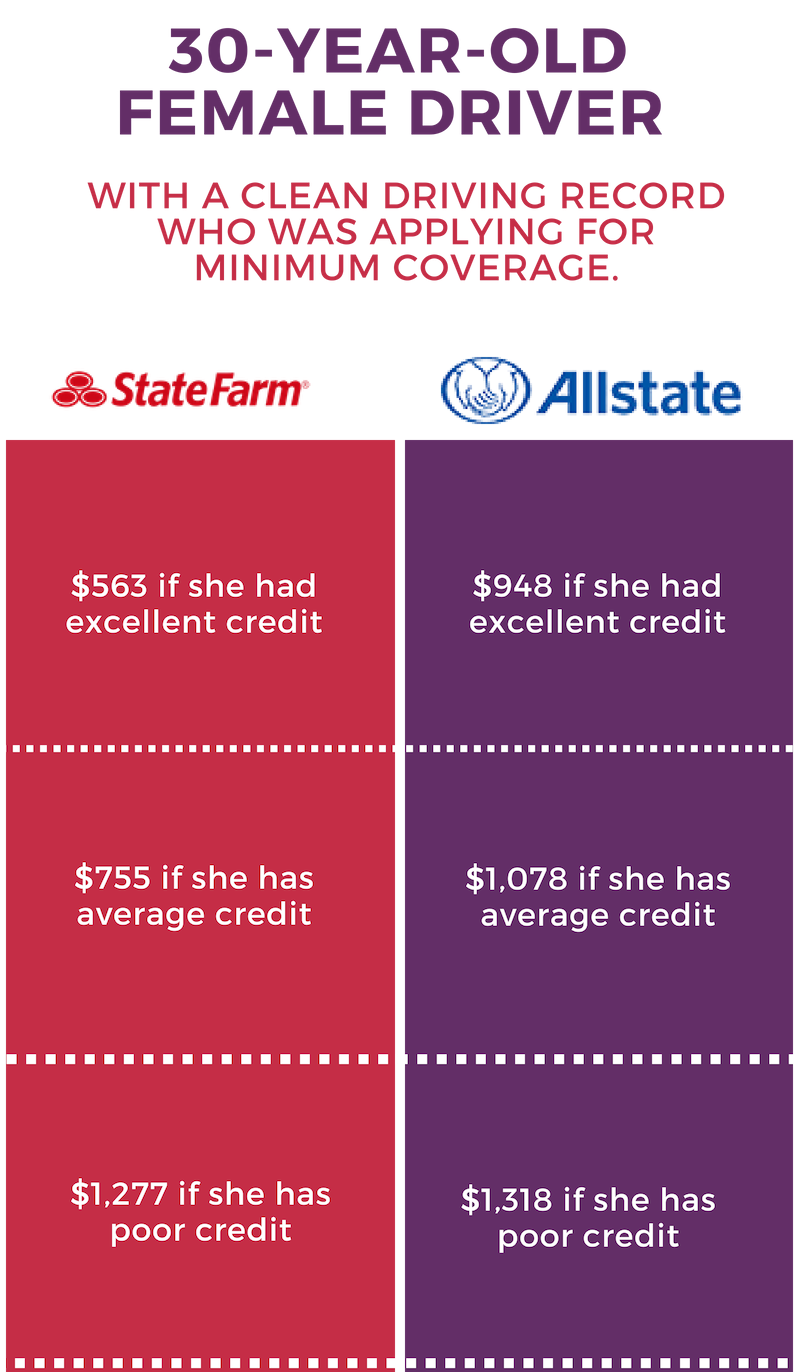 Having a good driving record was irrelevant to the insurance premiums. A bad credit score could get you the same premiums as if you had wrecked a car.
Correlation between poor credit and risky drivers
The insurance industry insists there is a correlation between poor credit scores and risky drivers. The insurance industry points to numerous research that says credit scores can accurately predict accident potential even though the reasons remain less than clear. Statistical analysis shows that those with higher credit scores tend to get into fewer accidents and cost insurance companies less than their lower-scoring counterparts.
While the Federal Trade Commission has backed the practice of using credit-based insurance scores, it too has admitted sufficient evidence is lacking to explain the correlation between insurance claims and a consumer's credit history.
Critics as well as consumer and civil rights groups continue to assert the use of credit scores to determine insurance premiums is discriminatory against low-income consumers. It is a fact that low-income consumers tend to have lower credit scores.
But more importantly is that no concrete convincing evidence exists to connect a poor credit history with high insurance risk.
Most studies totally ignore the fact that consumers with higher credit scores often have higher income. Consumers with higher income may be able to afford to pay for repairs due to an accident out-of-pocket; without ever having to report an insurance claim.
The president of the Insurance Information Institute, Bob Hartwig, says "…individuals who are irresponsible with their debts are also likely to be irresponsible with how they drive and to have a higher frequency of accidents."
Only three states—California, Hawaii and Massachusetts—prohibit car insurers from using credit scores when pricing policies. In fact, California is the only U.S. state where the cost of auto insurance decreased over two decades through 2010, according to the consumer group, Consumer Federation of America. California has a law that gives regulators more control over insurance rates.
It's unfortunate that you may be the safest driver out there but if you have low credit scores you will be penalized as if you just crashed a car.
A recent study by Wallethub found that "People with no credit pay 67% more for car insurance than people with excellent credit, on average. Drivers with no credit pay at least twice as much in NJ."
Final thoughts
Both credit score and insurance score use credit report data for their scoring models, which means both scores pay attention to things like payment history, credit limits and variety of credit. You can order auto insurance credit scores for a fee.