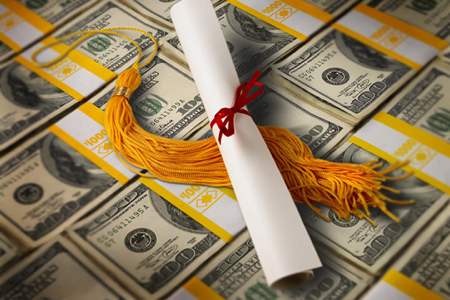 Attending college has many financial advantages as studies say college graduates can earn more money. A report by the Census Bureau entitled "The Big Payoff: Educational Attainment and Synthetic Estimates of Work-Life Earnings" found over an adult's working life those with a bachelor's degree can expect to earn on average $2.1 million as opposed to a high school graduate's on average earnings of $1.2 million.
The findings for adults with master's degree were $2.5 million; doctoral degrees can earn an average of $3.4 million; and professional degrees were the highest earners over their working life at $4.4 million.
The earning potential for college graduates sounds great but a college degree often comes with unexpected tuition and fee hikes, high costs of living, not to mention outrageous costs for textbooks.
Many students attending college often graduate with loans they had not anticipated owing. The burden of student loan repayment can plunge recent graduates into a downward spiral of debt and break a bank account. The federal government has a fairly new program that may offer relief for millions of students and recent graduates.
Income-Based Repayment (IBR)
On July 1, 2009 the Income-Based Repayment (IBR) program became available. IBR allows students and recent graduates to limit their monthly payments on federal student loans. It is a new way to make payments more manageable. The IBR program offers payment caps based on income and family size.
The IBR loan payment will be less than 10% of the borrower's income. Borrowers earning lower incomes will repay even less than 10%. After 25 years of qualifying payments, the IBR program will forgive any remaining debt.
Eligibility. IBR is available to borrowers for either graduate or undergraduate study whether you borrowed before or after IBR was created. Federal student loan borrowers in the Direct and Guaranteed (or FFEL) loan programs are eligible as well as most types of federal loans made to students such as Stafford, Grad Plus and federal Consolidation loans that do not include Parent Plus loans.
The Perkins loan is also eligible if it is consolidated into a federal Guaranteed (FFEL) or Direct loan. Defaulted student loans, private, signature and parent loans such as the Parent Plus federal loan are not eligible for the IBR program.
Requirement. The IBR requires that you have sufficient debt relative to your income to qualify for reduced payment. The IBR makes this calculation by determining it would take more than 15% of whatever you earn about 150% of poverty level to pay off your student loans on a standard 10-years repayment plan.
Affordable Payments. A sliding scale is used to determine how much you can afford to pay. If you earn below 150% of the poverty level according to your family size, your required loan payment would be $0. If you earn above the 150% poverty level your loan payment is capped at 15% of whatever you earn above that amount. With the exception of higher earners, the number usually works out to less than 10% of your total income.
*In 2011, the Poverty Level guideline for a single person is $10,890 and for a family of 4 is $22,350. For each additional person add $3,820 determine poverty guideline.
Interest on Loans. In certain instances the reduced IBR payment will not cover the interest on the student loans. In this case, the government will pay the interest on a Subsidized Stafford Loan for the first three years under the IBR program. After three years and on other loans, the interest is added to the total amount owed. This can be a problem because your debt may rise year after year until you can qualify for forgiveness after 25 years of payments.
Find out more about how to qualify for IBR and do not confuse the Income-Based Repayment (IBR) program with older similar sounding programs such as the "Income Contingent Repayment" and "Income-Sensitive Repayment."
Update: September 10, 2012
A New York Times September 8, 2012, article talks about debt collectors cashing in on student loans. Andrew Martin said "Unlike private lenders, the federal government has extraordinary tools for collection that it has extended to the collection firms."
Debt collectors can garnish wages for student loans without a court order. This means if you owe a government student loan you may not get notice before a garnishment occurs.
Andrew Martin further said "…many borrowers were never told about the income-based option, and many others have been frustrated by the onerous requirements. So far, 1.6 million borrowers have applied for income-based repayment; 920,000 are active participants and another 412,000 applications are pending."
In a June memo, President Obama wrote that "too few borrowers are aware of the options available to them to help manage their student loan debt."
If you are struggling with student loans; or, worse, hiding from a student loan debt collector, there may be assistance with the income-based repayment program. Don't miss an opportunity to resolve your student loan issues.