Guaranteed approval credit cards are designed for people who have really bad credit or who need to establish a credit history. In most instances, you have to be a U.S. resident to qualify for the cards along with having a form of income.
If you are thinking "I have bad credit and can't get a card…," think again. There are some companies that offer guaranteed approval credit cards that report to the major credit bureaus. Guaranteed approval credit cards may not have the greatest rewards but the good news is you don't have to keep them forever. 
As your credit scores improve with on-time payments, you can apply for better credit card offers. Think of guaranteed approval credit cards as a temporary solution to help build credit.
Once your score increases, switch the guaranteed credit cards out for rewards, low-interest rate, cashback, and bonus point credit cards. Apply online for an instant answer.
Guaranteed Approval Credit Cards For Bad Credit
OpenSky Secure Visa® Credit Card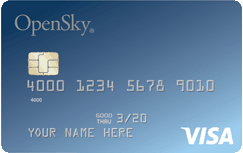 Build Your Credit fast with our monthly reporting to all 3 major credit bureaus.
Choose your credit line as low as $200 up to $3000, secured by a fully-refundable* security deposit.
Security deposit needs to be submitted before the credit card can be issued.
No credit check necessary and no checking account required; apply in less than 5 minutes.
Extra credit when you need it, increase your credit line up to $5000.
Access to online financial education.
*View our Cardholder Agreement located at the bottom of the application page for details of the card. Click the Apply Now button to get to the application page.
---
Need a checking account for bad credit? Check out 10 Banks that open Second Chance Accounts for Bad Credit.
---
Freedom Gold Card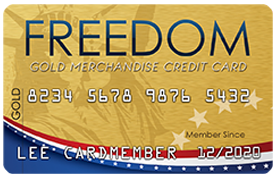 $750 Unsecured Credit Limit (Usable only at TheHorizonOutlet.com)
Instant Approval*
No Credit Check
No Employment Check
Fast online application
Bad Credit – OK
*See site for details

---
Need a small loan for bad credit? OppLoans is a direct online lender with loans up to $4,000.
---
Unique Platinum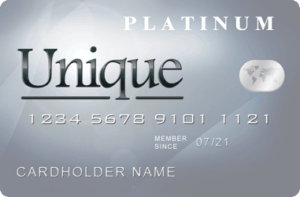 $1000 Credit Limit
No Credit Checks
Instant Approval
0% Financing
No application denied for bad credit!
*See terms and conditions

---
Looking for a major credit card for bad credit? Check out these no credit check credit cards.
---
Best way to rebuild credit using a guaranteed approval credit card
Some guaranteed approval credit cards come with higher interest rates. But that's to be expected being that these types of cards are designed for people with bad credit. But there's a way to avoid high interest.
Pay your balance in full before the due date on your statement every month to avoid high-interest fees plus, charge only small amounts to your card.
Here is an example of not paying your balance in full:
Let's say you have a new card with a 15 percent APR (annual percentage rate). At the end of the first month, your balance is $300 and your minimum payment is $25.
Once you pay the $25 minimum payment, your balance is now $275. The $275 balance will begin accruing interest at 15 percent until you make the next monthly payment.
But here's the kicker: You'll be paying interest on the already accrued interest.
When you carry a balance, your balance just keeps getting bigger because you begin paying interest on a balance that includes the previously accrued interest.
Once your balance continues to grow, especially if you only pay the minimum due each month, you end up paying much more than the original amount you put on your credit card.
Grace Periods are your friend
A grace period helps you avoid paying interest on a balance. The grace period varies by issuer, but it's generally 21-25 days. If you pay your balance in full every month during the grace period, you never pay interest.
No matter how high your interest rate is, it won't impact your balance if you pay it off during the grace period.
Be warned that not all credit cards offer a grace period which means the day you make a charge; you immediately start accruing interest on the balance. That's something to consider when you are rebuilding credit on a budget.