At one time there were several guaranteed credit cards like the Freedom Gold card that provided an avenue for people to establish a credit history by reporting to the credit bureaus. However, these types of credit cards no longer report to the credit bureaus. Today, most guaranteed credit cards are typically secured credit cards.
While no secured credit card issuer can truly guarantee 100% approval, that fact that a security deposit is required makes secured cards come remarkably close to offering guaranteed approval. In these cases, the deposit you provide serves as your spending limit, ensuring that you do not exceed what you can manage to repay.
5 Best Guaranteed Approval Credit Cards For Bad Credit
1. OpenSky Secure Visa® Credit Card
This is a good fit for: People interested in getting an unsecured credit line increase after 6 months – no additional deposit required.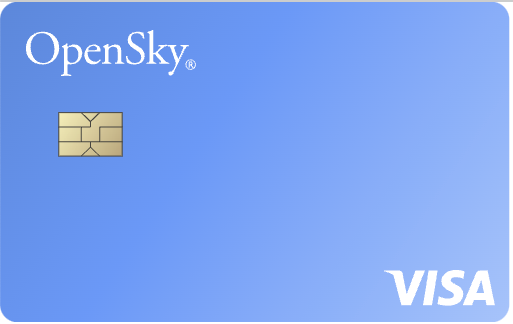 Build Your Credit fast with our monthly reporting to all 3 major credit bureaus.
No credit check to apply and find out instantly if you are approved.
With an 87% average approval rate for the past 6 months, OpenSky gives everyone an opportunity to improve their credit.
2/3 of cardholders receive a 48+ point improvement after making 3 on-time payments.
Choose your credit line as low as $200 up to $3000, secured by a fully-refundable* security deposit.
Extra credit when you need it, increase your credit line up to $5000.
$35 Annual Fee
*View the cardholder agreement.
APPLY NOW
---
Need a checking account for bad credit? Check out 10 Banks that open Second Chance Accounts for Bad Credit.
---
---
Looking for a major credit card for bad credit? Check out these no credit check credit cards.
---
Best way to rebuild credit using a guaranteed approval credit card
Some guaranteed approval credit cards come with higher interest rates. But that's to be expected being that these types of cards are designed for people with bad credit. But there's a way to avoid high interest.
Pay your balance in full before the due date on your statement every month to avoid high-interest fees plus, charge only small amounts to your card.
Here is an example of not paying your balance in full: Let's say you have a new card with a 15 percent APR (annual percentage rate). At the end of the first month, your balance is $300 and your minimum payment is $25. Once you pay the $25 minimum payment, your balance is now $275. The $275 balance will begin accruing interest at 15 percent until you make the next monthly payment.
But here's the kicker: You'll be paying interest on the already accrued interest. When you carry a balance, your balance just keeps getting bigger because you begin paying interest on a balance that includes the previously accrued interest. Once your balance continues to grow, especially if you only pay the minimum due each month, you end up paying much more than the original amount you put on your credit card.
Grace Periods are your friend
A grace period helps you avoid paying interest on a balance. The grace period varies by issuer, but it's generally 21-25 days.
If you pay your balance in full every month during the grace period, you never pay interest. No matter how high your interest rate is, it won't impact your balance if you pay it off during the grace period. Be warned that not all credit cards offer a grace period which means the day you make a charge; you immediately start accruing interest on the balance. That's something to consider when you are rebuilding credit on a budget.
If you are thinking "I have bad credit and can't get a card…," think again. There are some companies that offer guaranteed approval credit cards that report to the major credit bureaus. Guaranteed approval credit cards may not have the greatest rewards but the good news is you don't have to keep them forever.  As your credit scores improve with on-time payments, you can apply for better credit card offers.
Think of guaranteed approval credit cards as a temporary solution to help build credit. Once your score increases, switch the guaranteed credit cards out for rewards, low-interest rate, cashback, and bonus point credit cards.